Grand sounds
Jazz band debuts; S. African
singers return
Two distinguished musical groups will make Hawaii stopovers here, one just finishing up an interisland tour, the other starting one next weekend.
Louis Hayes and the Cannonball Legacy Band wind down their Hawaii tour this weekend with a couple of concerts in town and on the windward side, including a short, free program tomorrow morning at the Kapolei Public Library.
Described as "an architect of post-bop modern jazz," Hayes played drums with the late, great Julian "Cannonball" Adderley, founder of the Cannonball Adderley Quintet. Hayes was with the quintet during some of its hottest years, the late 1950s through mid-'60s. He has carried on the legacy of his friend and mentor with the help of a new generation of musicians -- Vincent Herring (sax), Jeremy Pelt (trumpet), Rick Germanson (piano) and Vincent Archer (bass) -- and has refrained from updating the soulful music of the Cannonball Legacy Band. Says Hayes, they "just try to play the music with the same elements it was played with originally -- honesty, passion, a high level of musicianship ... and fun."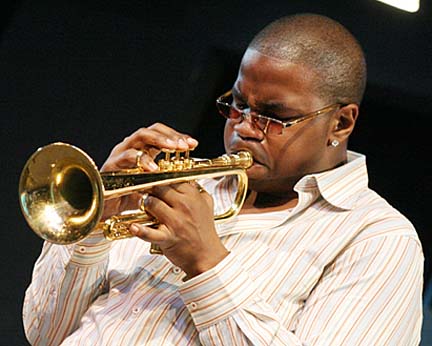 Hayes has his own band, the Louis Hayes Quintet, and often plays with other artists. During his 40-year career, he has performed with John Coltrane, Oscar Peterson, Horace Silver, McCoy Tyner, Wes Montgomery, George Benson and other jazz luminaries. Critic David Orthmann from All About Jazz.com asserts that Hayes "displays an impressive range of expression inside the exacting requirements of the bop and hard bop idioms" and is "still one of the hardest swinging drummers in modern jazz."
While this is Hayes and company's first visit to the islands, the South African a capella vocal group Ladysmith Black Mambazo have been regular visitors over the years.
For more than 30 years, the renowned group has performed, to great acclaim, their songs that marry the intricate rhythms and harmonies of their native tradition with the sounds and sentiments of gospel.
With their U.S. tour starting next week in Hawaii, the group will be promoting their latest album, "No Boundaries," a collaboration with Robert Brooks of South Africa's International Classical Music Festival, and the strings of the English Chamber Orchestra.
It's a welcome pairing of Ladysmith's (Zulu meaning "to tiptoe") singing with a European classical perspective.
"Our tradition is meant to be spread around the world," said leader Joseph Shabalala in a press release. "Ladysmith Black Mambazo is a mobile academy that teaches the world about Zulu people and culture, about South Africa and all that is wonderful here. So when people came to me and said, 'Hey, maybe you can sing with a full orchestra who play classical music,' I said 'Why not?' After all, our singing is a sort of Zulu classical singing."



Louis Hayes and the Cannonball Legacy Band

» 7:30 p.m. today at Orvis Auditorium, University of Hawaii-Manoa, and 7:30 p.m. tomorrow at Paliku Theatre, Windward Community College. Tickets $20 general; $15 military, seniors, students, UH faculty and staff; and $10 UHM and WCC students with ID. Available at any UH ticket outlet, online at etickethawaii.com, or charge-by-phone at 944-2697. For further information, call 956-8246.

» Also "Have a Hot Time With Some Cool Sounds: Jazz Music @ Your Library," 10:30 a.m. tomorrow at the Kapolei Public Library. 45-minute program with free admission.

Ladysmith Black Mambazo

» 7:30 p.m. Thursday at McKay Auditorium, Brigham Young University at Hawaii Laie campus, 55-220 Kulanui St. Tickets $15. Call 293-3759.

» 8 p.m. Jan. 28 at Leeward Community College Theatre, 96-045 Ala Ike St. Tickets $27 general and $20 students and seniors. Call 455-0385.

» 8 p.m. Jan. 29 at Kahilu Theatre, 67-1186 Lindsey Road, Kamuela, Big Island. Tickets $35, $40 and $45. Call 808-885-6868.

» 7:30 p.m. Feb. 1 at the Castle Theatre, Maui Arts & Cultural Center, 1 Cameron Way, Kahului. Tickets $10, $18 and $28. Call 808-242-7469.