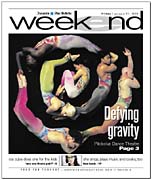 [ WEEKEND ]
---
Magical moves
Dancers rely on teamwork






Pilobolus Dance Theatre

Presented by Ballet Hawaii

Where: Hawaii Theatre

When: 8 p.m. today and tomorrow

Tickets: $25 to $45, with discounts available for students, seniors and military

Call: 528-0506



The word is Pilobolus.
In nature, it's a sun-loving fungus that grows where cows go in barnyards and pastures, and which can blast its spores over a cow's back at an initial rate of acceleration that is believed to be the second fastest in nature.
In dance, it's become a unique American arts organization best known for its success at combining principles of choreography and weight-sharing in striking and startling ways.
The company's executive director Itamar Kubovy explains via cell phone while in his car one late afternoon last week.
"A huge part of what we do is create something that is simultaneously two different things -- a combination of bodies sharing their weight in a particular way can suddenly look and move and locomote much like an insect or some kind of prehistoric creature. The dancers disengage, stand up and face each other, and suddenly it's two people. ... It almost gives the viewer a sense that they're watching a magical thing, even with it being done in a very concrete way with bodies. No smoke and mirrors, no magic, no tricks."
Pilobolus began in 1971 as a collaborative project by six Dartmouth University dance students, but has enjoyed such critical and commercial success over the decades that Kubovy's post was created about a year ago.
"That was a big change, but as the company has grown and the interests of the company have spread into diverse areas of focus, it became necessary ... to have someone sort of driving the big ship as each of the artists works on their individual projects," he says, describing himself as "the CEO" of a multi-faceted company that includes the Pilobolus Dance Theatre, the troupe of six dancers and tech crew that opens a two-nighter at the Hawaii Theatre tonight, while other branches of the organization utilize the founders' methods in educational, corporate and commercial contexts.
"A huge number of discoveries were made (by the founders) during those first 10 years of making things together and collaborating and it turned out that those collaborative processes are incredibly applicable to all kinds of situations in which people get together to make something," Kubovy explained.
"We do a great deal of teaching to people of all ages and all levels of dance. We work often with professional dancers, teach master classes, and conduct workshops with people who have no dance background. The theory of the company is that whatever it is that you have, that you can do physically, is enough to be able to make something interesting."
PILOBOLUS HAS used that approach in developing programs for at-risk teens that uses dance as the foundation for exercises that bring them into constructive collaborative situations.
"We've found that the method the founders used in the studios actually makes for an incredible template that young kids all over the world can use to figure out how to problem solve with each other, be physical with each other without getting into physical conflict."
Another sector of the company handles commissioned pieces for corporate clients and commercial purposes.
"One of the things that really differentiates Pilobolus, and has allowed it to survive for 35 years, is that it is a constantly changing and morphing organism, and that gives it a great deal of power and survival. The group has been composed of six since the beginning -- four men, two women -- and many of the men in the group don't have necessarily dance backgrounds, but come from martial arts backgrounds, or they come from theater backgrounds. It really is a dance theater as much, or more than, it is a dance company."
Kubovy says that athleticism is essential, but the qualities of collaboration and imagination are also important. Auditions are a four-day process and many would-be troupe members are eliminated by their execution of such seemingly mundane tasks as "jumping up and down" or moving around the audition area.
"With those simple requests, you can already tell a phenomenal amount about someone, and about whether or not they are going to be a good match. And then from that point, once you've winnowed down the group, then there's a lot of stuff that has to do with exploring where the person's imagination is, how creative they are, how well they work with others, how adverse they are to being corrected and having a disagreement or conflict with someone. How they react to being pushed, both physically in terms of the intensity of what they're trying to do and in terms of psychologically, because the work is really made in a highly collaborative and improvisational situation."
KUBOVY ADDS that an ideal Pilobolus dancer is also eye-catching.
"The one and probably primary thing that makes us interested in a dancer is that that person is just an interesting person to look at on stage. That doesn't always mean that they're the strongest or the fittest, it's just that sometimes they're a character that you can identify with, that you can empathize with. They have a face that's interesting to look at ... something about them is immediately evocative and makes you interested."
As for the company, it's been almost 25 years since the founders stopped personally performing their work. Six so-called "generations" have followed them in learning what Kubovy describes as "the grammar and the approach of the physical movement that we work in."
He said "I think the key is that the company is constantly evolving, and that it is as fresh and as innovative today as it was 35 years ago. It's constructed in such a way that there is a constant rejuvenation and constant change.
"If you've been to a Pilobolus show or you've seen some Pilobolus stuff ... you're always going to see a new invention or a new approach, and you're going to see evolving minds thinking in new ways. People who think they know what it is should go (this weekend), because they don't, and people who don't know what it is should go because they're going to see something unlike anything they've seen before."