Nostalgic ride is
carved in surf memoirs

"All Those Summers: Memories of Surfing's Golden Age," by Michael McPherson

(Watermark Publishing, $29.95, 128 pages)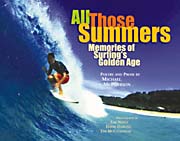 Surfers' memoirs of late tend to exaggerate not only the waves the diarist is describing, but also the protagonists who become godlike entities, leaving readers struggling to relate to them or, worse, not caring about them or their experiences.
Michael McPherson's journal of prose and poetry, "All Those Summers: Memories of Surfing's Golden Age," has the freshness of a new swell. It embraces subtlety of character description, experience and place, allowing the reader to use his or her imagination about that early and oh-so-innocent era of surfing from the 1940s through the '60s.
Surfing's magic has always been as much about its characters as the perfect wave, so McPherson wisely shares stories of his youth in Waikiki, Kaimuki and Oahu, and encounters with the Beach Boys -- particularly Chick Daniels -- capturing personalities, mischief and lifestyle with aplomb.
McPherson is at his best, at least for this middle-age surfer, when writing about surf sessions more than 30 years ago at crowd-free neighbor island spots like Maui's Honolua Bay and Kauai's Hanalei Bay. It's not the waves that are so attractive, but McPherson's and his companions' presence. The story about Oahu surfers riding waves at fabled Pakala on Kauai is particularly stirring for the friendship and sheer joy the young men shared and appreciated.
McPherson writes touchingly about former lovers and friends and family who have died but to whom he remains emotionally attached via the ocean, beaches, wine and waves they shared.
Several of McPherson's previously published poems provide a nice break between stories, but I found myself speed-reading to get back to his prose.
Vintage surfing photos -- sometimes wonderfully grainy and slightly out of focus -- show Kui Lee surfing at Ala Moana, Peter Moon and Conrad Cunha sharing a wave, Gerry Lopez at Pipeline. Fred Hemmings, Paul Strauch, Joey Cabell, Jock Sutherland and Butch Van Artsdalen also show up. Unfortunately, I can't say the same about some of the contemporary photos, which are technically poor and irrelevant to McPherson's stories.
"All Those Summers" might not appeal to today's rippers and shredders because it's esoteric, cerebral, modest and touchy. But like a perfect wave, the book is easy to get into and promises delightful surprises throughout the glide.