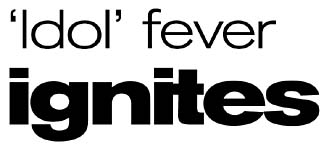 | | | |
| --- | --- | --- |
| | "American Idol" premiere: Airing 8 p.m. Tuesday on KHON/Fox, with a follow-up episode airing at 8 p.m. Wednesday | |
The last three television seasons have seen tens of thousands of hopefuls from across the country compete for a chance to be the next "American Idol." This season's hopefuls -- some 100,000 auditioned in six cities to take a shot at stardom -- will be revealed when the popular series returns to the air at 8 p.m. Tuesday.
Unlike last year, Honolulu won't be in the audition spotlight. The closest city hosting auditions was San Francisco.
Last year's home-turf auditions meant a handful of isle singing hopefuls were able to make it to follow-up rounds in Los Angeles, with Jonah Moananu, Camile Velasco and Jasmine Trias making it to the top 32 in televised rounds. Velasco went as far as No. 9 before getting the boot, and Trias made it to the top three spots before being voted off, losing to eventual winner Fantasia Barrino and runner-up Diana DeGarmo.
For those who've just awakened from a deep slumber and don't know what the hoopla is all about, each week from now through April, semifinalists will sing for celebrity judges, a studio audience and television viewers in the nation's largest talent competition. The judges weigh in on every performance, but the public votes by telephone and text messaging immediately after each Tuesday episode. The results are announced during the follow-up episode airing on Wednesday nights.
In the competition's fourth season, all the regulars are back: Ryan Seacrest is host, and the judges are Randy Jackson, Paula Abdul and the irrepressible Simon Cowell.
This week, audiences will witness the best and worst of auditions, with the search for the next "American Idol" beginning in Washington, D.C. Next week's shows will feature the New Orleans and Las Vegas auditions.
Even the worst of the auditions is not to be missed, as there are discoveries to be made. Last year, for instance, the American viewing public went crazy for the tone-deaf William Hung, who "She Banged" his way to instant fame by making a mess of the Ricky Martin song. His tuneless singing and stiff, jerky dance moves won him a recording contract and several guest appearances at malls and ball games.
DUE TO CONTROVERSIES that arose last year, avid fans will see some changes this time around, including an increase in the maximum age of contestants, to 28 from 24 years old. The minimum age remains 16.
Also, instead of 32 finalists, the judges will select 12 male and 12 female singers at the end of the Hollywood round. In the semifinals, one group performs on Monday and the other on Tuesday, with voting on both nights. On Wednesday two singers from each group will be eliminated until six male and six female finalists remain. After that the audience's favorite singers will be seen every week until the fourth American Idol is crowned.
This season, "American Idol" will become the second reality series to be simulcast in HDTV. "The Rebel Billionaire" is the first.
Auditions for this season of "American Idol" began in August and concluded in October. Other cities visited by the judges were Cleveland, St. Louis and Orlando, Fla.
If any Hawaii residents made the cut, "Idol" executives aren't saying. From New York to Los Angeles, producers and publicists declined comment on how many Hawaii contestants auditioned or made the Hollywood cut. That information will be available next month, they said. However, sources say no Hawaii residents made it to the second round.