CELEBRATE
---
Happy New Year!
From fireworks to cruises,
there's something for everyone
to do to welcome in 2005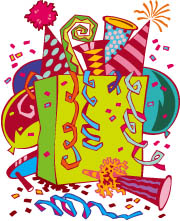 Whether you're looking to ring in the New Year with laughs (see Howie Mandel at the Renaissance Ilikai Waikiki), music (check out Wayne Newton at the Hilton Hawaiian Village or Pepper at the Blaisdell Arena), or a great meal, there is something for everyone. Start early at restaurants offering special holiday menus and play as late as you like at the various clubs open to late-night celebrants. And don't miss the fireworks! Here's our listing of New Year's Eve events for those who haven't yet made plans, opting to put more spontaneity into their lives.
Fireworks
»
Aloha Tower Marketplace:
Ring in the New Year with the explosive midnight display at the waterfront. Arrive early to enjoy dining at the mall's restaurants. Center atrium entertainment begins at 7 p.m. with strolling musicians and six stages of entertainment. Call 566-2337.
» Waikiki: The Waikiki Improvement Association will send 922 shells and effects into the skies above Waikiki Beach at the stroke of midnight, setting the skies ablaze with a shower of light to start the new year.
Dinners
»
Bali by the Sea:
Seven-course dinner includes seared taro tartare with caviar ponzu and opakapaka with lobster truffle, abalone with macadamia nut noisette and lobster with chanterelle cream; duck bullion; roasted medallion of beef and pan seared foie gras, shark fin noodle and more. Served 6 to 10 p.m. $110 per person. Call 941-2254 for reservations.
» Big Island Steak House: Fireworks dinner package includes a prime rib and crab-leg dinner, a bottle of champagne and VIP balcony seating overlooking the harbor. Seating starts at 10 p.m. Cost is $80 per person. Regular reservations are available prior to 10 p.m. Call 537-4446.
» Chai's Island Bistro: Dinner prepared by Chai Chaowasaree will feature a baked Australian lobster tail and wrapped roast beef tenderloins. Entertainment by Hapa's Nathan Aweau. $75 per person. Call 585-0011.
» Chef Mavro: Menu features smoked salmon a la coque, salad "folle," "basquaise" of Keahole lobster, Yukon-potato crusted onaga, filet mignon aux huitres and a chocolate symphony dessert. Cost is $206, with wine selections; and $135, without wine. Call 944-4714.
» Don Ho's Island Grill: Enjoy midnight fireworks spectacular with VIP seating on the pier and dinner, starting at 10 p.m. $60 per person. Call 528-0807 for reservations.
» Golden Dragon: Eight-course dinner includes seafood soup, flaming beef tenderloin, seabass fillet with Shanghai sauce, curry lobster with haupia and more. Served 6 to 10 p.m. Cost is $79 for adults; $39.50 for children 4 to 11. Call 949-4321, ext. 42 for reservations.
» Hanohano Room: Enjoy the fireworks and city lights 30 floors above Waikiki in the Cobalt Lounge. Those who get in for this limited seating will receive a bottle Veuve Clecquot and complimentary appetizers. Cost : $205 per couple. Served from 9 p.m. until 2 a.m. Reserve at 922-4422.
» House Without A Key: An informal New Year's Eve buffet features roast duck salad; garam masala calamari and pumpkin seed salad; lemongrass-marinated chicken breast with shiitake coconut cream; island catch with tomato basil butter; prime rib; pasta station and Halekulani's signature cakes and pastries. Dinner is $36 per person plus tax and gratuity, and $23 for ages 5 to 12.
» Ihilani Resort & Spa: Prix fixe dinner features a tasting of caviar. EntrŽe choices include: roasted petite spiny lobster tail or sautŽed petite tenderloin of beef with mild mushroom compote. Dinner service starts at 8:30 p.m. Cost is $150 per person. Call 679-0079 for reservations.
» Kacho's: New Year's lunch menu includes fresh sashimi, saikyoyaki cod, fried shrimp and vegetables, miso soup and ice cream for $35. Dinners include tempura teishoku for $18.50; sashimi teishoku for $25; and steak teishoku for $23; grilled butterfish for $19.50 or a Kacho bento and ozoni set for $26. Call 931-6645.
» La Mer: Seven-course dinner features prawns and ravioli on risotto with cepes and truffle coulis, Big Island lobster in brioche, arranged on leek fondue served with Osetra caviar sauce roasted lamb adorned with "mille fleurs" and more. Dinner is $360 per person including tax and gratuity, served beginning at 9 p.m. Long-sleeved collared shirts or jackets required for gentlemen. Reservations required.
» Orchids: Dinner includes a salad bouquet drizzled with black currant vinaigrette; butter braised Tristan lobster tail served on Kahuku corn risotto with truffle and chervil nage; sautŽed opakapaka on celeriac and taro puree, basil and hazelnut emulsion; roasted herb scented beef tenderloin medallions and white shrimp, with woodland mushrooms with brioche and pear pudding. Dinner is $260 per person including tax and gratuity and will be served from 8:30 p.m. Collared shirts and slacks are required for men. New Year's Day brunch seatings run 9:30 a.m. to 2:30 p.m. with a variety of salads, appetizers, soups, omelets, stir-fry and carving stations, hot entrŽes, fresh baked breads and desserts. The brunch cost is $46 per adult and $28 for ages 5 to 12. Reservations required.
» Tiki's Grill & Bar: Executive chef Fred DeAngelo's menu selections include fresh island fish, shrimp, clams, calamari and scallops in a light tomato broth for $28.95; herb roasted chicken with cran-raspberry jus on a bed of wild rice for $19.95; or grilled lamb chops served with lemon thyme and chocolate mint marinade for $27.95. Call 923-8454 for reservations.
» Village Steak & Seafood: Four-course dinner with entrŽe choices of grilled black angus beef filet mignon, half lobster tail, veal medallions. Served 5 to 10 p.m. Cost is $77 for adults; $39 for children ages 4 to 11. Call 949-4321, ext. 32 to reserve.
Concerts
»
"Mr. Las Vegas":
Wayne Newton performs at the Hilton Hawaiian Village Coral Ballroom, 10 p.m. to midnight. See Page 18. Seating begins at 9 p.m. Tickets are $85 to $195. Dinner packages are also available. Call 947-7877 for reservations.
» Pepper Skullconut Bangers Ball Tour: Support bands include: Go Jimmy Go, Natural Vibes and Black Square, 8:30 p.m. at the Blaisdell Arena. Tickets, at $29.50, are available at Times Supermarkets and the Blaisdell box office.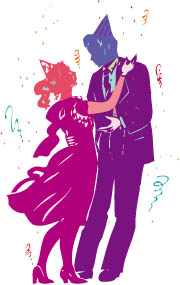 Nightlife
»
"Adios 2004":
Heavy pupus and champagne, 9 p.m. to 2 a.m. at Che Pasta. Cover charge is $15. Ages 18 and over are welcome. Call 524-0029 or Tony at 779-6782.
» "Bling Bling": Fusion Waikiki presents its New Year's Eve party with the theme, "If You Got It Baby Flaunt It" featuring the Gender-Bender Lip Gloss Revue and a balloon drop at midnight. Tickets are $12 in advance and $15 at the door. Call 924-2422.
» Comedy Triple Header: Frank DeLima, Andy Bumatai and Paul Ogata at the Palace Showroom on New Year's Eve. Dinner music will be played until 8:45 p.m., with the show starting at 9 p.m. Hawaiian music and dancing begins at 10:45 p.m. The dinner show includes a buffet, with seating at 7:30 p.m. The cost is $99 per person. Seating for the cocktail show is at 8:30 p.m. and costs $85 per person. For more information and reservations, call 923-SHOW or 922-6408.
>> "Grease": Starring Frankie Avalon, 8 p.m. at Blaisdell Concert Hall. Tickets are $54 and $74. Call 1-877-750-4400 to charge by phone or visit www.ticketmaster.com. Service fees may apply.
» Howie Mandel: 7:30 and 10:30 p.m. at the Renaissance Ilikai Waikiki. $35 for the early show and $45 for the late show. Tickets available at the Blaisdell box office, Ticketmaster outlets and online at ticketmaster.com. Call 949-3811 for more information.
» Indigo: Three Rooms of music with DJs, Bands, Live Music, Hip Hop acts with DJ Sadeq (NYC) and DJMike Sike (NYC & Miami Beach), 9 p.m. to 2 a.m. Also featuring DJs: G-Spot, Mark, Lava, SovernT, Eskae and NSK. For 21 and over, $8 to $12 cover charge. For more information, visit www.double-o-spot.com or call 591-3500.
» Kapono's: Live entertainment featuring Henry Kapono and iNoA'oLe from 6 p.m. Call 536-2100.
» "Killer Laughs": Murder Mystery Players, Inc. presents and interactive murder mystery, 8 p.m. at Dave & Buster's. Cost of $130 per couple includes a four-course dinner, performance, champagne toast and a complimentary Power Card. Call 589-2215.
» Ocean Club: Ring in the New Year with a midnight champagne toast and party favors. Dress in "red carpet couture" with optional tiaras and enjoy dancing and more, 8 p.m. to 4 a.m. For ages 23 and over. Cover charge is $10. Call 531-8444.
» Panama Hattie's: Live entertainment by Son Caribe, strolling mariachis and DJs La Gatina and Li'l Mex, 8 p.m. to 1 a.m. Also, Mexican foods, door prizes, party favors and more. For ages 18 and over. $25 cover charge. The club is located above Dixie Grill in Aiea. Seating for a party of 10 or more includes a complimentary bottle of champagne. Call 285-0072 or 941-5216.
» Parents Without Partners' New Year's Eve Gala: Dance at 8 p.m. and heavy pupus at the Honolulu Airport Hotel. Music by Sam the DJ. Favors, noise makers and champagne will be available at midnight. $35; $30 for members. $5 discount if tickets are purchased in advance. Call Sharon at 258-9504 or Phillis at 262-7441.
» Society of Seven Las Vegas: Dinner show includes a dinner buffet, entertainment, dancing, party favors and a split of champagne. Seating begins at 7:45 p.m.. with dinner music by Larry Kaliloa at the Outrigger main showroom. Cost is $145 per person. Call 922-6408 for reservations.
» "STOMP": Special New Year's show at 8 p.m. at the Hawaii Theatre. Tickets $30 to $50. A $2 theater restoration charge per ticket. Call 528-0506 or visit www.hawaiitheatre.com.
» Wave Waikiki: Featuring Buddhist Priest, a '80s hard rock tribute band, and DJ Keoki, DJ Jedi and KSM. Doors open at 8 p.m. The first 200 people through the door will be awarded prizes, including a $300 Wave gift certificate. Tickets are available at the Wave, Dan's Guitar, Cheapo's, Too Gruvz, Hungry Ear and Jelly's.
Special Events
»
New Year's Eve Ball:
Black and White ball features salsa dancing, Liquid Amber playing new and classic dance and more at the Hale Kaa Manu o Laa Estate in Hawaii Kai. Tickets are $30 in advance and $35 at the door. Psychic Geralyn St. Joseph will also do mini readings for $20. Proceeds benefit World Turtle Trust and Bosom Buddies. Call 396-6715.
Cruises
»
Alii Kai Catamaran:
New Year's fireworks cruise departs from Pier 5 10:30 p.m. Pre-party at Hooter's begins at 9:30 p.m. followed by pupus and dancing on the cruise. Kamaaina rate is $30. Adults only. Call 330-9990.
» Star of Honolulu: Enjoy the fireworks display, a champagne toast and party favors. Choice of lobster and steak dinner, a three-course steak and lobster dinner or a five course French style dinner. Cruise departs at 10:30 p.m. from Aloha Marketplace, Pier 8. Cost is $121 to $221; kamaaina rates are $90 to $154. Call 983-7827 for reservations.
» Starlet Dinner Cruise: Enjoy the fireworks display, a champagne toast, party favors and dinner. Cruise departs at 10:30 p.m. from Aloha Marketplace, Pier 8. Cost is $65; $48 for kamaaina. Call 983-7827 for reservations.