---
[ FAST FACTS HAWAII ]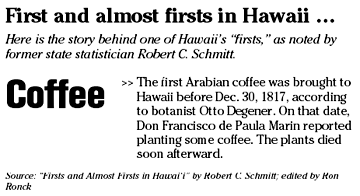 ---
BACK TO TOP


|


NATION
In new year, workers resolve to look for a job
As the new year dawns, plenty of workers resolve to explore their career options, hoping to land a new job or improve the one you have. But there are several factors to consider before you mail your resume throughout your industry, advises
Right Management Consultants,
a Philadelphia-based career transition firm.
For example, you might want to think about your company, and how it ranks alongside competitors that you might apply to. So, ask yourself these questions:
» Is your company respected in the industry?
» Are sales rising, or dropping? Have there been rumors of a merger or bankruptcy?
» How has the company's market share changed?
» Is the company an innovator, or one that's fallen behind the industry?
» Does your company have a strategic plan, and have you read it?
» Have salaries at your company kept pace, or lagged those paid by competitors?
Ontario, the motor province?
Where do our cars come from? Michigan, the home of Motor City, right? Once upon a time, sure, but for 2004 North American vehicle production has a new leader: Ontario.
The Canadian province edged out Michigan, assembling 2.696 million vehicles this year, compared to 2.607 million in the Great Lake State, according to a review of production and estimates in the December issue of Ward's AutoWorld magazine, based in Southfield, Mich.
The numbers are a dramatic reversal from a decade ago, when Michigan was the undisputed production leader, with 3.43 million vehicles, and Ontario was a distant second.
But most of the decline came from model changeovers that caused long shutdowns as plants retooled for new models.
The state is likely to regain the production crown in coming years, the magazine said, because its production capacity of 3.27 million in 2008 will surpass Ontario's 2.87 million capacity.
Ohio, the home of Honda Motor Co.'s two U.S. assembly plants, was No. 3 on the 2004 list, followed by Missouri; Kentucky; Indiana; Tennessee; Coahuila, Mexico; Illinois and Georgia.
Use tips for happy returns
The nation's annual Trek to the Return Counter exercise is nearly here.
ConsumerReports.org, the online site of the popular consumer magazine, has a few tips to increase your chance of a happy resolution.
» Arrive armed with a sales receipt. This is the swiftest method of slicing through initial confusion and smoothing the transaction.

» Work toward yes: Don't assume a clerk's no is the final word on the matter. Take the issue to another employee, who may understand the store's return rules better (or worse) than the initial clerk. If all else fails, speak to the manager.

» Don't discard tags or other product packaging until you're positive you'll keep the item.