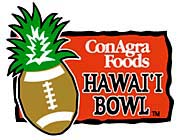 'Visiting' UH will battle fire
with a little fire of its own
It's become the cool thing for athletes to refer to their road games as "business trips." Sometimes the biggest variable in winning and losing is what kind of business goes on before the game. If it's monkey business, you can usually chalk up an L.
UH vs. UAB
When: 2 p.m. today

Where: Aloha Stadium

Radio: KKEA 1420-AM with Bobby Curran, Robert Kekaula and John Veneri, pregame 1 p.m. with Don Robbs; also live on CBS Sports Westwood One Radio with Tony Roberts

Television: ESPN, with Don Pasch doing the play-by-play, Rod Gilmore and Trevor Matich as color analysts and Rob Stone on the sidelines

Gates open: Parking lot at 10 a.m. for $5; turnstile at 11 a.m.

Alternate parking: Leeward Community College, Kam Drive-In, Radford High School

Halftime: "American Idol" star Jasmine Trias performs Christmas songs

Payoff: Hawaii and UAB will earn at least $750,000 each, most of which goes to each school's conference -- the Warriors' Western Athletic Conference and the Blazers' Conference USA
This gets even more interesting when it comes to bowl games. Usually, both teams are in a strange place, doing strange things, many of which have nothing to do with football -- for several days and nights.
Distractions abound.
Even the Hawaii football team -- which is in Hawaii -- is in a strange, new land this week ... Waikiki.
"I never go there, except for this," said UH senior kicker Justin Ayat, who was born and raised in Hawaii.
And the Warriors (7-5) are technically the visiting team against "host" UAB (7-4) in the Sheraton Hawaii Bowl today at Aloha Stadium, where UH is 6-1 this year.
Hawaii is a three-point favorite, but the winner will be the team with the lowest MTC (Mai Tais Consumed) and CM (Curfews Missed) stats compiled this week. But neither coaching staff treated the team hotels as prison cellblocks.
It comes down to this: Is bowl week a reward or an opportunity?
The answer is both. And it takes maturity and focus to have a good time and a good game.
"Most of our trips are strictly business," UAB linebacker Zac Woodfin said. "There would be that potential (for distraction), but I think we have enough senior leadership to not let these things distract us. We know when we go to practice it's time to work. At night, we know we can have a good time, but we know how to turn the switch on and off."
The Blazers hope Aloha Stadium is a home away from home for them as it was for Tulane two years ago, when the Green Wave remained more focused than the Warriors and beat UH 36-28.
Last year, both Hawaii and Houston were too intense. The emotions of a physical, draining 54-48 triple-overtime win by Hawaii spilled over into a postgame brawl.
Both UH and UAB say they are intent on avoiding a fight before Christmas today.
For the Warriors, an era comes to an end as 24 seniors -- including four-year starters Tim Chang (quarterback), Abraham Elimimian (cornerback), Uriah Moenoa (offensive line) and Ayat and second-team All-American all-purpose player Chad Owens -- play their last game for UH.
"It's a happy time and a sad time both," said Chang, the NCAA career passing-yardage leader. "We are sharing our last days together as a team, so it's fun and we know our time's running out. But we are also focused on the game and going out with a win."
The Blazers say they are intent on winning their first bowl game. They have something to prove, being the third-most-popular team in their own city of Birmingham, Ala.
"Football's very important in our state and Alabama and Auburn made it that way," UAB coach Watson Brown said. "There's about 70 kids in the state every year signing Division I scholarships and Alabama and Auburn will take the first 50 of them and we kind of wait to see what they're taking."
Brown hopes a win today on national TV helps recruiting.
While the Blazers deal with being the third wheel on a bicycle, the Warriors get the good, the bad and the ugly of being the biggest show in town.
A month ago, no one -- except coach June Jones -- thought the 4-5 Warriors, fresh off a 70-14 thrashing at Fresno State, would be where they are now. And the sports psyche of an entire state was at its lowest since UH went 0-12 in 1998.
"I don't think anybody outside of our team believed we could do what we did, win three games to make it," Jones said. "Everybody here knows how hard we play."
Especially at home. The question today is, is Waikiki really home for the Warriors?
---
BACK TO TOP
|
Key Players
An interesting aspect of football is that any player on the field can make a big, game-turning play at any time.
Of course, some are more likely to do so than others.
Then there are the guys who contribute to victory with consistency, doing their job right play after play, winning their man-to-man confrontation all day long, often without being noticed by the casual fan. These six are just a few of the players who were among the UAB Blazers' and Hawaii Warriors' most consistent and explosive performers all season. Keep an eye on them.
UAB Blazers

Dan Burks (34)
Running Back

A hard-nosed between-the-tackles runner, Burks was named third-team All-Conference USA after rushing for 825 yards, averaging 5.5 an attempt, with two 100-yard games. He gained a medical redshirt in 2003 after a shoulder injury sidelined him for the season after three games.


Darrell Hackney (4)
Quarterback

Hackney played his first full season at quarterback this year after splitting time for two seasons. He was tied for second in the conference in passing yards with 2,653 and first in touchdown passes with a UAB single-season record of 24. Hackney ranks 14th nationally among QBs in pass efficiency and made the preseason "Watch List" for the Davey O'Brien Award. Has started 26 games at UAB. Owns a 95-yard touchdown pass, the second longest in C-USA history.


Larry McSwain (44)
Defensive End

McSwain earned first-team All-Conference USA honors in his first season at UAB, recording 13 sacks, tops in the league and fourth nationally. He is one sack shy of the school's single-season record held by Bryan Thomas. Led the conference with 17 tackles for loss and finished fourth on the team with 54 tackles. Transferred from Jackson State last January.
UH Warriors

Tim Chang (14)
Quarterback

Chang set NCAA career records for passing yards, total offense and interceptions this season. The first-team All-WAC choice is enjoying his best season. With 233 yards passing today he hits 17,000. He's fourth all-time with 113 career TD passes.


Abraham Elimimian (37)
Defensive Back

Whether at his regular post of cornerback, or safety in the nickel package, Elimimian is a force. He led the Warriors with five interceptions, and battled through hamstring injuries throughout the second half of the season. He tied for fourth on the team with 58 tackles, broke up seven passes and recovered two fumbles. He returned one interception and one fumble for TDs on his way to All-WAC first-team honors.


Michael Brewster (6)
Running Back

UH doesn't run often, but Brewster made the most of his chances, going for 662 yards on the ground and another 273 on 34 catches. He's also an inspirational force in the weight room and the locker room and a fierce blocker. Brewster is slated to return kicks today.
---
BACK TO TOP
|
Key Matchups
Having the right people in the right place at the right time is a major principle of winning football, whether it be mass at the point of attack, getting the right group on the field for the down and distance, or setting up the opponent for a play-action pass or a more-exotic deception. A personnel or scheme mismatch exploited and then unadjusted for by the opposition will often lead to the big plays that make the difference in the final score.
UAB Offense VS. UH Defense
The centerpiece of the Blazers attack is the passing combination of Darrell Hackney-to-Roddy White. But that's not all UAB brings to the table -- and that's a good thing for Watson Brown's crew, since UH's best defensive player is cornerback Abraham Elimimian, who will likely hold White below his average of 5.9 catches and 121.7 yards per game. UAB also has a steady inside-out running game with tailbacks Dan Burks and Corey White running behind an offensive line that averages around 300 pounds per man. That could mean big trouble for the Warriors, who are last against the run in Division I-A at 259.2 yards per game. UH's several injured defenders have had time to heal, so that won't be an excuse today. Don't be surprised to see the Blazers run some option, especially at the goal line.
Advantage: UAB
UH Offense VS. UAB Defense
Brown is no stranger to the run-and-shoot, and he's had three weeks to impart his wisdom to his defensive coaches and players. Part of the Blazers' plan is to rotate waves of defensive linemen into the game -- which is also UH's plan on the offensive line. UAB will also likely play backup defensive backs instead of their bulky starting linebackers in many situations. The three 'backers average 235 pounds, and would probably have a difficult time covering slotback Chad Owens (eight TDs in the last two games) or running back Michael Brewster out of the backfield. UH needs to avoid dropped passes after three weeks since the last game. If the Warriors need a power option, they can turn to 280-pound running back West Keli'ikipi, who bowled over some Big Ten big boys in the last weeks of the season. But the key matchup is sackmaster Larry McSwain against UH left tackle Tala Esera.
Advantage: UH
Special Teams
Michigan State All-America punter Brandon Fields did the smart thing and kept the ball away from Owens, not wanting to become his fifth victim for a touchdown return.
UH kicker Justin Ayat is erratic, but he can be spectacular. UAB's Nick Hayes' range is just a little shorter, but he's more accurate (11-for-15 on field goals and 41-for-43 PATs to 10-for-14 and 46-for-52 for Ayat). Michael Brewster will likely return kickoffs for Hawaii with Jason Ferguson nursing a groin strain. UAB's Reggie Lindsey has a 67-yard punt return for a TD and a 63-yard kickoff return to his credit this season, and Hawaii's coverage has been inconsistent.
Advantage: Even
Intangibles
Home, sweat home. If it's a hot, sunny day, the Warriors' homefield advantage (6-1 at Aloha Stadium this year) will be amplified. Technically, the Blazers are the home team, and Brown has decided to go with black jerseys -- which could backfire. Is UAB just happy to be here for its first bowl game, or are they fired up to win as Tulane two years ago? Did UH's 25 seniors consider bowl week one last time to party together, or one last time to get ready to win together? A white-clad crowd expected in the range of 35,000 hopes it's the latter.
Advantage: UH