Slain soldier is first
in Hawaii to become
a citizen after death
Pvt. Jeung Jin Kim dreamt
of being able to vote,
his wife says
Army Pvt. Jeung Jin Kim achieved in death what he only dreamed of when he was alive: U.S. citizenship.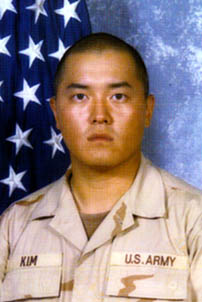 Kim was killed Oct. 6 in an insurgent attack in Ar Ramadi, Iraq. He is the first person to receive posthumous citizenship in Hawaii, said David Gulick, Honolulu district director of the U.S. Citizenship and Immigration Services. Kim would have turned 24 last Saturday.
Yesterday, Gulick presented Kim's widow, A Young Kim, her husband's certificate of citizenship.
"Finally. He would have been happy. I know he would have been happy. We'd been talking about this for a long time," she said.
Kim said she was still researching what her husband needed to do to gain U.S. citizenship when he died.
Active-duty military members who die in combat qualify for posthumous citizenship.
She said one of the reasons her husband, who was born in South Korea, joined the Army was for his citizenship.
Recent changes in immigration laws make it easier for qualified military members to become citizens. Filing fees were waived for military members, and there is no waiting period to file. Previously, active-duty members needed to complete one year of honorable service to qualify.
Kim said her husband was not able to work when they first met because he was not even a permanent resident. When they married, he received a green card.
But still, she said he could not do "things that are important" because he was not a citizen.
"He really, really wanted to vote," she said.
In a telephone conversation before his death, her husband urged her to watch the Michael Moore film "Fahrenheit 9/11," which was highly critical of President Bush.
Even though she has been a longtime Bush supporter, Kim said she complied with her husband's request that she vote for John Kerry for president so that he "can come home soon."
The posthumous citizenship award does not benefit Kim, 23, a soldier assigned to Fort Shafter, or the couple's 3-month-old son since they are already citizens, but it does allow Jeung Jin's parents in South Korea to immigrate to the United States, Gulick said.
Jeung Jin's other posthumous awards include a Purple Hearth, Bronze Star, good-conduct medal and promotion to private first class.
There are more than 40,000 members of the U.S. military serving on active duty who are not citizens.
Kim is the 37th service member to receive posthumous citizenship after dying in the war in Afghanistan or Iraq.