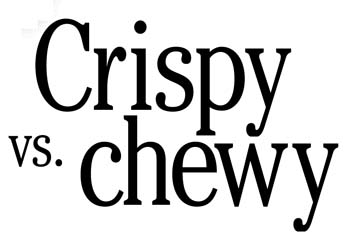 A science lesson explains
why the cookie crumbles
Today's special word, boys and girls, is "hygroscopic." Everybody say it: hi-grow-skah-pick.
If something is hygroscopic, it attracts and holds moisture. Understanding the concept will help you bake crispy cookies.
Because, yes, it is cookie season, when even the most indifferent baker feels it necessary to sift flour, separate eggs and pack brown sugar -- with a vengeance.
It's timely, then, to consider the request of Laurie Ann Flores for a couple of crispy cookie recipes -- particularly oatmeal and chocolate chip, two types that are traditionally chewy.
"I see so many recipes for chewy cookies, but I like the crispy cookies," Flores wrote.
There's a reason for that, and it goes back to our science lesson. Both oatmeal and chocolate chip cookies, as we have grown to know and love them, contain copious amounts of brown sugar. If that ingredient were missing, the cookie would lack its crucial molasses flavor.
But brown sugar is very hygroscopic, so it holds on to moisture. Actually, all sugar is hygroscopic, but brown sugar is more so than regular white, granulated sugar.
Picture a piece of bread exposed on a counter, next to a cookie. The bread will quickly dry out, but the cookie -- with its sugary insides -- will soften, drawing moisture from the air. If the cookie is made with brown sugar, the process is likely to go faster.
Also critical to most of these recipes is butter, which by nature yields a softer cookie than vegetable shortening. Butter contains water; shortening is made from oil.
It is not a hopeless quest, however.
All these types of recipes include a mixture of brown and white sugars. Pastry chef Frances Pons of Sugar Rush by Frances suggests increasing the ratio of white to brown. Experience has also taught her that creaming the butter and sugar extra long releases more of the water in the butter, creating a thinner batter that will spread more as it bakes. A thinner cookie equals more crunch.
It's by no means an exact science, though. The temperature accuracy of the oven, humidity in the air, choice of sugar, all weigh in, Pons said. "The fourth factor is God."
Mark Okumura, pastry chef for Alan Wong's restaurant, said if your recipe depends upon brown sugar and butter for flavor, try making the cookies smaller and flattening them slightly before baking. Use a lower temperature -- perhaps 325 instead of 350 -- and bake for a longer time, he said.
Cooks Illustrated magazine took on the crispy chocolate chip cookie challenge in 2001, testing a variety of ingredients and baking techniques.
The final recipe used white sugar in combination with light brown sugar, which is less hygroscopic than the usual dark brown. Also, using melted butter was found to thin the batter and encourage the cookies to spread out during baking.
That recipe follows, along with one for Oatmeal Crisps, which uses butter-flavored shortening to bring out the crunch.
A few final things:
» Don't bake your cookies until they're rock hard -- you'll probably burn them. Bake until nicely browned and firm; they'll crisp up as they cool.
» Once slightly cooled, remove cookies to a rack. If you cool them on the cookie sheet they may shatter when you try to remove them.
» Once completely cool, seal them in airtight containers. In our humidity, they'll start to soften if left out.
» Don't store crispy and chewy cookies together. Both will suffer.
---
Thin, Crispy Chocolate Chip Cookies
Cook's Illustrated, April 2001
1-1/2 cups flour
3/4 teaspoon baking soda
1/4 teaspoon salt
8 tablespoons (1 stick) unsalted butter, melted and cooled
1/2 cup white sugar
1/3 cup packed light brown sugar
2 tablespoons light corn syrup
1 large egg yolk
2 tablespoons milk
1 tablespoon vanilla extract
3/4 cup semi-sweet chocolate chips
Adjust oven rack to middle position and preheat oven to 375 degrees. Line 2 baking sheets with parchment.
Whisk together flour, baking soda and salt until thoroughly combined; set aside.
Beat melted butter, sugars and corn syrup at low speed until thoroughly blended, about 1 minute. Add yolk, milk and vanilla; mix until fully incorporated and smooth.
With mixer on low speed, slowly add dry ingredients; mix until just combined. Do not overbeat. Add chips.
Scoop dough by tablespoons 2 inches apart onto baking sheets. Bake, 1 sheet at a time, until cookies are golden brown and flat, about 12 minutes.
Cool on baking sheet 3 minutes, then transfer to a wire rack until cooled to room temperature. Makes about 40 2-inch cookies.
Note: The dough, en masse or shaped into balls and wrapped well, may be refrigerated up to 2 days or frozen up to 1 month. Bring it to room temperature before baking.
---
Oatmeal Crisps
Adapted from "1001 Cookie Recipes" by Gregg R. Gillespie (Black Dog & Leventhal, 1995)
1-1/4 cups flour
1/2 teaspoon EACH baking powder, baking soda and salt
1 cup butter-flavored vegetable shortening
1/2 cup white sugar
3/4 cup packed light brown sugar
2 large eggs
1 tablespoon milk
1 teaspoon vanilla extract
3 cups rolled oats
1 cup raisins (or chocolate chips, or a mixture of both)
Preheat oven to 350 degrees.
Combine flour, baking powder, baking soda and salt.
In a separate bowl, cream shortening and sugars. Beat in eggs, then milk and vanilla. Gradually blend in dry ingredients. Fold in oats and raisins.
Drop by teaspoonfuls onto ungreased cookie sheets, 1-1/2 inches apart. Flatten slightly with the bottom of a glass dipped in sugar. Bake 12 to 14 minutes, until golden brown.
Allow to cool slightly, then remove to wire racks. Once cool, immediately store in airtight containers.
Nutritional information unavailable
.
---
BACK TO TOP
|
Baking basics
It's the time of year when even non-bakers push up their sleeves and get out the baking equipment. Here are some reminders to make sure your baked goods turn out delicious every single time:
Read the recipe: Don't plunge in without knowing what you're doing. Gather all the ingredients and equipment you will need, then start.
Check your leaveners: Make sure your baking powder and baking soda are current and that use-by dates have not expired. Baking is a precise science.
Measure correctly: Use clear glass or plastic cups to measure liquid ingredients and stacked cups to measure dry ingredients. Spoon flour lightly into the dry measuring cup and level the top off with the flat edge of a spatula or knife.
Take your oven's temperature: Use an oven thermometer and adjust accordingly. To avoid overbaking, check the cookies a few minutes before the minimum baking time. Bake cookies on the center rack for even browning.
Keep it cool: Never let cookie dough sit on a hot baking sheet or the cookies will spread out too much.
One pan at a time: You'll get the best results if you bake one sheet of cookies at a time. But if you must double-up, make sure to rotate the baking sheets halfway through the baking time, front to back and from shelf to shelf.
Protect your pans: Do not run hot baking sheets under cold water. Abrupt temperature changes may cause warping.
Source: Associated Press