---
[ FAST FACTS HAWAII ]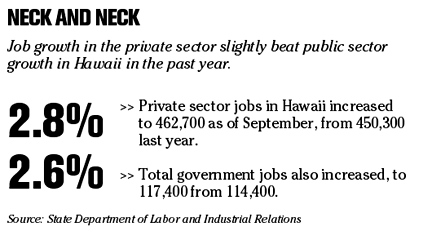 ---
BACK TO TOP


|


Horner officially named to succeed Walter Dods
First Hawaiian Bank's board formally appointed Don Horner yesterday as its chief executive officer, replacing Walter Dods, effective Jan. 1.
Dods is stepping down as CEO at the end of this year, as previously announced. Dods, 63, also will retire as CEO of BancWest Corp., the bank's parent company, but will continue to serve as chairman of both First Hawaiian and BancWest.
The 54-year-old Horner will retain the title of president but will relinquish his role as chief operating officer. Horner, a 26-year employee at First Hawaiian, began his banking career as a credit analyst with the bank in 1978.
Cyanotech delays converting ponds
Cyanotech Corp.
, a Big Island producer of nutritional supplements and animal feed from microalgae, said yesterday it is postponing the conversion of four of 10 Spirulina ponds that it previously said would be turned into astaxanthin ponds by the end of this year.
Last month, the company announced that demand for animal feed NatuRose was affected by bad weather in Japan and competitive pricing from synthetic astaxanthin products in Europe. Cyanotech said it will delay the conversion of the remaining four ponds until conditions improve in the aquaculture markets.
United reaches deal with pilots
CHICAGO »
United Airlines
has secured a tentative contract agreement with its pilots, clearing a critical early hurdle in its effort to make another round of painful labor cuts in bankruptcy without needing a court order.
The agreement, announced yesterday, makes the pilots the first of United's four big unions to come to initial terms. All four have decried the bankrupt airline's latest proposed steep cutbacks but risk having the company's terms imposed in bankruptcy court if they don't reach a settlement.
Details were not disclosed by either the company or the union's leadership, which meets tomorrow in Chicago to decide whether to ask pilots to ratify it. But United, which has the weight of federal bankruptcy law on its side, has said any revised contract with pilots must provide $191 million in annual savings to the company.
Japan companies remain positive
TOKYO » The Bank of Japan's Tankan survey showed confidence among manufacturing executives slipped from a 13-year high. Stocks and the yen rose as the report said companies raised forecasts for profits and capital spending.
The quarterly index of confidence among large Japanese manufacturers fell to 22 points from 26, the central bank said today in Tokyo, the first drop since March 2003. A number above zero means optimists outnumber pessimists.
A sixth quarter of optimism suggests manufacturers are resilient to a stronger yen and higher oil and raw-material costs. Spending by companies is sustaining growth in the world's second-largest economy, which avoided recession last quarter with a 0.2 percent annual pace of expansion.
---
BACK TO TOP
|
[Hawaii Inc.]
NEW JOBS
»
MW Group Ltd.
has appointed
Samuel Chung
acquisitions and financing vice president. He previously served as Pioneer Plaza vice president and general manager.
» Goodsill Anderson Quinn & Stifel has hired five associates. Liann Y. Ebesu-gawa will concentrate in labor and employment law. Mihoko E. Ito will concentrate in litigation. Valerie M. Iinuma will concentrate in trusts and estates and real estate law. Jennifer M. Young will concentrate in public utilities law. Joanna J.H. Markle will serve as a government relations specialist.
» PCF Virtual Integrated Marketing & Advertising Agency has hired three employees. Kathleen Herbst has been hired as media director. She has more than nine years of agency experience from Laird Christianson Advertising. Todd Masui has been hired as senior new media designer. He previously worked as Digital Mediums' creative director. Lisa Ching was hired as account executive. She will be responsible for several of the company's new and existing accounts.