---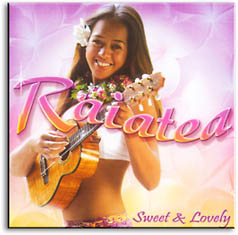 "Sweet & Lovely"
Raiatea
Raiatea Helm
Raiatea Helm takes another big step forward in her career with this beautiful collection of Hawaiian and hapa-haole standards. From the opening bars of the first song, "Ka Loke Polena," there's no question that her new album was worth the wait.
The occasional use of tinny-sounding synth overdubs as a substitute for a real string section is the only flaw.
Helm reaffirms her place as the most prominent female Hawaiian falsetto singer of her generation with exquisite renditions of "Kalama'ula" and " 'Alika" -- songs that are make-or break tests for falsetto singers of either sex.
The presence of veteran Genoa Keawe as Helm's guest on "Hu'i E" speaks volumes for those who've followed Helm's burgeoning career.
Helm also shows pop potential as she closes the album with Etta James' classic "At Last."
raiateahelm.com
---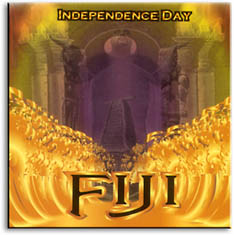 "Independence Day"
Fiji
Jahnra Music Group
Always one of Hawaii's most powerful and soulful vocalists, Fiji has sometimes been ahead of the so-called "island music" scene. He plays it safe here, however, with a smoothly crafted album dominated by original songss and reggae-style rhythms. Most of the songs should be local hits. Several could have a broader appeal.
Fiji is also one of the few Hawaii-based artists who can bring fresh ideas to remakes. He does that here with a reggae-influenced arrangement of "If Tomorrow Never Comes" and a imaginative reworking of "Stop That Train."
Eight polished originals address a variety of topics with earnest lyrics and catchy arrangements. Two of them, "The Vow (Wedding Song)" and "Where Did We Go Wrong," show his appeal as an urban genre balladeer.
The album's opening chant reaffirms his cultural consciousness as a native Fijian fluent in his native language.
fijitheartist.com
---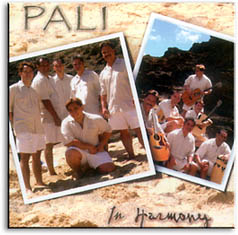 "In Harmony"
Pali
PK
Pali -- the namesake band of Pali Tuan W. Ka'aihue -- pays homage to several styles of island music with this aptly titled album. Some selections reprise the smooth pop-influenced harmonies of earlier local vocal groups like the Surfers and Buddy Fo & The Invitations, while others reflect the renewed popularity of folk music since the Hawaiian Renaissance of the 1970s.
The brightest gem here is "Pauoa Liko Ka Lehua," arranged by band member Shepherd Paki Kawakamiwith Genoa Keawe joining in on the vocals.
The other tracks are just as strong. Two songs may seem questionable choices, but their presence is explained in the extremely detailed liner notes.
John Keawe, Jay Kauka, Jay Kauka II and Damien Freitas sit in elsewhere, but Pali doesn't require their talents to make "In Harmony" a beautiful celebration of modern Hawaiian and hapa-haole music.
pali.net

John Berger, who has covered the local entertainment scene since 1972, writes reviews of recordings produced by Hawaii artists. See the Star-Bulletin's Today section on Fridays for the latest reviews. Contact John Berger at
jberger@starbulletin.com
.