[UH FOOTBALL]
---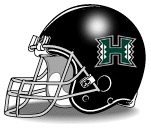 Pearman may opt
to leave Warriors
The homesick Hawaii freshman
will decide whether to transfer
within the next few days
The father of true freshman running back Andrew Pearman said his son might decide whether he will transfer from UH "within the next few days."
"He's just a homesick kid right now," Alvin Pearman said in a phone conversation from the family's Charlotte, N.C., home yesterday. "It's tough being that far away from family."
Andrew Pearman has not been to practice since last week, and was not available for comment yesterday.
Pearman, had been practicing as a running back, the position he prefers, with the scout team this fall. Coach June Jones told Pearman he could have a chance to play this season as a receiver, but Pearman pulled a hamstring muscle early in preseason camp and fell behind.
"He is very homesick, and it's really up to him," Jones said.
Jones said he told Pearman to take time off from football and focus on his classes while he decides what to do.
Pearman, 5-foot-9, 175 pounds, rushed for 2,268 yards and scored 37 touchdowns as a senior at Providence High School in Charlotte last year.
He has been electronically timed at 4.3 seconds over 40 meters and 10.3 over 100 meters.
His brother, also named Alvin, has had an outstanding season as a running back at Virginia.
Injury status change: Linebacker Ikaika Curnan and offensive lineman Uriah Moenoa went from "probably out" on Monday to "very iffy" after practice yesterday in coach June Jones' estimation for Saturday's game against Northwestern at Aloha Stadium.
Moenoa's knee and hamstring injuries and Curnan's ankle are getting better, but Jones still doesn't know if they'll be ready when the Warriors (5-5) take on the Wildcats (6-5) of the Big Ten in a must-win game for both teams' bowl hopes.
"Right now I'd say Uriah and Ikaika are very iffy," Jones said.
The coach said he's prepared to go with the new alignment up front on offense if Moenoa, the unit's most experienced player, isn't ready to go at right guard or center.
Jones said he was pleased with the starting lineup against Idaho of left tackle Tala Esera, left guard Hercules Satele, center Samson Satele, right guard Brandon Eaton and right tackle Jeremy Inferrera. Esera is the only player to begin the season at the same position, and Hercules Satele made his first start last week.
At linebacker, Curnan, the leading tackler last season, said he is ready to play.
"It's not 100 percent, but I just want to get on the field," he said. "Resting last week really helped."
Cornerback Abraham Elimimian said sitting out the 52-21 thrashing of Idaho helped his aching hamstring and heel both get better.
"It sure was worth it. I was itching to play, especially when we were behind early. I was worried I might have to go to my locker and dress out," he said. "But then we got ahead, and that was good."
No starters incurred new injuries Saturday, but the Tautofi brothers, Daniel and Darrell, might both be out.
Daniel, a second-year freshman special teams player and reserve linebacker, suffered a concussion when he fell while taking his postgame shower Saturday.
Darrell, a senior backup defensive lineman, pulled a calf muscle in his right leg and was walking with crutches yesterday.
Wildcat strike: Northwestern arrives today, and will practice at Aloha Stadium today and tomorrow.
The Wildcats have a team Thanksgiving dinner planned for tomorrow.
"I don't know what they're serving, but I'll eat whatever they put in front of me," running back Noah Herron said. "One thing I want is fresh pineapple. I plan to eat one every day I'm there."
Halftime with Jasmine: Even if UH doesn't win its last two games to qualify for the Sheraton Hawaii Bowl, the event will feature some local talent. "American Idol" runner-up Jasmine Trias of Mililiani has agreed to perform at halftime of the Dec. 24 game.
"She was coming home for Christmas anyway (from a tour in Asia) and we had some discussions with her manager," Hawaii Bowl Executive Director Jim Donovan said. "We think she will be a big plus for the game."
Donovan did not want to speculate who might play in the slot allocated to the Western Athletic Conference if Hawaii does not qualify. He did venture a possibility for the Conference USA side.
"I can't say anything with 100 percent certainty yet, but I can say UAB is one of the teams we're taking a close look at," Donovan said. "They're having a great season (7-3 with a game to play). This would be their first bowl game, and their basketball team is playing in the Rainbow Classic (Dec. 20-23)."