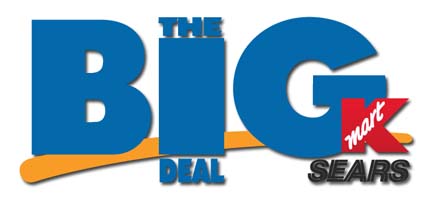 Sears, Kmart get lifeline from
deal, preserving competition
The merger of Kmart and the Sears department store chain into the nation's third-largest retailer will likely shore up choices for value shoppers in Hawaii, experts said.
The merger is expected to help both retailers survive in a world increasingly dominated by big-box retailers, such as Target, Wal-Mart, Lowe's, Home Depot and Cost Plus. The carcasses of Liberty House and J.C. Penney Co., which closed its flagship Ala Moana Center store, Pearlridge Center store and Hilo outlet in 2002, show how tough the market can be, even in Hawaii, where retailers routinely post record sales.
The new company, Sears Holding Corp., will unite seven Sears and seven Kmart stores in the isles, and will help both retailers carve a bigger piece of the local market share, said Fred Noa, vice president at CB Richard Ellis Hawaii Inc.
"The argument can be made that Kmart is here to stay, which six months ago was a question mark," Noa said. "There is strength in combined powers. They will be able to offer consumers a greater diversity of products and price points."
But whether the merger will be a success in Hawaii is still in question, Noa said. To compete with one of Oahu's strongest retail corridors, newly created by the opening of the double-decker Wal-Mart and Sam's Club on Keeaumoku Street, both retailers will have to "figure out what they will be when they grow up," he said.
The merger, which is just another example of a consolidation trend happening all over the country, is not likely to have much impact on retail in Hawaii as long as both retailers separately identify and target their markets, said Doug Smoyer, chairman of Retail Strategies LLC.
While it's increasing hard for retailers to compete, there is still room in the market for those that offer consumers what they want, Smoyer said.
"Retailers have to select customer categories and specialize; they can't be all things to all people," Smoyer said.
While it is still unclear what evolution Sears and Kmart will ultimately take together, a transformation is already taking place. Several hundred stand-alone Kmarts are expected to become Sears stores, helping kick-start the department store chain's plan to expand beyond malls. In September, Sears closed on its purchase of 50 stores from Kmart Holding Corp., including one location in Waikele.
While customers will find the neighborhood stores stock traditional Sears products, such as apparel, home appliances, home electronics and home-improvement items, the stores will be configured more like discount shops than department stores, with shoppers browsing aisles for goods and waiting in line to pay at one exit.
Retail analyst Stephany Sofos said the merger of Sears and Kmart will help both retailers carve out a better market position in Hawaii. The possible cross-selling of brands such as Sears' Craftsman tools and Kmart's brands, which include Martha Stewart, Jaclyn Smith and Joe Boxer, could increase sales, she said.
"You are basically combining two mediocre companies to create a tremendous market base that caters to lower- and middle-value markets" Sofos said. "They will share the best prime real estate, some powerful brands and their knowledge to emerge as a much stronger entity."
---
BACK TO TOP
|
ANALYSIS
---
---
A shining history
capped by harsh
reality of retail
CHICAGO » Sears, Roebuck and Co. was once on top of the world, reveling in the popularity of its "big book" catalog from company headquarters in the world's tallest building.
But the last catalog went out in 1993, and the once mighty Sears Tower was sold and has been passed by taller buildings, while its namesake company now operates from the Chicago suburbs.
Sears' status as a retail star is also long gone, due both to missteps on the part of Sears and a change in the way Americans shop -- something Sears officials now hope to combat by combining with Kmart.
The $11 billion deal will foist yet another new identity on Sears, a company that published its first general catalog in 1896 and opened its first retail store in 1925.
After decades as an American icon in the retail industry -- more than half of the country's households had a Sears credit card in the early 1970s -- it was dethroned by Wal-Mart Stores Inc. as the nation's leading retailer in 1991.
Since then, the company has been buffeted by a series of competitive and financial threats and hasn't been able to shake its image as stodgy and old-fashioned.
The catalog was discontinued in 1993, and two years later the headquarters were moved to suburban Hoffman Estates. In 1999, the company was removed from the Dow 30 Industrials.
With discounters like Kohl's Corp. and Target Corp. siphoning off shoppers, Sears has been in search of a niche that would connect with consumers.
A '90s campaign focusing on Sears' "softer side" fizzled, taking away business from its strengths in hardline goods such as tools and home appliances -- a market it still dominates.
---
---


CEO Alan Lacy, who took over the top job in 2000, overhauled the layout and inventory of Sears' full-line stores, bought the Lands' End specialty catalog and sold the credit division to Citigroup.
In September, the company even adopted a new logo -- only the fourth in its 118-year history -- to give it what it describes as a "fresher, friendlier" look.
But the preppy Lands' End clothing line has failed to connect with consumers in inner-city and rural areas, and the sell-off of the credit unit put more pressure on apparel and retail for improvement, which they have not yet achieved.
Adam Hamft, who runs a New York-based branding and advertising company bearing his name, said Sears has not been able to make its brand relevant to younger, more sophisticated consumers who are accustomed to shopping at Ikea, Gap and Target.
"Legacy and heritage mean less and less in this short shelf life culture we're in," he said.
Hamft said he wishes Sears would have tried to publish a hip, 21st century version of its catalog, or traded on its long history with an ironic marketing strategy, like Altoids and Burberry have done. The takeover by Kmart instead seems to be going the wrong way, he said.
"Neither of these companies has had much retail imagination. It seems like you're creating a colossus with less response to trends and consumer demand," Hamft said.
However, retailing consultant Faith Hope Consolo said she thinks the new combined company might convince consumers to take another look at Sears and Kmart, especially with Christmas approaching.
"There are two ends of the spectrum, either discount or luxury; there's nothing in between. I think with discount being the darling, it's the right time (for this combination)."
---
BACK TO TOP
|
How the deal will work
Kmart Holding Corp. agreed to buy Sears, Roebuck & Co. for $11 billion to create the third-biggest U.S. retailer. Here is a snapshot of the acquisition:
»
Terms
: Sears investors will receive $50 in cash or 0.5 share of the new company. The offer is 11 percent more than Sears' closing share price of $45.20 yesterday.
»
Value
: $11 billion
»
Strategy
: The acquisition will save the combined company, which will be called Sears Holdings Corp.,
$500 million within three years. Kmart and Sears will have its headquarters in Hoffman Estates, Ill., and have almost 3,500 stores around the country. The merged company will have $55 billion in annual sales and be the U.S.'s third-largest retailer, behind Wal-Mart Stores Inc. and Target Corp.
»
Earnings
: The acquisition will add to earnings before
restructuring costs in the first year.
»
Advisers
: Kmart was advised by Lehman Brothers Holdings Inc., while Sears was advised by Morgan Stanley.
»
Management
: Kmart Chairman Edward Lampert, whose firm ESL Investment Inc. owns more than half Kmart's stock,
will be chairman of the combined company. Sears
Chief Executive Alan Lacy will be vice chairman and CEO of Sears Holdings.
---
Roots in the late
19th century
Here are milestones in the histories of Kmart Holding Corp. and Sears, Roebuck & Co.:
KMART:
» 1899: S.S. Kresge Co. founded by Sebastian S. Kresge; first store in Detroit.
» 1918: S.S. Kresge becomes publicly traded company, listed on the New York Stock Exchange.
» 1962: Company opens first Kmart discount department store in Detroit suburb.
» 1966: Sales top $1 billion. Number of stores climbs to 915, including 162 Kmarts.
» 1976: Sales at Kmart stores account for 94.5 percent of company's domestic sales.
» 1977: Name changed from S.S. Kresge Co. to Kmart Corp.
» 1987: Kmart sells off last remaining Kresge stores in the United States.
» 2002: Kmart files for Chapter 11 bankruptcy protection. Move led to closing of about 600 of more than 2,100 stores and termination of 57,000 employees.
» 2003: Kmart exits Chapter 11 as Kmart Holding Corp.
» 2004: Kmart announces plans to acquire Sears, Roebuck & Co.
SEARS:
» 1886: Richard W. Sears, a railroad station agent who sells coal as a sideline, buys unwanted watches from jeweler and founds R.W. Sears Watch Co. in Minneapolis.
» 1887: Sears moves to Chicago, hires watchmaker Alvah C. Roebuck.
» 1893: Company incorporates as Sears, Roebuck and Co., offering products by mail order to rural residents at lower-than-general-store prices.
» 1896: Issues first general catalog.
» 1925: First Sears retail store opens, on Chicago's West Side.
» 1927: Launches Craftsman and Kenmore brands.
» 1931: Establishes Allstate Insurance Co.
» 1945: Sales pass $1 billion.
» 1973: Moves headquarters to Sears Tower, then world's tallest building.
» 1985: Debuts Discover Card.
» 1991: Loses No. 1 retailer spot to Wal-Mart.
» 1993: Catalog discontinued.
» 1994: Announces plans to sell Sears Tower.
» 1995: Headquarters move to Hoffman Estates, Ill.
» 2004: Announces merger with Kmart.
Sources: Kmart, Sears, Associated Press
.