[UH FOOTBALL]
---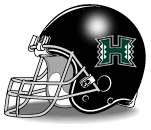 Idaho players coping
with tragic loss
of teammate
Two months later, the reasons are unclear. The rumors are many. The gun is still missing.
IDAHO AT HAWAII
Where: Aloha Stadium
When: Saturday, 6:05 p.m.
Tickets: $9 to $24, $3 for UH students for this game.
TV: Live, Pay-Per-View, call (808) 625-8100 or (808) 643-2337 on neighbor islands. Delayed, 10 p.m. on KFVE channel 5, Sunday, 10 a.m.
Radio: Live, KKEA 1420-AM.
Two months later, the memory of Eric McMillan is attached to the helmets of the Idaho Vandals and etched into the arms of his closest teammates.
Two months later, one grim fact remains: McMillan is dead.
Idaho (3-8) completes its trying season Saturday at Aloha Stadium against Hawaii (4-5), another team that struggled with injuries and unfulfilled expectations. One difference is the Vandals also suffered through something that puts the rest in perspective -- the violent death of a beloved brother.
As a young second-year freshman cornerback, McMillan was getting better at being in the right place at the right time.
On the last two nights of his life, it was the opposite.
McMillan was involved in an altercation at a Moscow, Idaho, nightspot on Sept. 18, after the Vandals' 49-8 loss to Washington State. The next night, two men entered his home and shot him once in the chest. The following morning, he was dead.
Two suspects from Seattle were arrested and charged, but other details are sketchy as they await trial. What really happened and why depends on who tells the story.
One theory is McMillan was playing peacemaker at the bar, and ended up paying the ultimate price.
"He was breaking it up and I guess they got him mixed up with somebody else," said Idaho safety Simeon Stewart, one of McMillan's best friends.
McMillan was described by teammates and coach Nick Holt as an effervescent, up-and-coming talent. He had started all three games before his death.
"He was one of the reasons I moved to safety, to get the best players on the field," Stewart said. "Real athletic, could run, could hit. He was coming along, real smart on the field."
Quarterback Michael Harrington said McMillan came from "a rough background," but he was thriving as a player and student at Idaho.
"He was the nicest guy in the world," Harrington said. "He was starting over, getting his new shot."
Stewart said McMillan lived a floor above him, but Stewart was with his family from Tacoma, Wash., the night of the shooting.
"I lost friends before, but Eric was like my little brother. His name is tattooed on my arm, and the arms of about 10 other guys," Stewart said.
The Vandals wear "EM7" -- McMillan's initials and number -- on the back of their helmets in tribute.
"We've come together because of the tragedy," Holt said. "We think about Eric daily in our prayers and thoughts."
Idaho played at Oregon (one of eight road games this season) five days after McMillan died. The Vandals lost 48-10 to drop to 0-4. But despite their heavy hearts, numerous injuries and a rigorous Sun Belt travel schedule, Idaho stuck together to win three games.
"What happened with Eric brought our team a lot closer together," defensive end Brandon Kania said. "We learned a lot about competing.
"He was an upbeat guy, nice kid, hard worker. He never talked bad about anybody," Kania added.
The unanswered questions surrounding his death are a mystery to many, including Kania.
"I have no idea what's going on with that," he said. "Let justice do its thing."
Fa'avi out for season: UH center Derek Fa'avi is "out for the year," coach June Jones said after yesterday's practice.
Fa'avi, a junior and third-year starter, missed last Friday's game at Fresno State with a right leg bruise. Fa'avi still had a noticeable limp yesterday.
Starting right guard Uriah Moenoa started at center in place of Fa'avi at Fresno. Moenoa is battling knee and hamstring injuries himself.
Phil Kauffman and Samson Satele took repetitions at center yesterday. If Satele, normally the starting left guard, plays center, second-year freshman Hercules Satele will play left guard.
"I haven't quite decided yet," offensive line coach Mike Cavanaugh said.
On defense, Ray Bass, Turmarian Moreland and Keao Montielh are competing at cornerback to start instead of Abraham Elimimian, who is out with a hamstring strain. Starting linebackers Ikaika Curnan and Tanuvasa Moe are still battling ankle and hamstring injuries and their status for Saturday is not yet clear. Same with defensive end Tony Akpan, who has been in and out with a shoulder subluxation.
Stickler back: UH sophomore running back Ryan Stickler returned to practice yesterday, much sooner than expected.
Stickler suffered a separated right shoulder on the first play of the season in August. He was expected to miss the entire season.
"It feels good, and I was told it's unlikely I'll get a redshirt year," he said. "So I decided to see if I can go. My dad's going to be here for the last game (Dec. 4 against Michigan State), so I figured I'd see if I can help out somewhere, maybe special teams."
Stickler came to Hawaii as a quarterback in 2002. He switched to running back in preseason camp this year.
Stickler practiced with the offensive scout team yesterday.
"I just wanted to suit up and hit somebody again," he said. "Standing around watching practice isn't my idea of fun."