[ WARRIOR FOOTBALL ]
---
---
Running down
a Record
Chad Owens is 2 yards short
of breaking Gary Allen's
all-purpose yardage record
FRESNO, Calif. » Two generations of Hawaii football stardom are expected to cross paths for the first time today at the Piccadilly Inn here in the San Joaquin Valley when Gary Allen and Chad Owens finally meet.
UH at Fresno State
Where: Bulldog Stadium, Fresno, Calif.

When: Today, 5:30 p.m. Hawaii time

TV: Live, ESPN

Radio: Live, KKEA 1420-AM

Internet: KKEA1420AM.com
---
Key matchup
Hawaii defensive line vs. Fresno State offensive line
The Bulldogs have a huge, strong offensive line led by left tackle Logan Mankins. Hawaii's defensive front is a little healthier than last week, as starting end Kila Kamakawiwo'ole and backup tackle Kahai LaCount are available. Defensive end Mel Purcell has been all but unstoppable this season, but the Bulldogs can try to avoid him by running the other way with Bryce Sumlin and Wendell Mathis.
"I'm looking forward to it," said Allen, who planned to make a 3-hour drive from Covina, Calif., to see his alma mater take on the Bulldogs of Fresno State. And regardless of what he says about "a great 20-year run," the first quarter will provide a moment likely to be bittersweet for him.
Entering tonight's Western Athletic Conference game, Allen leads Owens by only 2 all-purpose yards. Allen's school career record that he set nearly a quarter-century ago is 4,558.
Away from the football field, they were even. Neither knew much about the other.
"Gary Allen? What years did he play? I was born in 1982," Owens said, when asked if he'd heard of Allen and his exploits as a Rainbow in the late 1970s.
When Owens was born, Allen was a member of the Dallas Cowboys. Allen also played professionally for the Houston Oilers and, later, Calgary of the Canadian Football League, before settling in Southern California, where he grew up.
"I've seen a few UH games over the years," said Allen, who is on the board of directors of the school's Letterwinners Club, and organizes tailgates at road games and other activities. "But I haven't seen Chad play very much."
Although Allen played a different position (running back) than Owens (slotback) and they are different in many other ways, Allen might see a little bit of himself in Owens tonight.
Allen -- who still holds the UH career rushing record of 3,451 yards -- was an elusive and quick, but strong runner. His most outstanding feature was his "happy feet," which helped him avoid countless tacklers in the open field. The 5-foot-9, 185-pound Allen was among the slippery players around the country who caused abolishment of the tear-away jersey.
"He was uncommonly strong for his size," said Jim Donovan, a former UH offensive lineman and Allen teammate. "He could bench 385 pounds. He was well-built, with lots of muscle mass, and deceptively strong. It seemed like he could run almost as fast lateral as forward. He had an unbelievable ability to cut back on running plays.
"The No. 1 thing was his drive and tenacity. He came in and was going to make the most of his opportunity and he was very, very proud to play for the state of Hawaii."
Donovan was speaking of Allen, but the description could be of Owens, too.
"There are quite a few similarities," said Donovan.
---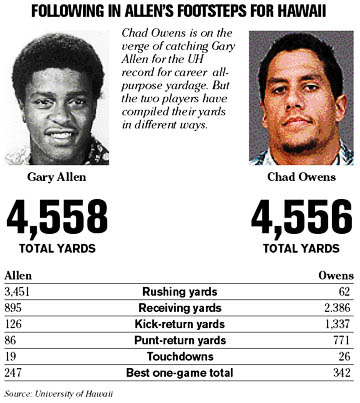 ---
Owens has been an exciting, productive receiver since 2002, and among the nation's most dangerous kick returners in 2001 as well as this year. Hawaii is 32-17 in the walk-on's four seasons.
Allen was the focal point of some of coach Dick Tomey's best UH teams. They went 29-15 in his four years, and Allen completed a fine career despite suffering through the last two seasons with a painful turf-toe injury. He starred in the Hula Bowl as a wide receiver.
"We had a lot of confidence," Allen said. "We were riding on a high, young kids. We developed the winning style there. They weren't winning too many when we got there, but we turned it around by playing as a family more than individuals."
Allen is 44 now. He lives a quiet life in Covina, where he works as an inspector for the county water company, and raises his 3-year-old son, Jaden, with his wife, Hilda.
Allen's greatness as a player always seemed overshadowed. When he was in college, he wasn't even always the best "Allen" -- his career intersected with that of USC great Marcus Allen. As years go by, many younger fans -- and players -- have no memory of him. He will never be totally forgotten, though; Allen was enshrined in the UH Circle of Honor in 1998.
He returns to Hawaii "once every couple of years," and reunites often with other former Rainbows -- as he is doing today.
"I keep in touch with a lot of former teammates, get together and play golf," he said. "Tim Lyons, Carl Stokes, Kurt Kafentzis, Joe Nobles. ...
"I haven't seen much of the games this year, caught pieces of Boise State on TV," he said.
After seeing some of UH's 69-3 loss, does Allen feel the Warriors have a chance tonight?
"I think they'll rise to the occasion."
He always did.