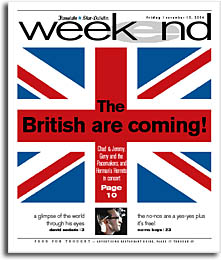 [ WEEKEND ]
---
The British are coming!
Chad & Jeremy, Gerry &
the Pacemakers, and Herman's
Hermits in concert
In 1962 Gerry and the Pacemakers were signed by manager Brian Epstein as his second group after the Beatles, and made their name with ballads like "Ferry Cross the Mersey" and "Don't Let the Sun Catch You Crying." But it was a Rodgers & Hammerstein song, "You'll Never Walk Alone" -- which had enthralled Gerry Marsden since he saw the film "Carousel" in his youth -- that was their biggest hit.
The British Invasion
With Herman's Hermits, Chad & Jeremy, and Gerry and the Pacemakers

When: 7 p.m. Sunday

Where: Blaisdell Arena

Tickets: $35 to $45, available at the Blaisdell box office and Ticketmaster outlets, or ticketmaster.com
For three decades that song has remained the anthem of crowds at Liverpool Football Club, played before kick-off every Saturday, and inscribed on the club gates.
For a few months, Gerry & the Pacemakers were The Beatles' nearest competitors in Britain. Marsden and his band burst out of the gate with three consecutive No. 1 U.K. hits in 1963: "How Do You Do It," "I Like It" and "You'll Never Walk Alone."
If The Beatles defined Merseybeat at its best in early 1963, Gerry & the Pacemakers defined the form at its most innocuous, performing bouncy, catchy, and lightweight tunes driven by rhythm guitar and Marsden's chipper vocals.
He formed the group in 1959 with his brother Freddie on drums, Les Chadwick on bass, and Arthur Mack (replaced in 1961 by Les McGuire) on piano. The quartet worked the same Liverpool/Hamburg circuit as The Beatles, and began recording for the EMI/Columbia label in early 1963, under the direction of producer George Martin.
The band's first single was a Mitch Murray tune, "How Do You Do It?," that Martin had wanted The Beatles to record for their debut. As recorded by Gerry & the Pacemakers, the song reached No. 1 before being displaced by The Beatles' "From Me to You."
Marsden wrote much of the band's material, including "It's All Right," "I'm the One," "Don't Let the Sun Catch You Cryin' " (sharing credits with the group) and "Ferry Cross the Mersey."
By 1965, the group's popularity in Britain was waning, although they held on a bit longer in the United States. In 1966, they had their last American Top 40 hit, "Girl on a Swing." The group disbanded that October and Marsden became a popular cabaret and children's TV entertainer, performing with the Pacemakers on the oldies circuit.
The Star-Bulletin caught up with the affable Marsden, 62, who will be making his first visit to Hawaii, at his Liverpool home.
---
---
Question: Got to ask you about your health.
Answer: No, I don't have a pacemaker. We've been touring all over, seven months a year. We just came back from Australia, New Zealand, Japan, Hong Kong.
Q: Why do you tour so much?
A: Oh that's easy. It's terrible to be poor. But I love being on stage. I'll do it until the day I die.
Q: What is it about the band's music that keeps it so popular?
A: Our music was very memorable, very listenable and easy to sing along with.
Q: Liverpool was such a breeding ground for musicians.
A: Liverpool is a seaport and we always had a lot of ships coming in from the states, Australia and South Africa. And all these ships would have musicians on board and they would all go down and sing in the pubs and clubs and we would go and listen. Nobody ever thought of Liverpool until Brian Epstein took the Beatles down to London and everyone wanted to know where they were from. Then all these agents and such came to our city.
Q: How many of the Pacemakers are still around.
A: They're all still alive but not in the band. We finished in 1967 and I came back in 1972 with a new band to tour again. I think over the years there have been like 14,000 Pacemakers.
Q: Where did Pacemakers come from?
A: I was watching the tele late one night and this guy said something about the pacemaker in a race. So I thought that would be a good name for my band.
Q: How did your parents feel about their son becoming a musician?
A: They loved it. I was working on the railway delivering parcels. I said, 'I want to pack it in dad. I want to play music,' and he said, 'God Bless you, son.' I thought the band would last five years, so I saved every penny. I am still saving every penny.
Q: What are your audiences like?
A: They range from 9 to 99. We have a lot of grandparents whose grandkids come with them because they've heard the music in their homes.
Q: What were some of the highlights of your career?
A: Our first tour of American in 1964 blew my mind. I couldn't believe the size of the place and how great the kids were. Then there was the first time I ever played for the Queen in 1966 and she said I was handsome. One thing about this business is that you don't remember the bad days, they go to the back of your brain. We remember just the good times.
Q: What's the biggest difference for the band now?
A: When we started we were told where to go and play. Now we choose. Now I can meet the people, sit and chat.
Q: Oh, come on, you must get tired of singing the same hits over and over?
A: No, it's easier now because finally I know the words.
Q: What's your show like?
A: I tell stories about the songs and musicians I like and about our lifestyle, our hits and why I wrote them. I love every moment.