[UH FOOTBALL]
---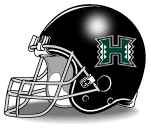 Chang named WAC
Player of the Week
Hawaii quarterback Tim Chang was announced as Western Athletic Conference Offensive Player of the Week on Monday morning.
Chang broke the NCAA career passing yardage record in UH's 34-23 victory over Louisiana Tech.
He threw four touchdown passes in the win, including a 7-yarder in the first quarter to Jason Rivers to break Ty Detmer's record of 15,031 yards.
After completing 26 of 42 passes for 285 yards Saturday, Chang has15,303 all-time passing yards.
Fresno State cornerback Richard Marshall and Tulsa kick returner Ashlan Davis took the defensive and special teams honors.