[ WARRIOR FOOTBALL ]
---
---

University of Hawaii quarterback Tim Chang completed a 5-year odyssey last night at Aloha Stadium, becoming college football's career passing-yardage leader.
Chang completed a 7-yard touchdown pass to Jason Rivers at 9:27 of the first quarter of UH's 34-23 win over Louisiana Tech to break the record of 15,031 yards held by former Brigham Young star Ty Detmer. He threw for four touchdowns and 285 yards to run his NCAA career-passing yardage total to 15,303.
The record-breaking pass was the 95th career touchdown pass for Chang. He is the NCAA active leader in that category. Chang had tied the yardage record earlier in the game on a 7-yard pass to Rivers.
After the record-breaker, Chang was hugged by teammates. Then he ran to his father, Levi Chang, who was on the field as the game's play-clock official.
He got a big hug from center Derek Fa'avi and then from coach June Jones on the sideline, before and after being mobbed by other teammates.
A brief celebration was held and Chang was given the football used in the record-breaking play. Chang then gave the ball to his father.
A taped message from Detmer was played on the stadium's Jumbotron screen during the celebration.
"Congratulations to Timmy Chang on a great career," Detmer said.
---
BACK TO TOP
|
Chang gets number
off his back
Like most other football players, Tim Chang is a man of letters. Two letters: W and L.
Wins and Losses -- they are the only true measure of success and failure in the violent game of blood, sweat and fears.
But for the past two years, Chang has been caught up in a numbers racket -- ever since his coach at Hawaii, June Jones, predicted the quarterback from Waipahu and Saint Louis School would someday own the NCAA career passing-yardage record.
Last night at Aloha Stadium, Chang hit the number and the letter. He completed a 7-yard pass to fellow Saint Louis alum Jason Rivers to reach 15,038 yards, breaking the old record of 15,031 by Ty Detmer of Brigham Young.
Chang finished the game with 285 passing yards, giving him a total of 15,303. He completed 26 passes in 42 attempts with four touchdowns and one interception, and Hawaii defeated Louisiana Tech 34-23.
Chang has always said that while getting the record would be nice, it was never high on his to-do list, but rather, would be a by-product of success.
"No. The best record would be winning games. National championships. To me, the (passing) record has never been a priority," Chang said. "It's always been doing my part, doing my job in getting the ball to my receivers. Doing that is how all these yards accumulated. Sticking to the game plan was the best way for me to deal with it. Keep moving.
"This is the biggest team game. Without the other 10 guys none of this would be possible. All the guys in the past, and all the guys playing now. Everyone's a part of it. Even if they're on defense."
Since Jones predicted the record for Chang, the player has survived insult and injury, suspension and slump. He was booed and benched last year -- only to come back stronger and better for this, his final season. His only bad game this year was a zero-touchdown, four-interception performance in a 69-3 loss at Boise State on Oct. 29 -- a nationally televised game in which he was expected to break the record.
"He's playing better than he's played any other year," Jones said before the Boise State game. "When you think about his play ... probably six or seven dropped touchdown passes ... pretty unbelievable numbers for one year.
"He needs to continue to do that for us to continue to win because of all the injuries we have."
Critics say the massive yardage and the record came about only because Chang got three extra games because of an injury in 2001 and because bowl games count on individual records now -- which they did not when Detmer played. Some also say Chang is a mediocre quarterback who benefits from playing in an offense that passes the ball much more often than other systems.
One rival coach openly sneered at the prospect of Chang as a Heisman Trophy candidate last year. But last night's opposing coach, Jack Bicknell, has some perspective on what it takes for a quarterback to post big passing numbers. He coached Nos. 4 and 5 on the Division I-A all-time list, Tim Rattay and Luke McCown.
"That's a tremendous accomplishment, a great achievement," Bicknell said before last night's game. "That's something to really be proud of."
Over the years, Chang has earned respect from opponents and teammates.
Boise State quarterback Jared Zabransky said the record is significant, and he didn't mind it deflecting attention from the Broncos' then-18-game winning streak and dominance of the Western Athletic Conference. Chang was featured in USA Today and was interviewed by ESPN at the team hotel in Boise, Idaho, the day before the game.
"I think it's deserving. He's had a good career and it's a big record. It's deserving of public notice. It doesn't bother us," Zabransky said.
Boise State coach Dan Hawkins praised Chang.
"He's a great player who knows where to go with the ball," he said. "He has a great arm and he's athletic. Kind of the whole package."
UH offensive lineman Uriah Moenoa has known Chang since they competed against each other in the Interscholastic League of Honolulu, when Moenoa attended Iolani and Chang was at Saint Louis. He admires Chang's resiliency.
"Basically, he has a very strong will," Moenoa said. "If you've been watching University of Hawaii football the past couple of years, you know he's been through a lot. From his freshman year he's been going through injuries. He got booed off the field, his homefield. But he kept going, kept persevering and working hard, that got him to the point he's at now."
Chang's toughness -- mental and physical -- has often been questioned. That has rarely happened this season.
"He's grown into a real team leader," Moenoa said. "He's more in charge in the huddle, he gets his teammates up. I think some of that comes with him becoming a father."
Chang's first child, Dylan Kealiiokaaina Chang, was born two months ago. His face tells it all when the subject of his son is brought up. His smile becomes huge.
"I enjoy being a father," said Chang, who has always cited his family as a source of strength. "I'll enjoy it more when I'm able to spend more time with him. But right now it's hard because football and school have me so busy. But he's always on my mind."
---
BACK TO TOP
|
Passing A Record
The NCAA's all-time career
passing-yardage leader
---
It took Hawaii quarterback Tim Chang 48 games to break the NCAA passing record of 15,031 yards. Here's how he did it. Track his total career yardage at the top. His attempts and completions with yardage per game are also listed along with the opponent and the outcome of the game -- win or loss.
---
15,303 yards
130
9-for-22 for 130 yards
L at UTEP
9/23/00

443
31-for-48 for 313 yards
L Tulsa
9/30/00

709
18-for-44 for 266 yards
L at TCU
10/7/00

1,023
23-for-42 for 314 yards
W SMU
10/14/00

1,250
25-for-48 for 227 yards
L at Rice
10/21/00

1,653
34-for-64 for 403 yards
L at San Jose St.
10/28/00

1,936
24-for-44 for 283 yards
W Nevada
11/11/00

2,327
31-for-51 for 391 yards
W Louisiana Tech
11/18/00

2,688
24-for-56 for 361 yards
L Wisconsin
11/25/00

3,041
26-for-50 for 353 yards
L UNLV
12/2/00

3,476
31-for-54 for 435 yards
W Montana
9/8/01

3,779
25-for-37 for 303 yards
L at Nevada
9/22/01

4,141
27-for-49 for 362 yards
L Rice
9/29/01

4,515
19-for-30 for 374 yards
W Eastern Illinois
8/31/02

4,792
20-for-52 for 277 yards
L BYU
9/6/02

4,877
9-for-27 for 85 yards
L at UTEP
9/21/02

5,123
15-for-29 for 246 yards
W SMU
9/28/02

5,483
35-for-57 for 360 yards
L at Boise St.
10/5/02

5,864
19-for-31 for 381 yards
W Nevada
10/12/02

6,267
34-for-49 for 403 yards
W Tulsa
10/19/02

6,729
36-for-61 for 462 yards
W at Fresno St.
10/25/02

7,094
31-for-54 for 365 yards
W San Jose St.
11/2/02

7,463
35-for-64 for 369 yards
W at Rice
11/16/02

7,682
23-for-42 for 219 yards
W Cincinnati
11/23/02

8,054
26-for-53 for 372 yards
L Alabama
11/30/02

8,491
33-for-54 for 437 yards
W San Diego St.
12/7/02

8,615
14-for-21 for 124 yards
L Tulane
12/25/02

8,921
32-for-54 for 306 yards
L at USC
9/13/03

9,284
37-for-61 for 363 yards
L at UNLV
9/19/03

9,681
42-for-70 for 397 yards
W Rice
9/27/03

9,921
22-for-41 for 240 yards
L at Tulsa
10/4/03

10,274
40-for-60 for 353 yards
W Fresno St.
10/11/03

10,808
33-for-46 for 534 yards
W at Louisiana Tech
10/18/03

11,234
27-for-54 for 426 yards
W UTEP
10/25/03

11,566
28-for-46 for 332 yards
W at San Jose St.
11/1/03

11,835
25-for-48 for 269 yards
L at Nevada
11/15/03

12,191
25-for-43 for 356 yards
W Army
11/22/03

12,229
7-for-23 for 38 yards
W Alabama
11/29/03

12,339
10-for-19 for 110 yards
W Boise St.
12/6/03

12,814
26-for-42 for 475 yards
W Houston
12/25/03

13,116
38-for-66 for 302 yards
L Florida Atlantic
9/4/04

13,479
34-for-50 for 363 yards
L at Rice
9/18/04

13,857
22-for-43 for 378 yards
W Tulsa
10/2/04

14,179
21-for-35 for 322 yards
W Nevada
10/9/04

14,473
26-for-49 for 294 yards
L at UTEP
10/16/04

14,791
25-for-39 for 318 yards
W San Jose St.
10/23/04

15,081
26-for-53 for 227 yards
L at Boise St.
10/29/04

15,303
26-for-42 for 285 yards
W Louisiana Tech
11/6/04

---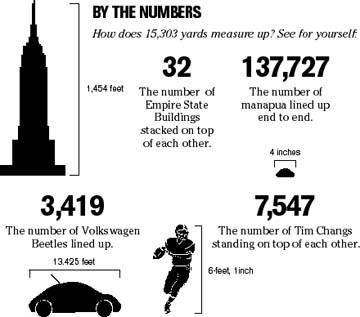 ---
Top Quarterbacks
The top career passers in NCAA Division I-A:
| | | | |
| --- | --- | --- | --- |
| Name | School | Years | Yardage |
| Tim Chang | Hawaii | 2000-2004 | 15,303 |
| Ty Detmer | Brigham Young | 1988-1991 | 15,031 |
| Philip Rivers | North Carolina State | 2000-2003 | 13,484 |
| Tim Rattay | Louisiana Tech | 1997-1999 | 12,746 |
| Luke McCown | Louisiana Tech | 2000-2003 | 12,666 |
The Record-breaking Play
The game situation when Chang broke the record:
Down: Second-and-goal from the 7-yard line
Receiver: Jason Rivers
Play: Chang found Rivers in the back of the end zone for a TD
Time: 9:27 remaining in the first quarter
Result: A 7-yard scoring play