[ POLICE ]
---
Man sought in fatal
Wahiawa stabbing
Kerry Sanders and the victim
allegedly got into an argument
Honolulu police are looking for a 39-year-old man who allegedly killed his girlfriend's son-in-law after an argument Thursday night in Wahiawa.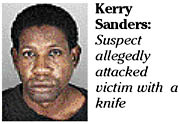 Kerry Sanders, also known as "Al Capone," allegedly attacked the 32-year-old victim with a kitchen knife, stabbing him just below his right rib cage about 7 p.m. while both men were arguing on the sidewalk fronting 560 California Ave.
Police said the victim's wife took him to Wahiawa General Hospital.
"He was conscious and he actually climbed into the vehicle at the scene," said homicide Lt. Bill Kato yesterday. "He was talking to the wife all the way to the emergency room, and when he got in to the emergency room, apparently he went unconscious."
Kato said the motive for the stabbing is under investigation, but it appears to have something to do with the victim's mother-in-law, who is Sanders' girlfriend.
Kato said the stabbing was witnessed by Sanders' girlfriend and her daughter, the victim's wife.
"We really haven't had a chance to talk to (the wife) as to what happened or what occurred prior to the stabbing," Kato said. "Apparently, her mother was involved somehow. ... It's not clear right now.
"The victim's wife was at the scene at the time, but she's distraught obviously, so we really haven't had a chance to speak to her yet."
Police are looking for Sanders and have asked the public's help in locating him.
"We ask that you don't approach him, because obviously he's a danger right now, and just call police," Kato said.
Sanders was arrested for an attempted murder in 1990 but was convicted of first-degree assault instead in 1991 when the case went to trial. He was also convicted of drinking in public and parole violation.
Police recovered what they believe to be the murder weapon, a 10-inch kitchen knife, which was found in a room at a rooming house, which Sanders shares with his girlfriend. The rooming house is at 548 California Ave., next to the murder scene.
Sanders is described as 5 foot 5 inches, about 140 pounds, with a medium build, black hair, brown eyes, dark complexion, a mustache and goatee.
Police also said Sanders' hair is "longer than pictured" in the photo provided to the news media. Sanders is known to frequent Kalihi and Wahiawa.
Anyone with information about this case can contact Detective Ted Coons at 529-3053. Anonymous calls can be made to CrimeStoppers at 955-8300 or by dialing *CRIME on a cellular telephone.