---
[ FAST FACTS HAWAII ]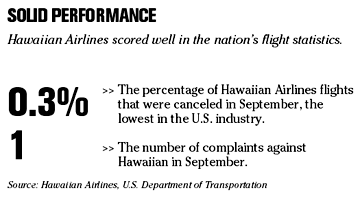 ---
BACK TO TOP
|
HAWAII
Kibun Foods plans to close in Hawaii
Seafood-product manufacturer and wholesaler
Kibun Foods (U.S.A.) Inc.
has notified state labor authorities that it plans to shut down its operations in Hawaii and sell its assets.
In a notice to the Department of Labor and Industrial Relations, the Seattle-based company said the move will result in layoffs of all of its employees.
The number of affected workers could not be confirmed yesterday but the company's notice said it was less than 50, exempting it from providing financial assistance to the workers under the state's Dislocated Workers Act.
Castle losing Monarch contract
Castle Resorts & Hotels
said it will lose its contract to manage the vacation-rental program at the 439-unit Hawaiian Monarch in Waikiki at the end of the year, affecting 15 employees.
A growing number of owners are converting their units into long-term rentals and Castle officials said it is no longer feasible to operate a hotel-rental pool at the property.
When Castle began managing the property two years ago, about half the units were in the hotel pool, but the number has dwindled to about 90, said Alan Mattson, senior vice president of sales and marketing at Castle Resorts & Hotels.
A shortage of housing for University of Hawaii students has fueled the long-term rental market in Waikiki and many owners are taking advantage of the demand, Mattson said.
Castle will try to relocate as many employees as possible to other properties, he said.
Kauai utility chief will retire
LIHUE » Alton Miyamoto, who was a key figure in converting investor-owned Kauai Electric Co. into Hawaii's first electrical cooperative two years ago, yesterday announced his retirement as president and CEO of the Kauai Island Utility Cooperative.
An electrical engineer, Miyamoto has been employed by the utility for 24 years.
The KIUC board has begun the process of searching for a replacement. Miyamoto's retirement becomes effective Feb. 1.
Hawaiian Air most on-time carrier
Hawaiian Airlines
said it was the most punctual carrier in the nation for the 11th straight month in September, with 96.7 percent of flights arriving on time.
A flight is considered on time if it arrives within 15 minutes of schedule. Hawaiian's flights were well ahead of the competition, with the second most-punctual airline, SkyWest Airlines, arriving 88.8 percent on-time, according to U.S. Transportation Department figures cited by Hawaiian.
Hawaiian said it also had the lowest percentage of canceled flights in September at 0.3 percent, or 11 canceled flights out of 3,810.
Biotech exec named chairman
Hawaii Biotech Inc.
Vice President Richard Sherman has been named chairman of Canadian biopharmaceutical company
Biophage Pharma
.
Sherman, who has been a member of Biophage's board since 2000, can lend his expertise in corporate development and financing as the company seeks to grow, Biophage said.
Sherman has more than 30 years' experience in the biotech sector. Montreal-based Biophage Pharma develops products that prevent and control antibiotic-resistant infections and inflammatory diseases.
[ BRIEFLY ]
---
Banker Connie Lau named Business Leader of the Year
Bank executive Connie Lau was named Business Leader of the Year at the third annual Business Leadership Hawaii gathering yesterday for her work in steering
American Savings Bank
from a retail savings and loan to a full-fledged bank.
The event also honored L&L Drive Inn as the Best in Business for companies with revenues more than $20 million for its aggressive growth strategy locally and on the mainland.
CTA Solutions was recognized in the under-$20 million category for its successful employee-led transformation from a computer-education firm to software developer.
Among other awards, longtime Castle & Cooke executive Henry Clark was given a lifetime achievement award.
College admission guidance will be available
The Hawaii Association for College Admissions will sponsor a free workshop Thursday to help prospective college students and parents navigate the college admissions and financial-aid process.
The session is open to students in ninth grade or higher and their parents. The workshop will be from 6-7 p.m. at the Neal Blaisdell Center's Pikake Room. It is being held along with the Hawaii College and Career Fair.