---
Lei makers can use
many native plants
---
People have always asked me, "What native plants are good for making lei?" Usually my answer to that is "Pretty much all of 'em." Whether it's the flowers, buds, petals, fruit, seeds, pods, closed- or open-leaf buds, lei makers can take something that looks bland and combine it with other items to make a beautiful work of art.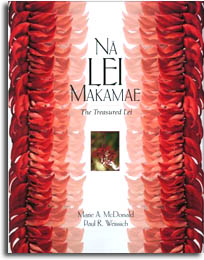 Native Lei Plants Vol. I
Coastal Plants
Today we reserve lei for special occasions, but in the past it was part of everyday life. To get a better understanding of how early Hawaiians valued the concept of lei-making, Marie McDonald and Paul Weissich's book "Na Lei Makamae" offers a wealth of information. After reading it, I was blown away by the type of plants that were used to make traditional lei.
Over the next couple of weeks I will be talking about native plants that are good for lei making, including some mentioned in the book. The plants selected here can be used for making lei and work well in home landscapes. By planting them, you won't have to go far for lei-making material.
All the plants mentioned will be native (or of Polynesian introduction), so don't be surprised when you don't read about plants like pikake, pakalana, tuberose or puakenikeni. As nice and popular as they are today, they're just not native to Hawaii.
The series will be broken up into three parts based on vegetation zone, starting with lei plants found in coastal habitats.
For home landscapes with irrigation systems, it's easy to control the environment to suit your plants' needs, but for conservation efforts we will group them in this zoned manner. If you live in a dry area with lots of sun, you can choose coastal or dry forest plants to design your garden.
Trees
Traditionally, the flowers of niu (coconut, Cocos nucifera) and milo (Thespesia populnea) and the flowers and round fruit of kamani (Calophyllum inophyllum, not the false kamani aka Indian almond) are used in lei making. All these trees are presumed to be Polynesian introductions, but are culturally significant and well deserving of being in a Hawaiian lei garden. Hala (Pandanus tectorius), on the other hand, is native and can grow into a sizable tree. Usually the individual fruit or "keys," as they are often called, of the larger fruit are strung into lei or cut into designs and strung. The hinano, or male, flowers of the hala tree are surrounded by slender white bracts that can also be made into a striking lei.
Shrubs
The most common beach shrub you will find is Naupaka kahakai (Scaevola sericea). This is a hardy shrub that can grow almost anywhere, growing to about 6 to 8 feet tall and about the same width. Its small half-flowers and white fruit can be used in lei.
Ohai (Sesbania tomentose) is an endangered shrub that varies in growth habit and color. The plant ranges from a prostrate ground cover all the way up to a small tree, but usually takes the form of a short shrub. Flower color also varies from bright yellow to crimson red, with every hue in between. Its flowers are strung in line with the fronts facing out. Some alternate pointing up and down, similar to that of the non-native Maunaloa type lei.
'Iliahi a lo'e (Santalum ellipticum) is a coastal sandalwood that grows into a beautiful shrub about 3 to 4 feet tall. The purple-tinged young leaves (liko), mature leaves, flower buds and open flower clusters are woven into lei.
'Akia (Wikstroemia uva-ursi) is a commonly used landscape plant. It grows about 2 to 3 feet tall with small yellow flower clusters and orange and red fruit. The flowers, stem tips and fruit are used in lei.
Ground covers
'Ilima papa (Sida fallax) is a nice ground cover that requires very little water. Its flowers are used to make the famous 'ilima lei of Oahu. A form of this plant also grows as a shrub and can be used that way in landscapes.
Coming up: More native coastal plants that are used for making lei.
---