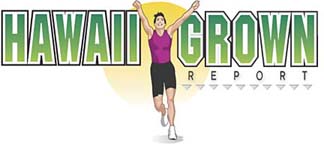 ---
Ferguson wins ACC
running honor
The 2004 graduate of Seabury Hall
is named best freshman
Tia Ferguson says "I was just going along, running my race," at the Atlantic Coast Conference cross-country championships on Saturday when another Duke runner yelled to her.
About HgR
HgR tracks Hawaii student-athletes on the mainland.

Submissions must include name, high school, college and sport. Submissions can be sent via:

E-mail: dennis@lava.net
Fax: (808) 236-4195
Phone: (808) 236-3654 or toll-free (888) 236-3654
"Right near the finish, one of the guys was yelling, 'There's a Virginia Tech girl right on you,' so I kicked hard and beat her," Ferguson said.
It was only later that she learned that the runner closing fast was also a freshman and that by outkicking her, Ferguson was the first freshman to finish.
Ferguson, a 2004 Seabury Hall graduate from Kula, later was named ACC cross-country Freshman of the Year.
Her overall finish was eighth and her time was 22 minutes, 14.9 seconds in the 6,000-meter race at University of Maryland at College Park. She was fourth for the Duke team that won its first ACC championship.
Ferguson won the HHSAA state cross country, 1,500- and 3,000-meter championships in her senior year at Seabury. She also won the women's 3,000-meter run at the U.S. Junior Track and Field Championships in June.
"But I had never run 6,000 meters (the college women's cross-country distance) before this fall," she said. Her season had been "up and down," she said, including one "horrible" race as she adjusted to the longer distance and to being far from home.
"It's been pretty rough some times being way out here in North Carolina," Ferguson said, "but everybody goes through it. The other freshmen have their share of transitioning and adjusting to college life, too."
Ferguson "has had a very good transition" in the opinion of Duke women's distance coach Kevin Jermyn.
"She has proven to herself that she can already compete at the highest levels of college running," Jermyn said. "It usually takes a little longer to make that adjustment. Tia has done better than we had hoped so far in her career."
Ferguson is the only freshman runner whom Duke did not redshirt.
"I felt a little isolated at first, but the (upperclassmen) have become some of my best friends," she said. "They had the experience I am going through and they have empathy for me. They taught me to have the courage to go out and put absolutely everything on the line.
"They do it every day. They are role models and peers, like I have never had before They have really contributed to success I have had and will have."
---
BACK TO TOP
|
---
Isles' best in conference races
---
How Hawaii cross-county runners fared at various conference championships. Men ran 8,000 meters; women ran 6,000 except at the Big Sky, which was 3 miles. Races were held Saturday, unless otherwise indicated:
Atlantic Coast » College Park, MD.
8. Tia Ferguson, 22:14.9 (first freshman, fourth on team)
• School: Duke • Class: Freshman • High School: Seabury Hall '04 • Hometown: Kula • FYI: Duke won its first ACC championship and Ferguson was named ACC Freshman of the Year.

Mountain West » San Diego, Calif.
14. Christal Cuadra, 23:03 (first)
• School: San Diego State • Class: Junior • High School: Maryknoll '02 • Hometown: Manoa • FYI: Cuadra was named second-team All-Mountain West

Big Ten » Iowa City, Iowa (SUNDAY)
49. Todd Iacovelli, 25:34 (seventh)
• School: Michigan • Class: Sophomore • High School: Punahou '02 • Hometown: Kailua.

Pac 10 » Golden Gate Park, San Francisco
69. Pippa Macdonald, 23:11 (fifth)
• School: California • Class: Sophomore • High School: Punahou '03 • Hometown: Lanikai

Big Sky » Bozeman, Mont.
34. Annie Kawasaki, 18:53 (fifth)
• School: Portland State • Class: Senior • High School: Saint Francis '01 • Hometown: Makiki

Peach Belt » lander, S.C.
23. Andrew Maixner, 27:31 (fifth)
• School: North Florida • Class: Sophomore • High School: Radford '03

Northwest » Spokane, Wash.
33. Carly Killam, 23:16.00 (ninth)
• School: Willamette • Class: Sophomore • High School: Punahou '03 • Hometown: Kailua
62. Caitlyn Tateishi, 24:53.30 (fourth)
• School: Pacific (Ore.) • Class: Freshman • High School: Waiakea • Hometown: Pahoa
---
BACK TO TOP
|
Cuadra makes a run to the top
with impressive finish at MWC
Christal Cuadra's finish in the Mountain West Conference cross-country championships Saturday in San Diego was as impressive as who she achieved it against.
Cuadra and her San Diego State team were in the same race with Brigham Young, which won its 17th straight conference championship and has won four NCAA titles in the past seven years.
Cuadra, a 2002 Maryknoll graduate from Manoa, finished the 6K course in 14th place in 23:03 -- her team's fastest time of the season by 19 seconds.
She improved 28 places from last season and is only the second San Diego State runner in the six-year history of the Mountain West to finish in the top 14.
Cuadra earned second-team All-Mountain West designation.
"If she races the way she did Saturday, she will put herself in the top 25 in our region, which is one of best regions in the nation," said San Diego State distance coach Jennifer Nanista. (The West Regional is Nov. 13 at Fresno.)
"She always had the talent, and she finally bought into the program," Nanista added. "We butted heads last couple of years, but this year she is listening."
The coach said that Cuadra, a junior, "has grown into leadership role" and was selected team captain.
Perhaps most satisfying for Nanista, she said, was that after Saturday's race, Cuadra told her: "I believe in you."
---
BACK TO TOP
|
Kimball has number
retired
"It's almost a fairy tale," says Kea Kimball, "the very ending of a fairy tale where you live happily ever after."
An event Kimball never imagined will take place on Nov. 19 in Los Angeles when Loyola Marymount University retires her volleyball No. 18.
Her uniform will hang in the rafters of Gersten Pavilion along with those of LMU volleyball greats Tracy Holman (1994-97), Sarah McFarland (1997-2000) and Mardell Wrensch (1992-95) and men's basketball players Bo Kimble and the late Hank Gathers.
"It's such an honor to be placed in a category with those girls," Kimball said. "When I got into the program those were my idols. The coaches told us stories about them."
Kimball came to LMU from Kaunakakai, Molokai, and Kamehameha, where she played on three state championship volleyball teams, including the 1999 team in her senior year that was ranked No. 1 in the nation and is considered by some to be the best ever in Hawaii.
At Loyola Marymount, she was a three-time All-West Coast Conference first-team selection (2001-03).
» Pacific (Ore.) freshman setter Anela Iseke (Kamehameha '04 of Hauula) was named Northwest Conference volleyball Player of the Week on Tuesday.
Iseke had her first triple double (13 kills, 18 digs, 23 assists) in a five-game victory over Lewis & Clark and hit .357 in two matches last week.
» Fairfield (Conn.) freshman Jazmin Pa'akaula (St. Joseph '04 of Kea'au) was chosen Metro Atlantic Conference Rookie of the Week on Monday for the fifth time this season.
Pa'akaula had 27 kills in six games and hit .400 last week. She is averaging 3.33 kills and 4.01 digs per game for the season.
» Seattle Pacific sophomore libero Tiffany Butac (Hawaii Baptist, of Pearl City) has averaged 5.79 digs per game over the last five matches, including 32 in a five-game loss at Alaska-Fairbanks. Her season average is 4.27 and the school record is 4.29.
» Oregon sophomore outside hitter Sarah Mason (St. Joseph '03 of Hilo) is expected to return this weekend after missing three weeks with a high-low ankle sprain. The Ducks need her right arm. Mason was averaging 4.35 kills per game in Pac-10 play before her injury.