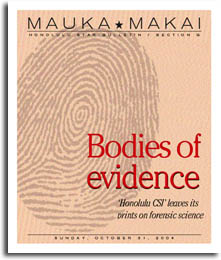 [ MAUKA
MAKAI ]
---
---

"Honolulu CSI" meticulously delves
into forensic science, with a comical,
local slant
An excerpt from Chapter 5 of "Honolulu CSI." The chapter is a discussion on firearms.
Before the public began its fascination with CSIs and forensic science, TV shows and movies often pictured the detective or crime scene investigator picking up a firearm by sticking a slender rod, like a pen, into the barrel. Never, ever do that! It's a dumb cop who inserts anything into the barrel of a firearm that has been used in a shooting. Inserting something into the barrel can alter the imperfections in the barrel and inadvertently cause striation comparison to be questioned. And since many of us use expensive Mont Blanc or Namiki pens, what a foolish thing to do -- put a Namiki into the barrel of a gun!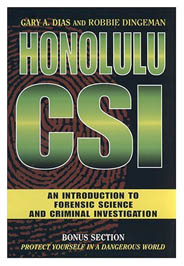 Neither do you want to grab the firearm anywhere on its metal frame; even though some of the exposed metal surfaces are very small, it's still possible to lift fingerprints from them. In many instances, firearms will be searched for fingerprints by using the superglue method. This method is used on the gun's ammunition as well.
Nearly all firearms have a grip of sorts. And nearly all grips have crisscross or checkerboard patterns cut or imprinted in them. Prints cannot be obtained from a grip, so that's where investigators carefully grab and handle the weapon. ...
We had a case in which a crook was lying dead in his living room with a single gunshot to his head. In his hand was a revolver. His crook friends said that he was playing Russian roulette. Examination of the weapon's cylinder, however, showed that the spent shell was on the wrong side of the frame in relation to the cylinder's rotation. In addition, the dead guy had no gunshot residue on his hands. Also, the dead guy was right-handed, but the entry hole was in his left temple. We suspected fairly quickly that someone shot him, examined the weapon and in doing so turned the cylinder, and put it in (the victim's) hand.
By the way, be really suspicious if you're told that the victim accidentally killed himself by playing Russian roulette with a semiautomatic pistol, since the automatic feature would remove any element of survival (unless, of course, the losing player in Russian roulette was a guy named Buster Babooze).
What if suspects are still around and the loaded gun is on the floor? Pick it up properly, if you have to keep it out of the hands of people who might use it to shoot you, and put it in the locked trunk of your car, after marking its location on the floor. ...
Members of the National Rifle Association (NRA) say, "Guns don't kill. People do." Remember old Ben Hur -- Charlton Heston, aka Moses himself? (He won an Academy Award for at least one of those movies, I think.) He agrees. Guns are lifeless hunks of metal that just so happen to be the weapon most often used to take the life of an innocent person.
Well, I can tell you here, based on my 27 years of experience with the Honolulu Police Department, six of which were as the lieutenant in charge of the Homicide Detail, that yes, people do kill, and yes, they use guns to kill most of the time. In fact, the FBI reports, based on the information they receive from police departments across the nation, that guns are the No. 1 weapon used to kill people. So Charlton Heston is right, too -- as long as people are the ones doing the killing. Any other animal group using guns to kill people doesn't count.
I can tell you also of the tragedy that occurs, also across the nation, when a child picks up a gun at home and accidentally kills another child -- or himself or herself.
You can come to your own conclusion on whether guns or people kill. But I pray that if you have a gun in your home, it's unloaded, its ammunition is separate from the weapon, it has a trigger lock and it's secured in a case that is locked and impossible for a child to get into.
Don't let a child -- perhaps your child -- become a statistic for the FBI.
---
BACK TO TOP
|
Dias and Dingeman
get into nitty-gritty
ONE OF THE TRICKS of becoming a successful author is to dominate a niche no one else has thought of. In the field of chatty and funny how-to manuals about the horrors of criminal behavior with a Hawaiian twist, Gary Dias and Robbie Dingeman pretty much have the court all to themselves.
It's a good thing they do it so well.
The latest is called "Honolulu CSI," and if that sounds like an attempt to cash in on the popularity of the TV shows, well then, you belong in the book publicity business. The shows have actually raised public awareness of the demanding nature of forensic science, but they haven't educated the public much about the actual procedures. "Honolulu CSI" is a layman's primer on the subject, and as such should have wide readership even beyond the islands. Basic scientific techniques and the laws of physics apply everywhere.
"Honolulu CSI" is a bit more textbook-oriented than their anecdote-rich previous titles, "Honolulu Cop" and "Honolulu Homicide." In those books, Dias and Dingeman taught through storytelling and example. Here, it's lab time. They even include lists and quizzes, suggested supplemental reading and experiments you can try at home. (Good teachers know that students learn by doing, not by memorizing.)
We're talking explanations of crime scenes, fingerprinting, blood spatter, firearms, arson, explosive patterns, document control, graphic arts in reconstruction, wounds ranging from minor injuries to invasive autopsies, and basic forensic tools. All of it is told in the informal, amusing style they've perfected, because they also know that students remember jokes better than they do hard data.
An addition, the book takes the investigative techniques a step further, into prevention: "Protect Yourself in a Dangerous World" is expert, reasonable advice on home and street safety without being paranoid. Well, too paranoid.
Aiding Dias and Dingeman here are police artists Joe Aragon and Chun Yee; like the rest of "Honolulu CSI," their contributions are concise, clear and to the point.
"Honolulu CSI" ought to be required reading for fans of crime procedurals.