---
[ FAST FACTS HAWAII ]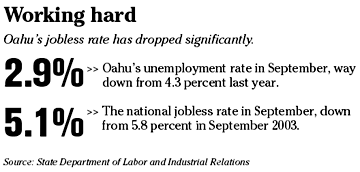 ---
BACK TO TOP
|
NATION
United will kill pension plans
United Airlines, which is under bankruptcy protection, is almost certain to terminate its employee pension plans and replace them with less-expensive retirement benefits, the airline's chief financial officer said yesterday, blaming an "extraordinarily bad" industry environment.
The United executive, Frederic F. Brace III, said in an interview that the airline, a unit of UAL, would have to slash "substantially more" than $1 billion in spending. That would be in addition to nearly $4 billion that it would save once it addressed its pension issue.
His comments came a day after United posted a $274 million third-quarter loss and disclosed that it might be forced to violate the covenants of its bankruptcy financing in the fourth quarter.
United has been under bankruptcy protection since December 2002.
Stock optimism slips on oil prices
Optimism on U.S. stocks declined for the first time in two months, according to Investors Intelligence, as oil jumped to a record and the Standard & Poor's 500 Index slid for a third straight week.
The percentage of bullish, or optimistic, newsletter writers slipped to 56.4 in the period ended Oct. 22, the first drop since an Aug. 20 reading. The previous week's gauge of 58.9 was the highest since February. The percentage of bearish, or pessimistic, writers rose to 25.5 from 22.1 a week earlier, the New Rochelle, N.Y.-based newsletter said.
Bullishness remained above the 45 percent level, which Investors Intelligence considers "normal." It has climbed from 39.6 percent in August, an increase that is "dangerous for the markets," according to the newsletter.
Investors return to mutual funds
A recent survey found that mutual fund ownership is on the rise after two years of decline, an encouraging signal that Americans are starting to save more money. But although most investors say retirement is their No. 1 priority, experts say the vast majority remain in danger of shortchanging this goal.
According to a study by the Investment Company Institute, the lobbying group for the mutual fund industry, 48.1 percent of households own mutual funds, a slight increase over last year but still below the peak of 52 percent in 2001. The median balance of $48,000 represents about 47 percent of total household savings.
WORLD
Gas prices may stay high to 2007
The world's oil supply is expected to be stretched thin for another two to three years, even as demand tapers off and the industry gears up for an exploration and production spending spree in 2005.
That could keep prices for gasoline, heating oil and other petroleum-based products high by recent historical standards, perhaps through 2007, even though analysts say the price of oil itself is likely to fall below $50 a barrel and possibly below $40 a barrel as early as next year.
"We have a surprisingly tight market that refuses to crack," said Art Smith, chief executive of the energy research and consulting firm John S. Herold and a firm believer that the world has entered "the end of the cheap oil age."
Smith and others believe higher-than-usual prices are needed to moderate consumer and industrial demand and to spur enough new drilling to give oil markets a bigger supply cushion.
There are signs this is beginning to happen on the supply side, fueled in part by the combined $18.8 billion third-quarter profits of the world's four largest publicly traded oil companies -- Exxon Mobil Corp., ChevronTexaco Corp., BP Plc and Royal Dutch/Shell Group -- that are 80 percent higher than a year ago.
At the same time, the industry's extraordinary gains are putting a dent in the finances of families and businesses. American consumers are expected to pay $40 billion more this year just to heat their homes and fuel their cars and trucks.