---
[ FAST FACTS HAWAII ]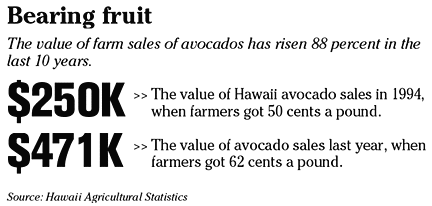 ---
BACK TO TOP
|
[ HAWAII INC. ]
NEW JOBS
>>
Shooters Film Production
has hired
Lauren Inake
as production coordinator and office manager. She previously worked at PBS Hawaii as a production technician and technical director.
>> Young Brothers Ltd. has appointed Anson "Slim" Ilae as Honolulu barge terminal supervisor. He will be responsible for ensuring the delivery of cargo to customers and the safe handling of equipment on the pier. He previously worked as a truck driver for more than 36 years.
>> The Grand Wailea Resort Hotel & Spa has hired Carlos Torres as catering and conference services manager. He previously worked as senior event manager for Clearwater Convention Center in Clearwater, Fla.
>> Marriott International has appointed Nihad Kattan as general manager of the Waikoloa Beach Marriott Resort. He will be responsible for overseeing all resort operations. He most recently served as the JW Marriott Caracas general manager in Venezuela.
PROMOTIONS
>>
Finance Factors
has promoted
Alvin Ige
to senior vice president and commercial real estate loan department manager. He will be responsible for overseeing sales production, underwriting and the day-to-day operations of the department. He was promoted from vice president.
---
NATION
Competitors protest $4B Boeing contract Lockheed Martin and BAE Systems filed protests yesterday to a $4 billion contract to upgrade the C-130 transport plane that a former Air Force official has said was improperly awarded to Boeing.
The protests, filed to the Air Force, are a first step in a process that could ultimately lead to the termination and rebidding of the contract.
Legal experts said that termination is the most severe of several options open to the Air Force, which has been investigating the relationship between Boeing and Darleen A. Druyun, formerly the Air Force's No. 2 weapons buyer, who has admitted to improperly awarding contracts to Boeing while seeking employment with the company for herself and her family.
Lockheed and BAE Systems lost a June 2001 competition when Druyun surprised the military industry by awarding a C-130 software upgrade contract to Boeing.
Intel inventory backlog to decline
Intel Corp.
, the world's biggest semiconductor maker, said third-quarter profit rose at the slowest pace in five quarters as a record stockpile of computer chips prompted the company to cut prices and slow production.
Net income rose 15 percent to $1.91 billion, or 30 cents a share, from $1.66 billion, or 25 cents, a year earlier, Intel said in a statement. Sales rose 8.1 percent to $8.47 billion, in line with Intel's reduced forecast.
Intel is reducing inventory that ballooned to $3.2 billion in the second quarter amid falling demand from personal computer makers, Chief Financial Officer Andy Bryant said. The backlog will decline this quarter as customers pare their own stockpiles, he said. The shares rose about 3.6 percent after Intel said it made progress in reducing its supply of chips.
'Shrek' filmmaker will offer $725M in shares
DreamWorks Animation SKG Inc.
, creator of the "Shrek" films, said the company and its investors will sell as much as $725 million of shares in an initial public offering to fund movie production and repay debt.
DreamWorks Animation, based in Glendale, Calif., and run by Chief Executive Jeffrey Katzenberg, will sell 29 million shares at between $23 and $25 a share, the company said in a regulatory filing. At the higher price, the company will have $2.64 billion in market value, about half that of Pixar Animation Studios, which also makes computer-generated films.
Katzenberg is taking the animation unit public in a year of box office success: "Shrek 2" has brought in $876.6 million in worldwide sales and the company's "Shark Tale" has generated $87.3 million as of Sunday.
Gannett's profits rise 11 percent on ad sales
Gannett Co.
, the largest U.S. newspaper publisher and owner of the Honolulu Advertiser, said third-quarter profit rose 11 percent, helped by sales of national advertising at USA Today and gains from Olympics broadcasts.
Net income rose to $310.2 million, or $1.18 a share, from $279 million, or $1.03, a year earlier, the McLean, Va.- based company said in a statement. Sales increased 11 percent to $1.82 billion for the quarter ended Sept. 26.
"Gannett has had the best advertising revenue growth in the industry thus far due to growth at small-market newspapers, USA Today and their U.K. operations," Ed Atorino, an analyst with Fulcrum Global Partners, said in an interview.
WORLD
Crude futures continue decline Crude oil futures fell for a second day in New York on concern record-high prices will curb demand in China, which led the surge in global consumption the past two years, and the rest of the world.
China cut imports in August and September partly because of rising prices, said Zeng Peng, a Beijing-based trader at PetroChina International Co., the oil-trading unit of China's largest oil producer. The International Energy Agency yesterday cut its forecast for global demand growth next year almost a fifth, predicting this year's 61 percent oil-price gain will limit economic expansion.
"Chinese power plants are switching to coal because oil has become so expensive," said Ong Eng Tong, the Far East consultant for Mabanaft Gmbh, a Europe-based oil trader. Refiners are also reducing oil imports and processing less because the government is capping on domestic fuel prices, reducing their profits.
Finland most competitive economy
Northern Europe and key Asian countries remained home to the most competitive economies worldwide, cementing their ranks among the top 10 in an annual survey conducted by the World Economic Forum.
In the annual poll of 104 countries' competitiveness by the forum, Finland retained the top spot for the third time in the last four years, followed by the United States.
Rounding out the top 10 in "The Global Competitiveness Report 2004-2005," issued today by the Geneva, Switzerland-based forum, were Sweden, Taiwan, Denmark, Norway, Singapore, Switzerland, Japan and Iceland.
The bottom of the list was rounded out by countries in South and Central America, Asia and Africa, including Nicaragua, Madagascar, Honduras, Bolivia, Zimbabwe, Paraguay, Ethiopia, Bangladesh, Angola and Chad.