Shark attacks
diver off Molokai
The Kaneohe man is airlifted
to Maui with deep lacerations
» Recent attacks
---



CORRECTION

Monday, October 11, 2004

» An A1 story in yesterday's paper incorrectly spelled shark attack victim Davy Sanada's last name as Sunada.

---




The Honolulu Star-Bulletin strives to make its news report fair and accurate. If you have a question or comment about news coverage, call Editor Frank Bridgewater at 529-4791 or email him at

corrections@starbulletin.com

.
A 34-year-old Kaneohe man was bitten by a shark -- believed to be at least 12 feet long -- off east Molokai yesterday while free diving in murky, shallow waters, rescuers and witnesses said.
Davy Sunada, a pipe fitter at Pearl Harbor Naval Shipyard, sustained deep bite wounds to his shoulder and face in the attack, fire officials and friends said. He was last listed in serious condition at Maui Memorial Medial Center.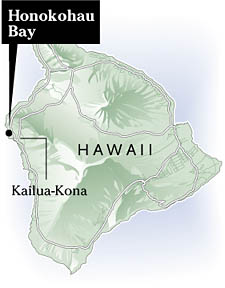 The incident occurred just after noon yesterday when Sunada was free diving alone about 600 yards offshore outside the Kupeke Fishpond. Sunada was vacationing with friends in the area, and earlier in the day had been spearfishing with a partner.
At about 12:17 p.m., resident Carol Beadle heard Sunada's calls for help from her beachfront home.
"I looked out," she said, "and I saw this guy in a wet suit waving his arms."
Beadle alerted neighbors and called 911 before she jumped into a kayak to paddle out to the victim.
Once she got to Sunada, he was able to slump over her craft and she helped him to the wall of nearby Kupeke Fishpond -- about 400 yards from shore.
She said the seas were too rough to get Sunada to the beach, so she went to shore alone to get help.
Firefighters arrived at about 12:30 p.m. and were able to devise a tourniquet to slow the victim's bleeding and stabilize him, officials said.
Sunada's friends also went out to the fishpond wall to try to help the man.
"I saw his face was bit up," said Kevin Seitz, who was vacationing in the area with Sunada and others. "There were deep lacerations on his cheek, and there was a big chunk out of his shoulder. He was stable ... but was going into shock."
Sunada told Seitz that "a big shark" had attacked him, but did not say what kind.
Molokai Fire Capt. Dartagnon Bicoy said a rescue helicopter airlifted Sunada in a basket at about 12:45 p.m. to a nearby fire station, where he was picked up by Maui's air ambulance helicopter and taken to Maui Memorial Medical Center.
He said Sunada could not be carried out because of the distance to shore and a fear that "he might bleed out more."
Bicoy said Sunada was conscious and speaking on the flight to the hospital, where he underwent surgery last night.
He said Sunada would likely be transferred today or tomorrow to the Queen's Medical Center in Honolulu.
The attack is the second to occur off Molokai since 1990. The other attack was in 1992, when Pahu Tanaka was attacked while fishing 50 yards offshore of Honomuni. He suffered an abrasion and bruise to his right leg.
Earlier this year, a 57-year-old Maui man died after he was bitten in the leg while surfing near Kahana Beach on Maui.
Bicoy said Sunada was in waist-deep water when he was attacked, and the bite marks he sustained indicate the shark is at least 12 feet long.
"It's pretty rare for a diver to get bit," he said, adding that he regularly free dives nearby with his two children.
Seitz said he did not know if Sunada had speared any fish before he was bitten. He said is planning to go out and try to recover his friend's equipment today.
Residents near Kupeke Fishpond said yesterday that they have seen sharks offshore in the past, but not usually in shallow waters.
"We see them off and on," said Helen von Tempsky, who has lived in the area for 34 years. "They don't come into shore. They stay out."
Bicoy said it was high tide when Sunada was bit yesterday, and waters in the area were murky.
The state Department of Land & Natural Resources is expected to look into the incident and warn nearby residents of the attack, said state Shark Task Force spokesman Randy Honebrink. He said the state would not launch a search for the shark unless it had been known to have attacked others.
---
BACK TO TOP
|
Recent attacks
---
Since 1990 there have been 15 shark attacks off Maui, 14 off Oahu, seven off Kauai, five off the Big Island and two off Molokai that involved minor, severe or fatal injuries to victims. Here are recent Hawaii shark attacks that involved injuries:
2004
April 7:
Surfer Willis McInnis, 57, of Napilii dies after he was attacked off Pohaku Park about 200 to 300 yards offshore at a surfing spot called S-turns near Pohaku Park on Maui.
2003
Oct. 31:
Bethany Hamilton was surfing at Tunnels at Makua Beach on Kauai when she was attacked by a shark. She lost her left arm below the shoulder.
Oct. 5: Clara Alo was attacked by a 4- to 5-foot gray-colored shark at Kalama Beach on Maui. Alo received injuries to her left thigh, right knee and right index finger.
June 24: John Marrack was snorkeling with a pod of dolphins when he was bitten on his right foot by a shark estimated at about 12- to 14-feet long at Makua Beach on Oahu.