Developer plans
Honokohau village
A $1 billion proposal centers on a 45-acre
marina, resorts and an 18-hole golf course
---
KAILUA-KONA » Jacoby Development Inc. of Atlanta unveiled a $1 billion plan yesterday to develop a marina and "resort village" on 550 acres of state and Hawaiian Homes land next to Honokohau Harbor two miles north of Kailua-Kona.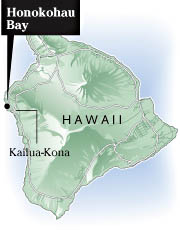 The plan, the result of a state request for proposals, centers on a new, 45-acre marina with 800 boat slips next to the existing harbor with 230 slips, Jacoby consultant Frank Brandt told the state Board of Land and Natural Resources.
Around the marina would be a "waterfront commercial village." The project would also have three resort parcels, two yacht clubs, two commercial sites facing Queen Kaahumanu Highway, and an 18-hole golf course.
At the entrance to the existing harbor would be a multicultural center dedicated to Hawaiian culture and other ethnic groups of Hawaii. The cultural center would be the first feature to be built, said Brandt, of the planning firm PBR Hawaii.
Pua Kanahele, a Hawaiian cultural expert from Hilo, and Mahealani Pai, a Kona resident with long-term ties to the area, were selected as consultants, Brandt said.
The Land Board voted to authorized the state to negotiate a lease of the 350 acres that the Department of Land and Natural Resources controls. The Department of Hawaiian Home Lands had previously selected Jacoby to develop its 200-acre parcel.
Selection of the same developer for both sites means a united plan can be put into effect.
Hawaiian Homes acquired its 200 acres from the state a few years ago in compensation for lands lost from its inventory decades ago.
The department needs to develop the land now to provide income to replace state payments of $30 million annually, which are due to end in 2013, said department spokesman Lloyd Yonenaka.
The Jacoby plan was sharp- ly criticized by a nonprofit competitor, Kealakehe 2020, whose proposal was declared inadequate by a review committee of a state official and two private citizens.
The nonprofit group, made up of Big Island residents, envisioned a deep-draft harbor that could handle two cruise ships at a time, plus agricultural processing to supply food to the ships, and small "villages" of affordable housing.
"If you're trying to get the best use of state lands, you don't need another bunch of golf courses and condominiums," Kealakehe 2020 President Skip Cowell told the Land Board.