---
[ FAST FACTS HAWAII ]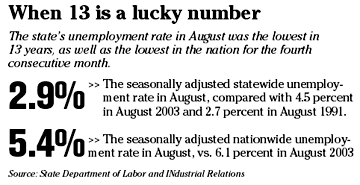 ---
BACK TO TOP
|
ON THE MAINLAND
Payroll growth soft in September
WASHINGTON » Employers' payrolls grew by just 96,000 in September in a weaker-than-expected government report yesterday that provided a final snapshot before Election Day of a lackluster jobs market.
Yesterday's U.S. Labor Department report means President Bush will face the electorate with 821,000 fewer jobs in the country than when he took office, though 1.78 million jobs have been added in the past year.
The nation's unemployment rate held at 5.4 percent last month as 221,000 job seekers dropped out of the labor pool. Economists predicted that about 150,000 jobs would be added in September.
Martha Stewart reports to prison
ALDERSON, W.Va. » Martha Stewart exchanged her clothes for prison-issue khaki trousers and black steel-toed boots yesterday, and for the next five months she will be sleeping not on luxurious Egyptian cotton linens, but on plain, military-grade sheets.
Slipping all-but-unnoticed past supporters and TV crews in the darkness, Stewart reported to the Alderson Federal Prison Camp in rural West Virginia to begin serving her sentence for lying about a stock sale. Driven by a security company, she arrived in a dark-colored Ford Expedition that passed through the gates shortly before sunrise.
Federal inmate No. 55170-054 said on her Web site she was looking forward to returning to work in March and enjoying "many brighter days ahead."
SEC escalates Krispy Kreme probe
WINSTON-SALEM, N.C. » The Securities and Exchange Commission has escalated its investigation of
Krispy Kreme Doughnuts Inc.
to a formal inquiry, the company announced yesterday.
The troubled doughnut maker did not specify the reasons for the investigation, but company executives in July confirmed that Krispy Kreme was the subject of an "informal, nonpublic inquiry" by the SEC on its franchise reacquisitions and its future earnings guidance.
Formal investigations require a vote by SEC commissioners, which then allows the commission staff to require testimony from witnesses and gives them the ability to subpoena documents.
Krispy Kreme said in a news release that the SEC notified it of the investigation on Thursday. Company spokeswoman Amy Hughes said yesterday that Krispy Kreme would have no additional comment.
GE earnings up 11% in 3rd quarter
STAMFORD, Conn. »
General Electric Co.
's third-quarter earnings rose 11 percent and revenue jumped 15 percent as a rebounding economy and acquisitions drove a sharp increase in orders, the company said Friday.
The Fairfield-based industrial, financial services and media conglomerate said it earned $4.05 billion, or 38 cents a share, in the July-September period, up from $3.65 billion, or 36 cents a share, a year ago.
The results matched the consensus estimate of 38 cents a share of analysts surveyed by Thomson First Call.
Oracle may lower PeopleSoft bid
WILMINGTON, Del. »
Oracle Corp.
CEO Larry Ellison testified yesterday that the business software maker is leaning toward lowering its $7.7 billion bid for rival
PeopleSoft Inc.
, a shift that might create another snag in the takeover tug-of-war.
Taking the witness stand in a trial contesting PeopleSoft's antitakeover defenses, the mercurial Ellison indicated that Oracle isn't certain Peoplesoft is worth the $21-per-share price currently on the table.
His comments came just three days after PeopleSoft director Steven Goldby delivered testimony signaling his company's willingness to end its 16-month fight against the hostile takeover bid and negotiate a sale if Oracle sweetens the offer.