---
Access to Haiku Stairs
might take $3 donation
The city's managing director says
it would cost $158,000 a year
to maintain the site
---
The city could provide basic public access to Haiku Stairs for about $158,000 a year and would eventually ask hikers for a $3 donation for access to the mountain, according to a memo from city Managing Director Ben Lee.
The memo is a response to the City Council's Budget Committee, which asked Lee last week how much it would cost the city to open and maintain access to the now-closed Koolau Mountain hike.
Lee's memo said annual costs for basic access to Haiku Stairs after a land trade would include the services of two security guards, 12 hours a day ($131,000); one new parks maintenance worker ($24,000); and two portable toilets at $250 a month ($3,000).
Lee's memo said the Parks Department staff would set up a permit system, to spread hikers throughout the day at appointed times.
A donation of $3 could be received by the city or a nonprofit organization, and the City Council could later consider whether to establish a fee, he said.
Lee did not put a price on improving an access road into the former Coast Guard Omega station or parking for about 40 cars, which Lee listed as "interim improvements" that the city would make on the Haiku Valley land.
Lee could not be reached for comment yesterday about how quickly he believes the stairs could be opened in the event of a land trade.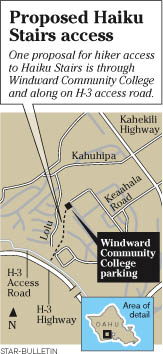 On Sept. 29 the Budget Committee postponed accepting a proposed land swap of 65 acres of Haiku Valley land owned by the state Department of Hawaiian Home Lands for 53 acres of undeveloped city land in Ewa.
The proposed swap would provide the city access to the base of Haiku Stairs, which the city renovated at a cost of $875,000 in 2002 but has not opened.
Kobayashi said yesterday that Lee's memo answers some of Council's questions but does not address the cost of maintaining the 3,922 metal stairs or the question of whether a permanent restroom can be built in Haiku Valley, which has no sewer service.
Kobayashi said she hopes that information can be provided to the Budget Committee in time for it to consider the land swap at its Oct. 20 meeting.
Kobayashi said she plans to work with Councilwoman Barbara Marshall and state Rep. Ken Ito, both of whom represent the area, to explore accessing Haiku Stairs through state lands bordering Windward Community College and the Kaneohe State Mental Hospital, instead of through a neighborhood.
Haiku Valley resident Tyne Cody said she favors access through Windward Community College. "I'd like to see the stairs open. They're spectacular and a very great attraction," Cody said. "But it should be public access through public property, not through a private neighborhood.
Kevin Ahern, who also lives near the stairs, worries that if there is a fee, some hikers might still try to use an illegal entrance.
John Flanigan, chairman of the nonprofit Friends of Haiku Stairs group, has said he thinks trespassing will cease when hikers have a designated route to the hike.