[ SUNDAY TRAVEL ]



---
Young city is
all grown up
Vancouver has handled its
population explosion flawlessly,
preserving its roots and
showcasing its beauty
---
Vancouver has consistently been ranked among the world's top 10 cities to visit by Traveler and Travel + Leisure magazines, and it ranks as the world's third-best city for quality of life in the Mercer Human Resource Foundation's annual survey, based on 39 criteria including housing, health, education, economy, environment, recreation, politics and public services. What's good for residents is good for travelers. Vancouver is a bargain also because Canada is one of the few developed countries where our dollar is still strong.
3 DAYS IN...
Day 1
Explore the urban core, the Pacific Centre and the art gallery.

Day 2
Stanley Park features one of the world's largest aquariums.

Day 3
The Capillano Suspension Bridge: Thrills above a raging river.
Vancouver offers the best of both worlds, foreign yet familiar. For Hawaii residents, it is our closest international destination, just a five-hour direct flight away: Board late at night, snooze a few hours, and presto, you wake in a place where everyone speaks English, making you feel at home even though you do need a passport to get there. While many believe Canada is just like America, don't say that north of the border, for they are proud of their distinctive culture and separate identity.
Vancouver is a young city, first settled in the 1850s by a few pioneers and gold miners. It was officially chartered as a terminus for the Canadian Pacific Railway in 1886, the same year the Great Fire swept through, destroying all its 600 wooden buildings. Everything seen today was built after that baptism by fire, yet there are still some preserved historic sites, beautiful buildings from the late 19th century scattered throughout the downtown area and clustered in Gastown, the site of earliest settlement.
Vancouver's modern skyline is dominated by attractive high-rises built during the last few decades. Real estate values have rocketed in recent years, and its economy is booming. From 1987 to 1992, following the success of Expo 86, which attracted 20 million visitors, the city's population increased 17 percent. The urban population, at about 530,000, is the fastest-growing on the continent, but this growth was managed in a way that enhanced the quality of life, proving that such a difficult challenge can be resolved in our modern world.
This is a city of high culture, with a fine art museum in the town center, many smaller galleries and performing arts centers, beautiful parks, plentiful shopping, and you will never go hungry in this city of international cuisine.
---

Start your visit in the 12-block urban core bounded by Georgia, Granville and Burrard streets. Walk up and down these main streets, plus Howe, Pender and Hornby, to get a feel for the city. Vancouver is laid out in a grid, making it easy to navigate on foot. This central business district is full of office towers, but at the street level you will find mostly retail shop-fronts. The urban curse of vast blank walls along the sidewalk, found too often in America, has been avoided here. This segment of Granville is an automobile-free mall for pedestrians and city buses, lined with shops and anchored by two major department stores, the Bay and Sears, so it makes for a great stroll and useful transit hub.
Pacific Centre: 140 shops occupy two blocks in this underground mall, carrying on the Canadian tradition of a subterranean city in the heart of town. Before getting lost underground, remember this is just another mall: Take a quick walk through, then return to the streets. Die-hard shoppers can return later.
Vancouver Art Gallery: This museum, one of the city's focal points, is located on Georgia between Hornby and Howe. Situated inside a former courthouse, it is primarily a showcase for changing exhibits but also has a small permanent collection featuring paintings by Emily Carr and other local artists, along with a few great European moderns, such as Picasso. You don't have to pay museum admission if you just want to enjoy lunch or a light snack in the Gallery CafŽ and perhaps sit at an outdoor table on the terrace overlooking Robson Street.
The museum is an excellent example of the creative reuse of an old building and the preservation of much-needed open space. It was built in 1912 with a neoclassical style resembling Rome's Pantheon, a graceful dome structure supported by massive columns and a triangular pediment. Francis Rattenbury, its architect, also built the Empress Hotel and Parliament Building in Victoria. Then, in the 1970s, Arthur Erickson redesigned it as part of his redevelopment of Robson Square just across the street. A modern lobby, with a ticket counter, gift shop and cafe, was added, with access from Hornby Street. The museum's attractive, small park along Georgia Street side gets a lot of use as one of the few oases in this dense urban core. It features a large fountain with a tall rock in its center, symbolizing the rugged British Columbia shoreline.
Notable buildings: Christ Church Cathedral is the oldest house of worship in Vancouver, designed in 1895 in a neo-Gothic style with large, rustic stones, a hammer beam roof and colorful stained glass. This rare example of 19th-century history was rescued from demolition in the 1970s when developers made a deal with the city and were allowed to transfer its density rights to an adjacent project, Park Place, a new office tower. The architects also included a beautiful small park along the sidewalk next to the church to provide a patch of tranquility in this busy downtown locale. Across the street is one of the main entrances to the Skytrain metro, Vancouver's light-rail system. Skytrain has been a big success with local commuters and is useful to tourists.
---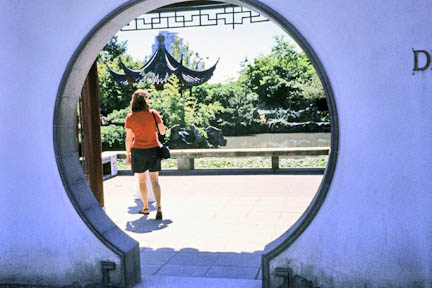 ---
Downtown skyscrapers: Next to the church is the 382-foot glass tower of Cathedral Place, a futuristic structure that incorporates historic elements from an earlier building into its faŤade. Its lobby shops and cafes are open to the public, and just behind, on Hornby Street, is the Canadian Craft Museum.
The city's tallest building, at 491 feet, is One Wall Centre, a curved glass tower on Burrard Street. Seven other skyscrapers in this neighborhood, all built since 1971, reach above 400 feet.
Another fine example of modern architecture is the British Columbia Energy Building, or Gas Building, a tower of blue glass and flags along nearby Georgia Street. Further along Georgia is the West Coast Energy Building, an unusual tower suspended by cables from a single central column that creates open space with trees and a small ground-level pedestrian plaza.
A few old buildings can still be found in the city center, but most have been demolished to make way for the new. It's a shame to see them go, but such is life in the big city: A lovely building becomes obsolete and no longer worth maintaining, so down it goes and up springs another glass tower. This "march of progress" has been ferocious in Vancouver in the past three decades, but fortunately, most of the resulting skyscrapers are quite attractive. Preservation laws protect some of the older, notable faŤades, which are sometimes retained as a shell while brand-new towers are put up behind them. The economy has benefited enormously from all the activity.
Downtown architecture runs the gamut of neoclassical banks looking like Greek temples to postmodern glass skyscrapers and everything in between. A nice example of the adaptation of an older building can be seen at Sinclair Centre on the block across from the main train station, bounded by Cordova, Hastings and Granville streets. The 100-year-old main post office and three adjacent buildings have been joined by a glass atrium sheltering a multilevel shopping arcade. What had been rough exterior stone walls now frame this interior mall with a lovely, rustic texture, while the public is sheltered from the weather by a large canopy.
Canada Place: This mixed-use waterfront development at the end of Hornby and Howe is a great place to enjoy harbor views while picking up free travel information and book events at the Trade and Convention Centre. The massive pier, built for Expo 86, looks like a sailboat, with 80-foot Teflon sails that have become a Vancouver landmark. About 250 ships leave here each year for popular Alaska cruises. There is no need to walk the pier because there's no better view from the end.
Three other attractions of interest are the deluxe Pan Pacific Hotel, a lovely place to stay; the IMAX Theater, if you want to use precious travel time sitting in a movie; and a terrific Waterfront Centre food court at the underground Metro station.
A row of glass towers linked by a waterfront promenade is springing up at Pacific Place. When completed, this $3 billion master-planned community will provide homes for 15,000 people. Twenty-nine of 50 towers, averaging 30 stories, have been completed with Hong Kong financing.
Two blocks toward Gastown is Harbor Centre, which has the best observation lounge for viewing the city, 548 feet above street level. This sky-high, circular gallery gives you a 360-degree panorama, with vistas of the town, mountains, inlet and port of Vancouver.
Gastown: Vancouver's first settlement began mid-19th century in Gastown, the Old Town of stone and brick buildings. It was the heart of downtown until 100 years ago when the main train station was built a few blocks west, shifting business away from this district. Gastown got left behind, neglected for decades and gradually becoming an urban slum. Its buildings were preserved by default, awaiting rediscovery, which happened in the 1960s.
With the preservation movement of the 1960s and '70s, a lot of money was invested in this slumbering quarter, with sensitive renovations that retained its original spirit. It's become a great place for shopping, dining and wandering. This neighborhood is just three blocks long, on Water Street, but has so much character and interesting shops that it seems much bigger.
One of Gastown's attractions is the Steam Clock at Cambie and Water streets. It produces wonderful sounds like an organ or calliope every hour from steam vents on top of the clock. Shorter performances run on the quarter-hour, so there are plenty of opportunities to check it out. Across from the Steam Clock at Water at Cambie is the Inuit Gallery, where you will find a selection of Northwest Coast native art. Inuit masterworks displayed include wooden masks, jewelry, paintings, small boxes, totem poles, baskets and other treasures. Gift shops throughout town offer decent native items, but the Inuit Gallery pieces are works of art.
The Landing, Gastown's small and only shopping mall, warrants a visit so that you can gaze through the large window at the harbor panorama down below.
One block over, at 142 Water St., is Gastown's newest attraction, The Storyeum. This spectacular underground performance space, the size of six hockey rinks, presents a theatrical interpretation of Vancouver's history using actors, multimedia screens and reconstructed environments. Special effects, lighting and music add to the multisensory experience.
Gastown was not named after the old gas lamps that lit its streets long ago, but after a guy named Gassy Jack -- so named because he was full of gas or very talkative. He opened a saloon in the 1860s and was the charismatic leader of the early town's rough denizens. Jack is immortalized, standing on his whisky keg, in a bronze statue at the corner of Water and Carrall streets. Across, you'll notice the knife-edge Hotel Europe, now private apartments, reminiscent of Manhattan's Flatiron Building.
You can see most of the Old Town sights during a free daily 90-minute summer walking tour provided by the Gastown Business Improvement Society. The tour focuses on the area's folklore, historic characters and architecture.
From Gassy Jack's statue you are in good position to walk along Carrall Street a few blocks over to Chinatown. Be advised, you are about to pass through the worst part of town, full of scruffy characters and a few drunks. It's a touch of the old skid row that sadly lingers today. Once past Hasting, you are in Chinatown.
---
---
Chinatown: Vancouver is home to the third-largest Chinatown in North America, just behind New York and San Francisco. It's a great place to get a meal of dim sum. Chinatown covers about 10 square blocks, centered at Pender and Main, between Jackson and Columbia. You will find restaurants, herb shops, clothing and more. Recent renovations include fresh red paint on the buildings, new Chinese-motif streets signs, scrubbed sidewalks and graffiti-less walls.
Canada imported railroad laborers who started this community in the 19th century. The area then saw wave after wave of immigrants in the past century: Italians, Jews, Scandinavians, Russians, Ukrainians and Japanese. Chinese population mushroomed again after 1947 when the government repealed the Asian exclusion laws. Just before the return of Hong Kong to communist control, there was a big increase in arrivals, but this has slowed down now that China is prospering. Most of the region's Chinese population lives in outlying areas, particularly nearby Richmond, but Chinatown is still a main market for Asian groceries and cuisine. Fresh vegetables are brought in daily from nearby farms. Hon's Wonton House is one of Chinatown's popular restaurants.
A star Chinatown attraction is the Dr. Sun Yet Sen Classical Chinese Garden and Park, at Pender and Keefer streets. This scholar's garden is a peaceful zone with ponds, willow trees and paths amidst bamboo groves. Admission to one side is free, while the other costs $6 for a nearly identical experience, so unless you're a big fan of Chinese landscaping, save your money for dim sum and walk through the free half on the south side, which you can enter from Columbia Street or through the Moon Gate behind the ornate Chinese Cultural Centre arch on Pender.
On summer weekend nights there is a Chinatown Night Market, with stalls and tables set up along Keefer Street between Main and Gore. A lively block party fills the streets with entertainment through 11 p.m.
Saving the best for last, travel one mile by bus or taxi cross-town from Chinatown to Robson Street, the hippest place in town. Walking will take 25 minutes through some bland parts of town, although you could swing past the stunning new public library on Georgia at Hamilton to admire this neo-Coliseum designed by Moshe Safdie (of Montreal Habitat fame).
Robson Street: One of the most enjoyable activities in any town is strolling and people-watching on the busiest street, and in Vancouver that street is Robson, between Hornby and Nicola. It has an entertaining mix of specialty stores, coffee shops, bars and restaurants that attract throngs from around the world. There are so many coffee shops they have two Starbucks at the same intersection, facing each other across Thurlow Street.
Robson's wide sidewalks are ideal for window shopping, with trees and awnings to shelter you from the elements. The street was called Robsonstrasse in the 1960s because of the large number of German delis and bakeries, and some of that European ambience remains.
A couple blocks away is a lovely residential district, the West End. It is the most densely populated major neighborhood in Canada, yet it is very livable. Though filled with high-rise apartments, it doesn't feel overly crowded due to a dynamic balance of a large population but well-planned community that allows sufficient space between buildings, buffered by trees and greenery. On the west edge is a long stretch of sandy beach that is extremely popular in summer.
---

Stanley Park:
Vancouver, like most cities, does not have much going on for visitors early in the morning, so it's a good time to explore the park. The north end of downtown is bordered by Stanley Park, at 1,000 acres one of the largest urban parks in North America, larger than New York Central Park's 840 acres and designed by the same landscape architect, Frederick Law Olmstead. While enjoying its forests, meadows and beaches, one can marvel at the foresight of the Vancouver's founders who decided in 1886, at their first City Council meeting, to purchase this untouched land and declare it a park, conveniently limiting development while increasing the value of their own downtown properties.
One efficient way to see Stanley Park is by bicycle, which you can rent near the park entrance from Spokes, at 1798 W. Georgia St. for about $16 for a half-day, or by the hour. You can pedal around the popular 6.5-mile seawall perimeter route, or walk it in a couple of brisk hours, passing several beaches, green lawns and scenic points. The seawall is alive with joggers, walkers and bikers along a path that circles the park. In a few hours you will see many of Stanley Park's attractions including Beaver Lake and Lost Lagoon, and sample some of the bike routes that criss-cross through the forests. Walkers get a boost from free shuttle buses operating from mid-May through mid-September, with 15 stops throughout the park.
Another way to see the park is by taking a standard city tour, which will usually stop at a collection of totem poles created by Northwest Coast Indians. The totems were carved and painted by contemporary artists, in the traditional style, to represent tribal gods and legends. There are several sites to stop for a meal, such as the excellent Fish House Restaurant along Lagoon Drive, and the Tea House Restaurant on the shore.
One of the world's largest and best aquariums is in Stanley Park. The Vancouver Aquarium Marine Science Centre doesn't put on glitzy Sea World-type animal circus acts, but instead offers an authentic look at the natural life of some 8,000 marine creatures from around the world. Displays include the Canadian Arctic, Amazon tropics, Micronesian lagoon, Canada's Pacific, B.C. forest streams, Indo-Pacific coral reefs, beluga whales, sharks, dolphins, otters, manatees and much more. The Marine Science Center also operates a research institution and an animal hospital for injured creatures. The aquarium is easy to find, a half-mile inside the main gate to the right, with signs pointing the way.
Emerge from the park on the west side at lovely English Bay. For a look at another popular district, head up Denman Street, a hip enclave of shops and restaurants that extends nine blocks toward the park entrance. This trendy street offers a ethnic eateries reflecting the city's cosmopolitan texture: Italian, Thai, Korean, Mexican, Vietnamese and French, along with typical delis and bakeries. If you rented a bike, return it now to Spokes, or hang on to it for more of today's itinerary.
Those on foot can reach our next destination by catching city bus No. 15 at the start of Robson Street, which takes you south to Cambie Street at Nelson.
---
---
Yaletown: This former warehouse and factory zone has been called the SoHo of Vancouver, home of the hipster and urban professional scene. Yaletown was a forgotten, run-down industrial district that has been transformed during the past decade as new apartments, residential lofts, art galleries, cafes, bars, restaurants and trendy shops have opened. Most of the action is clustered in the few blocks along Mainland and Hamilton streets, south of Nelson. The old brick warehouses have been preserved, including some of the truck-loading docks that now serve as convenient platforms for sidewalk cafes.
Check out award-winning pubs like Yaletown Brewing, posh restaurants like Section 3, fancy boutiques like Atomic Model, along with oddball and stylish shops; and if you'd like to spend the night, Opus is your best choice to stay. Yaletown is not a touristy neighborhood (don't bother looking for souvenir shops), but you will have a chance to mingle with locals.
Yaletown extends to the water's edge at False Creek, and just across this narrow inlet you'll find Granville Island, another attractive neighborhood.
Granville Island: A peninsula rather than an island, Granville is home to 250 shops, restaurants, galleries and other entertaining venues. Its centerpiece is the famous Public Market, which has 50,000 square feet of fresh produce trucked in by farmers who man booths here.
The easiest way to get here from Yaletown is by a tiny shuttle boat, the Aquabus (www.aquabus.bc.ca), which can be boarded at the foot of Homer or Davie street. You could take the False Creek Ferry (www.granvilleislandferries.bc.ca) from the Aquatic Center or Stamp's Landing, or get to Granville by public bus No. 50.
Granville Island was once the city's main industrial area, but businesses moved away in the mid-20th century. Granville became an abandoned mess until it was reborn as this grand shopping area, offering dining, shopping, entertainment and fine arts.
One of Granville's main restaurants is Bridges, with indoor dining on two levels and an outdoor terrace overlooking the marina with its sweeping view of downtown across the water. Dockside Restaurant, Sammy J. Peppers, Sandbar and Tony's Fish & Oyster Cafe are more excellent dining choices, and dozens of fine little bistros and cafes are sprinkled through little lanes.
Other highlights include the Maritime Market, filled with all things nautical; the Granville Island Brewery for sampling microbrews; Model Ships Museum; Arts Umbrella and Arts Club theaters; Sea Village, a houseboat community; fishing docks; and salmon smokehouse.
Granville festivals: Festivals take place on Granville Island throughout the year, but the most spectacular is the Vancouver Fringe Festival, which presents about 500 events during a 10-day period in mid-September (www.vancouverfringe.com). There are many festivals throughout Vancouver during the year, so check www.tourismvancouver.com for details.
---

University of British Columbia:
Set on a beautiful college campus 30 minutes by public bus No. 4 from the east end of Granville Street, the University of British Columbia's Museum of Anthropology has Canada's finest collection of Northwest Coast native art and aboriginal objects from around the world. Plant lovers will enjoy the university's Botanical Garden, open year-round with Canada's largest rhododendron collection, a lush forest, and Asian and Alpine gardens. If it's a warm day, the clothing-optional Wreck Beach lies on the edge of campus.
Vancouver Museum: Using the latest display techniques, this 100-year-old museum tells the story of Vancouver's history from prehistoric days through today. Realistic environments give you the feeling of being back in a trading post, in the berth of a 19th-century passenger ship or sitting in an Edwardian parlor. The exploration and settlement of Vancouver are overall themes of the displays, which also feature temporary exhibits, lately covering skateboards, Sasquatch, ceramics, basket makers and the 1950s. Public bus No. 22 and a transfer to No. 17 brings you here from the university in about 20 minutes. When finished, head for Science World from Heritage Harbour on the Granville Island Ferry, or take bus No. 22 to the Skytrain metro at Burrard Street.
Science World: With hundreds of interactive exhibits in five unique galleries, this is a crowd-pleaser. IMAX and high-def movies are presented along with laser shows and other multimedia extravaganzas. Live shows are presented all day at Centre Stage on fun, educational topics like fire, flight, illusions, sound and electricity. Get here by metro from downtown or via Aquabus from Granville.
Capillano Suspension Bridge: This shaky, pedestrian suspension foot bridge is another outstanding attraction. It hangs 230 high above a narrow chasm with a raging river at the bottom, and the adventurous can't resist walking along the bridge and making it swing back and forth. It's a thrilling experience. Some people have trouble getting across, while others can do it walking backward with a smile. It's fun either way.
In a nearby redwood grove is a nature trail with manicured paths and reflecting ponds. It's a surprise to come across this patch of forest so close to the city. There is also a fascinating American Indian woodcarving center where you can watch artists making totem poles and smaller items available for purchase in their gift shop. You can get here in one hour via city bus No. 240 from Granville Mall, transferring to bus No. 246.
---
---
Other activities: There is an endless variety of day trips from Vancouver that could keep you busy for a week or two: golfing, kayaking, fishing, white-water rafting, mall-hopping, nature hikes, boat excursions, trips up nearby mountains and more. One of the outstanding trips by train or tour bus is to Whistler Mountain, which has become North America's top ski resort and is a year-round destination due to its natural beauty and Alpine-style village atmosphere.
An easier trip is to the 3,700-foot summit of Grouse Mountain, affording a beautiful view across the city and beyond. Reaching Grouse Mountain is easy with a SeaBus ride across the harbor from Waterfront Station to Lonsdale Quay, then a short ride on bus No. 236 to the cable car that brings you to the top.
Another trip is to Victoria on Vancouver Island, which could be reached in three hours by bus and ferry, or in 30 minutes by seaplane. Victoria is such a beautiful place that it is worth spending another three days there, which we will describe for you in our series next month.
---
Dennis Callan is president of the Hawaii Geographic Society and frequently leads tours through Europe, Canada and the United States. He produces the "World Traveler" TV series airing at 7 p.m. Tuesdays on 'Olelo, channel 53. He writes "Three Days in ..." the first Sunday each month, explaining how to get the most out of three days in the world's great places. This is his 41st article in the series.
---
BACK TO TOP
|
If you go...

---

Hotels

Across the street from the Vancouver Art Gallery is the impressive Hotel Vancouver, the grand dame of city lodgings. It was built by Canadian Pacific as one of its deluxe railway hotels, but now they are all operated by Canada's Fairmont chain, the country's leading luxury hotel group. The current building was opened in 1939 and has recently undergone a $50 million renovation to bring it back up to five-star standards. Fairmont has a second luxury hotel, The Waterfront, a few blocks away at Canada Place. Downtown offers several other excellent hotels, including the Sheraton Le Soleil, Crowne Plaza Hotel Georgia, Metropolitan and Four Seasons.

» Best Western Downtown: 718 Drake St. 604-669-9888; fax 604-669-3440.
» Blue Horizon Hotel: 1225 Robson St. 604-688-1411 or 800-663-1333; fax 604-688-4461.
» Crowne Plaza Hotel Georgia: 801 W. Georgia St. 604-682-5566; fax 604-642-5579.
» Days Inn: 921 W. Pender St. 604-681-4335; fax 604-681-7808.
» Fairmont Hotel Vancouver: 900 W. Georgia St. 604-684-3131; fax 604-662-1929.
» Fairmont Waterfront: 1088 Burrard St. 604-691-1991; fax 604-691-1999.
» Four Seasons: 791 W. Georgia St. 604-689-9333; fax 604-689-3466.
» Holiday Inn: 1110 Howe St. 604-684-2151; fax 604-684-4736.
» Metropolitan Hotel: 645 Howe St. 604-687-1122; fax 604-689-7044.
» Opus Hotel: 322 Davie St. 604-642-6787; fax 604-642-6780.
» Pan Pacific Hotel: 300-999 Canada Place. 604-662-8111; fax 604-682-3815.
» Ramada Inn & Suites: 1221 Granville St. 604-685-1111; fax 604-685-0707.
» Ramada Limited: 435 W. Pender St. 604-488-1088; fax 604-488-1090.
» Sandman Vancouver Downtown: 180 W. Georgia St. 604-681-7263.
» Sheraton Le Soleil: My favorite, at 567 Hornby St. 604-632-3000; fax 604-632-3001.
» Sheraton Vancouver Wall Centre: 1088 Burrard St. 604-331-1000; fax 604-331-1001.

---

Restaurants

Downtown
» 900 West: Hotel Vancouver, 900 Georgia St. W. 604-669-9378 www.hotelvancouver.com.
» Boathouse, English Bay: 1795 Beach Ave. 604-669-2225. www.boathouserestaurants.ca
» Caffe de Medici: Four Seasons Hotel, 791 W. Georgia. 604-844-6715.
» Cin Cin: 1154 Robson St. 604-688-7338.
» Il Giardino: 1382 Hornby St. 604-669-2422.
» Piccolo Mondo: 850 Thurlow St. 604-688-1633.

Granville Island
» Bridges: 1696 Duranleau St. 604-687-4400; www.bridgesrestaurant.com;
» Dockside: 1253 Johnston St. 604-685-7070; www.docksidebrewing.com.
» Sammy J. Peppers: 1517 Anderson St. 604-696-0739 www.sjpeppers.com.
» Sandbar #9, The Creekhouse:1535 Johnston St. 604-669-9030 www.sequoiarestaurants.com/sandbar_main.html.
» Tony's Fish & Oyster Cafe: 1517B Anderson St. 604-683-7127.

Chinatown
» Foo's Ho Ho Restaurant: 102 E. Pender St. 604-609-2889.
» Gain Wah Restaurant: 218 Keefer St. 604-684-1740.
» Hon's Wun-Tun House: 268 Keefer St. 604-688-0871.
» Fish House: 8901 Stanley Park Drive. 604-681-7275.

Yaletown
» Milestone's Grill & Bar: 1109 Hamilton St. 604-684-9111 www.milestonesrestaurants.com.
» Yaletown Brewing Co.: 1111 Mainland St. 604-681-2739. www.drinkfreshbeer.com.
» Cioppino's: 1133 Hamilton St. 604-688-7466.

---

Web sites

» www.bcrail.com
» www.granvilleisland.com
» www.grousemountain.com
» www.hotelsvancouver.com
» www.inuit.com
» www.pacificcentre.com
» www.scienceworld.bc.ca
» www.tourismvancouver.com
» www.vancouver.com
» www.vancouverattractions.com
» www.vancouver-bc.com
» www.vancouverbikerental.com
» www.vancouver-chinatown.com
» www.vancouverwow.com
» www.vanmag.com
» www.vanmuseum.bc.ca

---

Walking Tours

For an in-depth look at some of Vancouver's notable buildings, try a two-hour walking tour organized by the Architectural Institute of British Columbia and conducted by students for $4. For information, call 604-683-8588 ext. 333, or email tours@aibc.ca, or check the Web site, www.aibc.ca.

» Victory Square and Gastown: Explore the westward shift of the city from its origins in Gastown to the new commercial center between Burrard and Granville streets. See how the heritage preservation projects in Gastown are doing today.

» Chinatown: Explore the history of one of Vancouver's most historic districts and its past and present inhabitants.

» Strathcona: This has been a gateway to immigrants for two centuries and still represents a variety of cultures, with a wide variety of housing types and neighborhood shops.

» False Creek and Yaletown: This former industrial district of factories and warehouses tied to nearby railroad freight yards has been transformed into an active residential neighborhood of residential lofts and trendy shops.

» West End: During the past century this residential neighborhood in the heart of town has become one of Canada's most densely populated zones. There are still some older residential blocks mixed in with newer, post-modern apartments. The walk includes a look at the "Mole Hill" preservation project providing new housing and services along with preservation of heritage sites.

» Downtown Business Core: Explores the modern and contemporary developments that have changed Vancouver in recent decades. Includes a look at landmark properties that have survived.