---
[ FAST FACTS HAWAII ]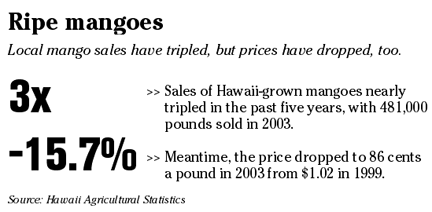 ---
BACK TO TOP
|
Meadow Gold union workers approve strike
Unionized workers at
Meadow Gold Dairies-Oahu
yesterday approved a strike against the company if no progress is made in contract talks today, Hawaii Teamsters and Allied Workers Local 996 said.
The union's contract expires at 12:01 a.m. tomorrow, the union said. The two sides have been talking for a month, but have not agreed on issues including medical benefits, subcontracting, pensions and wages.
The strike notice comes on the heels of Meadow Gold competitor Foremost Dairies-Hawaii's announcement that it will shut down production in November. Meadow Gold has already been handling processing for Foremost since August, when Foremost said it was shutting its processing facility for repairs. This month, Foremost said the closure will be permanent.
The Teamsters represent 150 drivers, processors and other workers at Meadow Gold. Members voted 138-2 in favor of the strike, the union said.
"Our Meadow Gold-Oahu members are united and our negotiating committee is putting every effort into continuing negotiations and trying to reach a tentative agreement with the company," said Ron Kozuma, Local 996's secretary-treasurer and business representative.
The two sides were scheduled to meet today with federal mediator Ken Kawamoto.
Meadow Gold officials could not be reached for comment.
Belo axing 250 jobs, mostly at Dallas paper
DALLAS » Media owner
Belo Corp.
said yesterday that it would cut 250 jobs, more than half of them at its flagship newspaper, the Dallas Morning News, and that an internal investigation into circulation overstatements showed the projected circulation decline at the newspaper would be slightly steeper than forecast last month.
Belo said the layoffs, amounting to 3 percent of its total work force, were prompted by flat revenue since 2001 in the Dallas-Fort Worth area, where it also owns a television station. The layoffs are expected by Nov. 1.
Dallas-based Belo said the Morning News' circulation would fall 11.9 percent on Sundays and 5.1 percent on other days for the six months ended Sept. 30 compared to a year earlier. The company had said last month the declines would be 11.5 percent on Sundays and 5 percent other days.
Belo said most of the decline is believed related to overstatements stemming from a sales-incentive program that began in early 1999 and has since been stopped.