---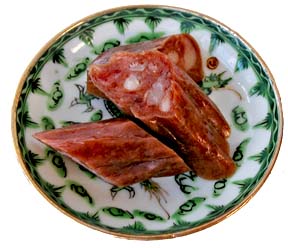 ---
Sausages aren't immediately associated with Asian cuisine, but several types are popular in Chinese, Thai and Filipino cuisine. Probably the sausage most recognized is Chinese lup cheong -- also referred to as lop chong or lap cheong.
The basics: Lup cheong, also known as Chinese sweet sausage, has been around for a long time; its origin is unknown.
The sausage is a very unique form of sweet pork sausage. It is made up of coarsely chopped pork, pork fat, salt, honey or sugar, soy sauce and Chinese five-spice powder.
The Chinese also make a pork sausage with pork or duck liver that is popular during the Lunar New Year celebration.
The sausage is air-cured but not cooked. In China the sausage is left to cure outdoors in the fall and winter months.
Lup cheong resembles pepperoni to some degree, with its red coloring and slightly shriveled look. But it tastes unlike any other Western or European sausage. It's also a rather fatty and oily sausage, so it should be eaten sparingly.
Selecting: Lup cheong generally comes in two 6-inch links. The sausage is most often pre-packaged, with six or eight links to a pack. Look for sausage that is bright in color.
Storing: Packaged sausage can be left on the shelf for a month or so, although the color may change. It can also be stored in the refrigerator for a longer period. Once the package is opened, refrigerate the sausage and it will last a couple of months. Lup cheong also freezes well.
Use: Lup cheong needs to be cooked. The most popular ways to enjoy it are steaming or pan-frying. It is also popular in Chinese manapua, turnip cake and fried rice. Stir-fry lup cheong with vegetables or steam slices and serve them over congee (rice soup).
Where to buy: Lup cheong is available at most supermarkets near other sausages, or at Asian markets and Chinatown. Prices are $3 to $6 for a 12-ounce bag, depending on where it's purchased. Chinatown has the best deals.

Eleanor Nakama-Mitsunaga is
a free-lance food writer. Contact her
online through features@starbulletin.com