[ HAWAIIAN MYTHOLOGY ]
---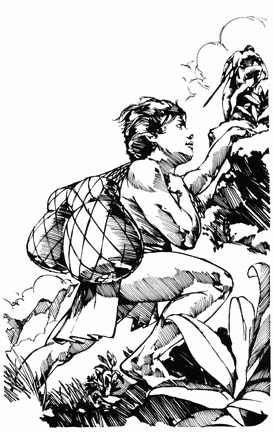 ---
Paka'a seeks
reunification
with father
Paka'a -- The Backbone of a Chief
FIFTH IN A SERIES
---
'O my mother!" Paka'a's voice was sharp with excitement and La'a rose quickly from her work to go to him. He stood before her, eager to speak, yet finding no words. At last he said, "My father?"
La'a's eyes grew sad and she did not reply.

MON., AUG. 30



When the ocean covered Hawaii



MON., SEPT. 6



Mud hens hide fire's origin



MON., SEPT. 13



Red shell brings a bounty to a struggling fisherman



MON., SEPT. 20



Paka'a's spirits lifted by wind for his boat



MON., SEPT. 27



Paka'a seeks reunification with father



MON., OCT. 4



Chief learns the true value of loyalty



MON., OCT. 11



Father tells the youngest that he should be chieftain



MON., OCT. 18



Voyage brings humility, discovery



MON., OCT. 25



Man risks life to save brothers, nephew



MON., NOV. 1



Hidden spring revives valley



MON., NOV. 8



Boy defeats champion rat shooter



MON., NOV. 15



Pikoi uses his skills to kill the enemies



MON., NOV. 22



Pikoi sees Hawai'i



MON., NOV. 29



Woman of the Fire, Water



MON., DEC. 06



The Song of the Kapa Log



MON., DEC. 13



Makahiki: Games



MON., DEC. 20



The Return of Lono
"O Mother, I must know!" the boy cried. "I have asked you many times and you have put me off, but I can wait no longer. My grandfather called me 'son of a servant.' He spoke those words so angrily they sounded like 'son of a slave.' What is my father?"
"Yes, a servant." La'a spoke slowly.
The boy's face clouded. "Not -- not a slave?" he whispered.
"Not that!" his mother answered. "Your father is a chief and the 'backbone of a chief.' He is companion and advisor of Keawe the Great, ruler of Hawaii." The boy's eyes grew wide with wonder.
"When you are a little older you shall go to him and he will train you that you too may serve his chief. The name you bear he gave you, 'Paka'a.' "
"Then why are we poor and almost friendless, if my father is a chief?"
"Your grandparents planned that I should marry a chief of Kauai with much land and many men. When I took a stranger as my husband they were angry. Soon Keawenui called for your father. Your father went at once to Hawaii and never returned to us. With no one but your uncle to provide our food the neighbors laugh at me for making a poor marriage."
"Soon I shall be a man," the boy said, squaring his shoulders. "Then I shall provide for you. And I shall go to my father and see if he owns me as his son."
A short time later Paka'a came again to his mother. "Our high chief is about to make a journey," he said. "He plans to travel all around Kauai and later to other islands. Many will go with him, both chiefs and servants. I asked some servants I know and they bade me come with them. May I go, O my mother? I long to see this island."
"You are still a child," his mother answered.
Paka'a drew himself to his full height. "Travel will make a man of me," he told her.
"You may be scorned and treated as a slave."
"I am not a slave!" he answered proudly, "but I shall work as a servant. If Paka'a serves well he may someday serve the high chief of Hawaii."
"Can you be humble?" his mother asked. "To boast about your father will only make men laugh."
"I understand," the boy replied. "I shall be humble and work willingly. Only say that I may go!" At last La'a consented.
The chief's party journeyed slowly around Kauai. There were days when Paka'a had only little food and heavy work. He carried wood and water, kindled fires, pounded poi and did all things that he was asked both cheerfully and well. The glory of Waimea Canyon, forest trees rising from ferns and mosses, the wonderful trunkless koa -- all these filled him with deep joy. He felt no work could be too hard when it brought such reward!
Paka'a came home at last, still eager for more travel. "Our ruler is going to Oahu," he told his mother. "From there he will go to other islands and finally to Hawaii. O my mother, let me go! The chief's servants like me and tell me to come with them."
A twinkle of fun lighted La'a's eyes. "They like the work you do!" she told him. "Yes you may go. This is a way to reach your father who must be longing for his son. Listen carefully to all my words. You must still serve humbly. Do not boast about your father. Endure hunger if you must. If you do reach Hawaii you will not find it easy to come into the presence of your father. He is ever with his chief and the high chief is kapu. Somehow you must get past the guards. Let us pray that the gods care for you and give you wisdom. Keawenui is the one wearing the ivory neck ornament of a chief. Your father, Kuanu'uanu, will be near him holding a kahili. Sit on your father's lap and tell your name. He will welcome you as his son."
Paka'a took his mother in his arms. "O La'a," he whispered, "I shall follow all your words. May the gods grant me wisdom and power."
She gave him, as a parting gift, a polished calabash. It had a tight-fitting cover and was enclosed in wicker work. "This gourd holds all the winds," she told him. "The time may come when you will need its help. Then lift the cover just a crack and chant a mele I have taught you, that the gentle wind you summon may help you on your way. If you take off the cover and call on many winds, storm will come and great waves rise -- canoe-wrecking waves. This gourd has been long in our family. Some day you will need its help."
ON THIS VOYAGE he still worked willingly. He paddled until it seemed as if his back would break. Though the canoes had sails, the route was such that the wind could give them little help and Paka'a did not open his wind gourd. The time for that had not yet come.
When they landed, the boy was ready to work long and late. Sometimes he feasted with the servants and sometimes had no food at all. He saw the famous villages, Waikiki and Lahaina, and the great volcano, Haleakala. He saw great chiefs on every island and watched their contests of surfing and holua-sledding. He thought himself lucky to make this voyage, even though it meant hard work and sometimes angry words from tired servants.
Hawaii at last! Paka'a was paddling, struggling with the channel waves, when he saw the gray line of that island. This was where his father lived! Excitement gave new strength to the tired boy.
The great fleet of Kauai canoes came round the end of Hawaii and in sight of Waipio. On the beach there was excitement and fear of attack. Then the canoes were recognized and men ran to dig food and start imu fires.
Feasting, games and hula! During the first days in Waipio there was little work for the visitors, more food than they could eat and almost constant games and entertainment. Paka'a squeezed himself into the front ring to watch boxing and wrestling, climbed high on the cliff to see the surfers or sat with many men around an evening fire chanting. Never had he had so good a time!
And he saw Keawenui and the tall man bearing a kahili. "My father!" he thought with pride. But how should he reach him? That was another matter! Paka'a saw how guards surrounded the high chief. Kuanu'uanu, always beside him, would be very difficult to reach!
Days grew into weeks. The many visitors ate much. The gardens of Waipio were growing empty and the people of Waipio tired of their guests. There was food for the chiefs, but the servants from Kauai were hungry and the boy who was only a servant of servants found few scraps.
"I must get to my father before I starve!" he thought. One morning he rose from his mats weak with hunger. "This is the day!" he told himself. After his morning bath in the pool he put on a fresh malo. He prayed earnestly, for only with help from the gods could he hope to pass the guards. Then he walked slowly near the houses of the high chief, watching. How tall and strong the guards were! They were not hungry. If only something would take their attention, just for a moment, so he could slip past! Again he prayed.
And the gods heard his prayer. Suddenly, nearby, rose the shouts of a quarrel. The boy did not turn, but every guard moved toward the shouting. Silent as a shadow Paka'a slipped through the doorway. There sat the two great men -- Keawenui, the ruler, and his kahili bearer. The next moment the boy was in his father's lap! Kuanu'uanu stared in great surprise. "Who are you, rash boy?" he asked.
"I am Paka'a. La'a, my mother, bade me come to you."
Newspapers in Education
Every Monday this fall, the Star-Bulletin Newspapers in Education Program and Kamehameha Schools are presenting Hawaiian folklore collections and Hawaiian stories, selected from four titles published by the Kamehameha Schools Press: "The Water of Kane and other Legends of the Hawaiian Islands," "Hawai'i Island Legends: Pikoi, Pele and Others," "Tales of the Menehune" and "Stories of Life in Old Hawai'i."

These books may be purchased at local bookstores and complete editions can also be found on the Hawai'i Digital Library website (hawaiidigitallibrary.org), a sister site of the Hawaiian/English website ulukau.org.

The NIE program helps students and teachers better use and appreciate the newspaper as a tool to promote literacy.


He felt his father's arms about him. He felt his father's tears upon his face. Then he heard the voice of the high chief. "Who is this boy?"
"He is my son!" Paka'a heard the joy and pride in his father's voice and his own heart swelled with the knowledge of his welcome. Kuanu'uanu still held his son close as he told his story to the chief. "Do you remember, O heavenly one, that some years ago I traveled? I visited each island and came at last to Kauai. There I saw La'a, a woman with back straight as a cliff and face radiant as the moon. She became my wife and I planted food for her. Then came a messenger saying you had need of me. I left Kauai at once, only stopping to name the son I knew the gods would send us. This is that son. This is Paka'a!"
The high-chief's face reflected the joy of his well-loved servant. "Welcome, O Paka'a," he said. "You shall live with us." Turning to Kuanu'uanu he added, "Train him well. If ever the time comes that you no longer serve me let this boy be ready, let him also be the backbone of his chief."
Soon it was known throughout the Kauai camp that Paka'a was the son of the high chief's companion. Some men remembered angry words they had given to the boy and were afraid. But Paka'a was kind to all and, when the ruler of Kauai sailed away, some of his men stayed behind to become servants of the young chief Paka'a.
The boy had trained himself in fishing, farming and in many sports. Now he must learn the sports of chiefs. He must watch the service his father gave Keawenui that he, too, should know his master's wishes and learn to serve him well. And he must learn his father's wisdom in caring for the people, in helping them to raise food, to dry and salt it. He must learn to read the stars and direct long voyages. It seemed to Paka'a the days were far too short for all that he must learn.
And he did not forget his mother, and often sent canoes loaded with food and gifts. "Let it no longer be said that La'a is wife and mother of a servant!" the boy told himself. "Let her live in plenty as a chiefess should."
Next week: The Wind Gourd
---
"Paka'a -- The Backbone of A Chief" is from "The Water of Kane and Other Legends of the Hawaiian Islands," compiled by Mary Kawena Puku'i, retold by Caroline Curtis, and illustrated by Oliver C. Kinney, published by Kamehameha Schools Press, ©1951 and 1994 by Kamehameha Schools. Reprinted by permission.