[ DRAWN & QUARTERED ]
Graphic Arts As Literature
---
Political thriller soars
with a superhero spin
---
A superhero is able to keep the second tower of the World Trade Center from being blown up on Sept. 11, 2001, but feeling guilty over his inability to save the other tower from going down, he retires, believing he can do more for the city by running for the office of mayor.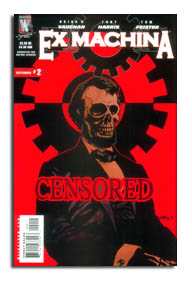 And, no surprise, he wins by a landslide.
One of his first problems as mayor is dealing with an inflammatory piece of art hanging in a Brooklyn museum, a portrait of Abraham Lincoln with the word "nigger" on it. It's his problem because the museum is partly funded by taxpayers, his constituents.
On top of that, there's somebody killing his city maintenance workers. Is it one of his former arch enemies seeking vengeance?
Welcome to the alternate reality of Mitchell Hundred, the protagonist of one of the better comic books on the market.
"Ex Machina" (WildStorm Signature) is the creation of two of the business's top writers and illustrators. Brian K. Vaughan made a name for himself -- in addition to his solid work for DC and Marvel titles -- for another intriguing alternate-reality series for DC's adult-reader imprint Vertigo, "Y -- The Last Man." Another favorite of mine, it's about the last man on earth, who survives a plague that wipes out males, leaving him to fend for himself in an increasingly hostile world of women. (It's a political thriller, guys, not what you think.)
"Ex Machina" is another mature reader series of Vaughan's, who's paired with Tony Harris, whose realistic character and design sense came to readers' attention in the well-received DC series "Starman."
Over the course of the title's first three issues, the two have created what has aptly been described as "The West Wing" meets "Unbreakable."
Readers will learn more about Hundred and his back-story as the series progresses, but the first issue introduces him as a former civil engineer and lifelong comics fan who, after being caught in the explosion of a mysterious device two years before 9/11, has the power to communicate with and control machinery.
His mentor and confidant is a Soviet expatriate who supports him in his superhero guise as the Great Machine. But even though his heroism kept the second plane from hitting the remaining WTC tower, Bush still declared war in Iraq, leading to Hundred's change of heart and career. The question is, Can he exert as much control over New York's political machine as mayor as he could with regular machines in his superhero guise?
Is the Great Machine gone for good? We'll find out over the four-year run of the title, covering Hundred's term in office.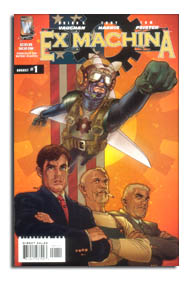 VAUGHAN saw the WTC twin towers fall, and the experience obviously informed his "Ex Machina" story. But it wasn't the main impetus behind the creation of the title. In an interview from comicbookresources.com, he said: "I've always wanted to do a superhero book that wasn't necessarily about superheroes. There are enough postmodern, self-reflexive, deconstructionist comics out there already. I'd rather use superheroes as a parable to explore our world, especially contemporary local politics, which is way more sexy, fast-paced and dangerous than the boring crap that goes on in Washington."
He goes on to describe his and Harris' book as "a fast-paced political thriller that uses superheroes as a metaphor."
That it is, in spades.
Issue No. 4 just came out this week, and for those who can't get previous issues, the first five issues of "Ex Machina" reportedly will be collected in a trade paperback out in January.