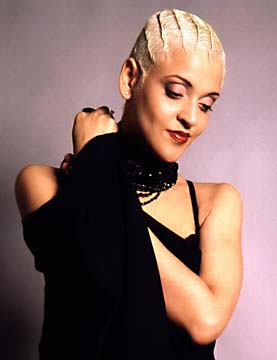 ---
Feel fado
---






Mariza

When: 8 p.m. Sunday

Where: Maile Ballroom, Kahala Mandarin Oriental Hotel

Tickets: $75 general; $150, which includes Portuguese cuisine and wine

Call: 545-2820



Fado is to the Portuguese what the blues are to African Americans, the tango to Argentineans and flamenco to the Spanish.
"You don't just play this music," says fado singer Mariza by phone a few hours after landing in Chicago from Lisbon, Portugal. "And you don't just sing it because you can't. One feels it -- you let it take you on the journey."
On her latest album, "Fado Curvo," Mariza takes her listeners on a journey filled with melancholy, sadness, joy and triumph that not only captures the spirit of her Portuguese heritage but people universally.
Her presentation as an internationally renowned live performer can't be ignored -- she was the winner in last year's Best European Artist category of the BBC Radio 3 Awards for World Music -- and a Honolulu audience should be spellbound by her stage demeanor Sunday in a special benefit concert for the Hawaii Council on Portuguese Heritage.
Tall and elegant, dressed in elaborate long gowns and shawl, and with her trademark blonde hair cropped and crimped, Mariza looks more like a 1940s film star than the darling of the world music circuit.
"I love performing," she says. "I'm always having fun onstage. Sometimes I think I am a bit selfish because I am having so much fun."
Asked to describe fado, Mariza laughs at first.
"I am always asked that, but it is easy," she says. "It is life's cruelty with love's intensity.
"Fado is an emotional kind of music, full of passion, sorrow, jealousy, grief and, often, satire. It has a unique quality of fusing contrasting traits of poetic mystery and impossible pain."
Mariza remembers when she was very young, sitting on the stairs separating her family's apartment from her parents' restaurant.
"I could always hear a singer and guitarist entertaining downstairs and the more I listened, the more I knew I wanted to be that singer," she says. "I spent a lot of time sitting on those stairs."
Then one day Mariza looked her father in the eye and said, about as directly as a 5-year-old can, "I want to sing."
But she didn't specify fado.
"Things in my life happened and I just started singing fado and never stopped," says Mariza, who was born in Mozambique and raised in Portugal. "People don't know me very well. They do not know my life. It was not so easy.
"I had to grow up very fast as a child and I use those memories at least subconsciously in a certain way in my music and sometimes that makes me feel very old.
"But fado is where I belong, where I really show my feelings, myself, my truth."
What she seems to remember best about her parents' restaurant is that the singers would sing, and the Portuguese guitar respond in kind to the voice.
At 6 years of age, she made friends with a neighborhood boy, George Fernando, who was learning guitar. She would sing with him at his house. They lost touch during their teen years when Mariza was trying different kinds of music. When she returned to Portuguese music, primarily the fado, she contacted Fernando, and they started playing in bands together.
He's appeared on both of Mariza's recordings and is a member of her touring band.
IN HER teen years, Mariza started singing jazz and blues, but always returned to fado.
"I tried these forms singing in clubs with bands, but always at the end of the night, if I felt we had right ambiance, I would sing a fado," she says.
Mariza insists that her brand of fado is not a new form as some critics have said.
"I feel I respect everything: the tradition, the roots, everything," she says. "I just give my point of view, and maybe that's why they say it's different."
On stage, Mariza is backed by a small acoustic band, with the plaintive, 12-string Portuguese guitar matched against conventional guitar and bass.
"My mission is to show that fado, just like flamenco or the blues, is very much alive as a musical style," she says, "and not to be placed in some kind of museum."
That's why she has steered away from reviving the old classic songs, and instead concentrated on new material. She collected a series of favorite poems, old and new, and then either set new words to existing melodies, or commissioned musicians to compose completely new settings for the poems, but still within the fado tradition.