On the Scene


John Berger
Friday, September 24, 2004
---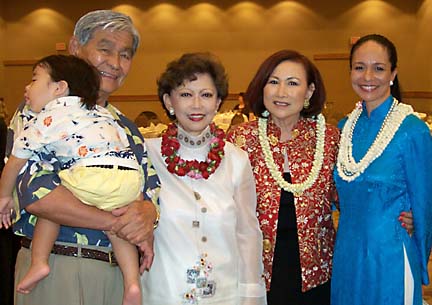 FIVE FRIENDS OF BISHOP MUSEUM: Former Gov. George Ariyoshi took charge of his grandson, Ryoichi, while wife Jean, second from left, fashion designer Jeanie Chun, and mistress of ceremonies Elizabeth Lindsey Buyers presided at "Creme de la Creme," a gala fund-raiser fashion show and silent auction benefiting Bishop Museum, at the Sheraton Waikiki on Sunday. The Ariyoshis' son, Ryozo, escorted some of the models who walked the runway in Chun's neo-retro creations. Al Masini bought at least one of Chun's gowns for his wife, Charlyn Honda Masini, one of several celebrity models in the show. Jean Ariyoshi was the program's general chairman.
---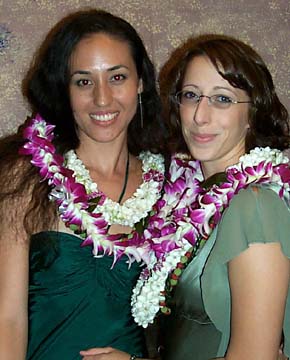 A GREAT NIGHT FOR GREEK THEATRE!: Annie Lokomaika'i Lipscomb, left, celebrated with Ashley Larson after Larson's production of "The Cyclops" opened at the UH-Manoa Ernst Lab Theatre on Saturday. The show marks Larson's debut as a successful director. Lipscomb choreographed the musical numbers that add bawdy comedy to the one-act play.
---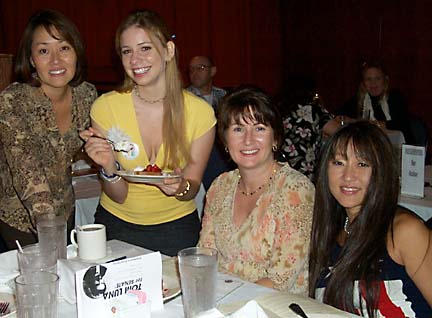 "SO, WHODUNNIT?: Cast member Julia Ogilvie, second from left, was performing in character as naive young Roxanne Dumont when she talked with audience members Jaime Kurosawa, left, Karen Coady and Kimberly Russell during the opening night performance of "A Vote For Murder" at Dave & Buster's on Saturday. The interactive dinner theater show plays Saturday at 7 p.m.
---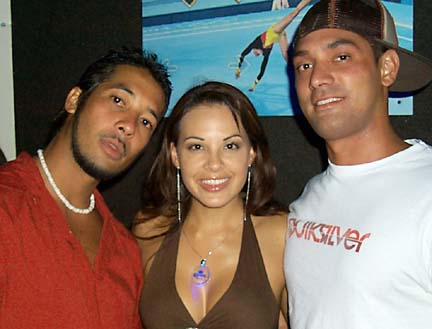 SEARCHING AT THE WAVE: Kama Akina, left, and Kaina-Boy Costa talked with Juliet Lighter during a break in the action as the 2004 Venus Swimwear Model Search Finals took place at the Wave Waikiki on Saturday. Lighter, winner of the 2003 search, was there until the contest concluded several hours later with Ranell Ganboa winning a chance to competete in Florida.
---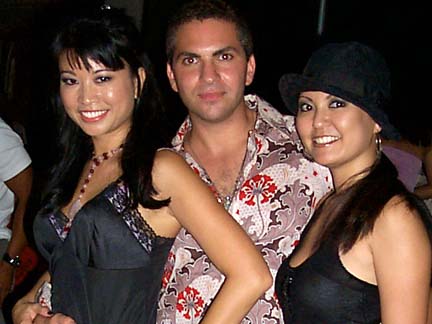 HAPPY BIRTHDAY, JOEY!: Fashion maven Joey Caldarone partied with Sherry Chock Wong, left, and Ivy Higa as he celebrated his birthday at SKYLiNE in the Hanohano Room on Saturday. Wong, who made a striking fashion statement in a seductive black Roberta Power slip dress, was also celebrating. She's in the cast of "My Way" at Manoa Valley Theatre and the show had been extended two nights.
---
---
See the
Columnists
section for some past articles.
— ADVERTISEMENTS —


— ADVERTISEMENTS —