---
[ FAST FACTS HAWAII ]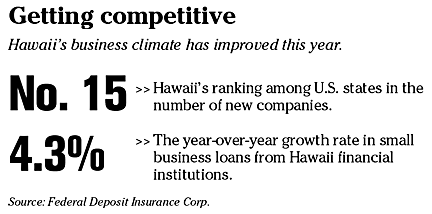 ---
BACK TO TOP
|
[ HAWAII INC. ]
>> The Hawaii State Teachers Association has appointed
Ray Camacho
deputy executive director. He will be responsible for assisting the executive director and serving as the organization's liaison with the state Department of Education. He most recently served as state
Sen. Brian Kanno
's communications director.
>> Festival Cos. has appointed two people to the Royal Hawaiian Shopping Center. Stephen M. Jacobson has been named development manager. Before joining the company he served as an agency project control manager in Seattle. Anne Murata has been hired as marketing director. She formerly served as Hawaii group publisher and national marketing manager of Guest Informant.
>> Sergio's Italian Restaurant has hired Kyle Matsumoto as general manager. He previously served as First Hawaiian Bank's food and beverage manager.
>> Poipu Bay Golf Course on Kauai has appointed Michael Castillo golf director. He previously worked for the Mauna Kea Beach Resort as assistant golf professional.
>> Old Lahaina Luau, Aloha Mixed Plate & Hoaloha Brand Products has hired Lyndon Honda as corporate chef. He will be responsible for overseeing these three kitchens.
>> Hawaiian Host Inc. has appointed Wayne T. Yoshimura controller. Before joining the company, he served 14 years at Goodsill Anderson Quinn & Stifel LLP as chief financial officer and managing director.
---
HAWAII
Walter Dods joining Maui Land board Walter Dods, chairman and chief executive of First Hawaiian Bank parent BancWest Corp., has been selected to Maui Land & Pineapple Co.'s board of directors, replacing Randolph Moore, who resigned last month.
Dods, who is stepping down from BancWest at the end of this year, serves on the boards of several public and private companies, as well as community organizations.
"By all accounts and measures, Walter Dods is among the top performing banking leaders in the United States," said David Cole, chairman and CEO of Maui Land & Pineapple.
Dods' term is effective next Friday and expires in 2006.
Moore, who had been a director of MLP since 1994, resigned because of time conflicts with his work as a public school teacher.
MLP also announced yesterday that Fred Rickert has been promoted to vice president and chief financial officer. Rickert, who has been with the company since April, had been the acting CFO. He had replaced Robert Werle, who succeeded longtime CFO Paul Meyer on July 1.
In addition, MLP said that Adam Green will join the company on Nov. 1 as vice president, corporate development. Green has spent the past eight years in investment banking, including stints with Salomon Brothers, Ramkas Holdings and Banc of America Securities.
Expo takes aim at worker shortage
A construction career expo will be held Oct. 20 at the Blaisdell Center Exhibition Hall to highlight opportunities in the booming industry, which faces a shortage of skilled workers.
The expo, which will provide detailed information about construction jobs, is a joint venture between the state, the U.S. Department of Labor and the Apprenticeship and Training Coordinators Association of Hawaii.
State wants to reward exporters
The state is seeking nominations for its 2004 Exporter of the Year Award, to recognize those who have been key in promoting Hawaii's export industry.
Nominees must be local businesses that have sustained profits or sales growth, with exports representing at least 20 percent of sales or beating the industry average. A new category this year is Exporter of the Arts.
Applications must be submitted by Oct. 8. For more information, call 587-2584.
NATION
UAL defends killing pensions CHICAGO >> United Airlines considers terminating its employee pension plans the "best of a bad set of options" to help it emerge from bankruptcy, parent company UAL Corp. said in a court filing late yesterday.
Unions representing the airline's pilots, flight attendants and machinists renewed their criticisms of the proposal, with the pilots union claiming that some of its members would lose half their pensions.
"But no amount of self-serving sugarcoating by the company's lawyers can mask the plain fact that ... the immediate impact on thousands of individual retired and active pilots will be devastating," the Air Line Pilots Association said in a statement.
Ending the pension plans would dump billions of dollars in future pension obligations onto the already-strapped government-funded Pension Benefit Guaranty Corp., which has filed an objection in U.S. Bankruptcy Court.
United's four plans -- covering about 120,000 workers and retirees -- are underfunded by about $8.3 billion, and the agency would have to pick up $6.4 billion in pension obligations. In its latest filing, UAL disputed the government's calculations, saying that when a higher rate of return is used the level of underfunding is $2.7 billion. The PBGC had a $9.7 billion deficit as of March 31.
GE settles accusations over Welch's perks
General Electric
and the Securities and Exchange Commission have settled accusations that the company failed to describe fully the substantial compensation that its former chairman and chief executive, Jack Welch., received after he retired, the commission said yesterday.
Under the settlement, GE agreed to describe all such perks in the future. The company did not admit or deny the SEC's accusations.
Welch's extensive retirement benefits came to light in 2002, when his second wife, Jane Beasley Welch, filed for divorce. Her filings included documents showing that Jack Welch, in retirement, had extensive use of corporate aircraft, a New York co-op apartment and services for the apartment including laundry and flowers, as well as a charge account at a restaurant in the building. He also received sports tickets and extensive security and technical services for his various homes.
Bailout plan shelved for Trump's casinos
Donald J. Trump may have a new project for his apprentices -- helping him try to figure out how to take his troubled casino company private after a proposed bailout fell through.
Trump Hotels & Casino Resorts Inc. and investment banker DLJ Merchant Banking Partners, which announced the bailout plan last month as part of a prepackaged Trump Hotels bankruptcy, said late Wednesday they had terminated discussions "by mutual agreement." Trump said the company was pursuing restructuring proposals with its bondholders and that it "may pursue a potential privatization of the company."