[ JAKE TYLER WHETTEN / 1983-2004 ]
---
Isle native attended BYU
---
PROVO, Utah » A Brigham Young University student from Oahu died while playing his favorite game, his family said.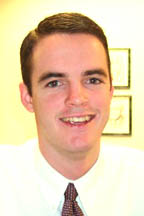 Jake Tyler Whetten, 21, a sophomore from Laie, was playing Ultimate Frisbee at a Provo park Saturday when his heart apparently stopped, his brother said.
"It caught us all off guard," said Brady Whetten.
"He was playing Ultimate Frisbee with his friends like he loved to do, and his heart just stopped and he fell over and died."
Brady Whetten said an autopsy has been performed, but the cause of death remains undetermined.
Whetten's funeral is scheduled for tomorrow in Orem, Utah, at the Sharon Park Chapel, a building that holds great meaning for the family.
"His grandfather, Clifton Whetten, actually built the chapel, and my parents attended that ward when they were first married and had the first two kids," Brady Whetten said. "Grandpa built it and was in construction. Jake was going into construction and they were very close."
Jake Whetten was born in Honolulu and grew up in Laie, where the 6-foot-7 student played goalie for the Kahuku High School water polo team.
His father, Judd, is director of BYU-Hawaii's physical plant.
Whetten is also survived by mother Susan; siblings Derek, Todd, Jana and Rachel; and grandparents Zada Clark and Clifton Whetten.
---