ISLE PAGES
New releases by Hawaii authors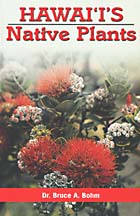 "Hawai'i's Native Plants" by Dr. Bruce A. Bohm (Mutual, $22.95)
I'm not thrilled by the typography here, which pads out the interior by excess leading instead of increasing the type legibility, and the book needs more photographs and graphics but the content is first rate, as thorough an introduction to Hawaii botany as you'll get in a capsule editon.
"The Boy Who Tricked the Ghosts" by Ellie Crowe, illustrated by Tammy Yee (Island Heritage, $14.95)
Crowe and Yee are at the top of their form here, telling the tale of a Maui prince banished to Lanai, land of ghosts, and how he convinced them to haunt elsewhere. Yee ditches her cutesy style for more realism, while Crowe's narrative abilities continue to shine.
"Bon Dance in Hawai'i -- Dance With the Wind and Spirits" by Jill Suzuki Haworth (Mutual, $12.95)
Nice job. A charming meditation on cultural continuity, well-illustrated with Thurberesque watercolors, and fairly magical in its conclusions about family and community.
"Sh-h-h! I Have a Secret" by Linda de la Rosa (Vantage Press, $8.95)
Self-published poetry and memories by addictions counselor de la Rosa concentrates on painful memories of scarred childhoods. I guess buying her a drink is inappropriate.
---
Reviewed by Burl Burlingame
bburlingame@starbulletin.com