---
[ FAST FACTS HAWAII ]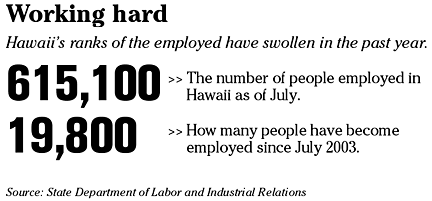 ---
BACK TO TOP
|
HAWAII
Boeing, partner drop bid for Hawaiian Air Boeing Capital Corp. and Corporate Recovery Group LLC, who in February jointly filed the first of several competing plans to reorganize bankrupt Hawaiian Airlines, notified federal Bankruptcy Court yesterday that they were parting ways and withdrawing their proposal.
Boeing Capital, the airline's primary aircraft lessor, is in advanced talks with RC Aviation LLC, an investors group that has its own plan for the airline that has received substantial backing.
Boeing Capital and Corporate Recovery Group, a Wilson, Wyo.-based turnaround firm, gave no reason in the filing for the withdrawal. They said they have terminated their cooperation agreement. In an earlier filing, the two companies said Boeing Capital would have to pay Corporate Recovery Group a $3.5 million break-up fee if Boeing severed their partnership.
The two sides have reached a settlement, according to people familiar with the situation. Terms of the settlement were not disclosed.
NATION
Pilots' union seeks last-ditch talks The leadership of the pilots' union at US Airways voted late last night to hold last-ditch talks with the airline on its bid for wage and benefit cuts. The emergency move came as the company appeared headed for a Chapter 11 filing as early as tomorrow, people who had been briefed on the situation said yesterday.
Meanwhile, the federal loan board, which assisted US Airways, paving its way out of its last Chapter 11 filing, met in Washington to discuss the airline's plight.
If US Airways seeks bankruptcy protection, it would be the first airline to default on loan guarantees awarded by the Air Transportation Stabilization Board, which was created after the terrorist attacks on New York and Washington three years ago.
US Airways, which emerged from bankruptcy in April 2003, has repeatedly warned it would file for a second time unless it could win $800 million in wage and benefit concessions from its unions.
But employees, who granted the airline two sets of cuts worth $1.9 billion while it was under court protection, have balked at granting a third set, stalling the airline's efforts on a $1.5 billion restructuring plan. That made it virtually certain that the airline, based in Arlington, Va., would file for Chapter 11 tomorrow, people who were aware of the airline's plans said.
Lost-luggage victims to get $110
WASHINGTON>> The Transportation Security Administration said yesterday that it will pay an average of $110 each to 15,000 airline passengers who claim their possessions were lost, stolen or damaged when their bags were screened for bombs and weapons.
The TSA began inspecting all checked bags at the end of 2002, a security measure ordered by Congress after the Sept. 11, 2001 terrorist attacks.
The requirement created a new chain of custody for checked bags that goes from the airline to the TSA back to the airline. Previously, the airlines had sole responsibility for bags once they were checked.
Airline passengers have since been caught between the TSA and the airlines, who have failed to agree on who would compensate them for missing or damaged items.
Halliburton settlement blocked
A Dallas judge blocked the settlement of a shareholder lawsuit against
Halliburton
, saying the deal does not appear to be fair and reasonable.
U.S. District Court Judge Barbara Lynn said the $6 million settlement and the manner in which it was reached did not appear to represent the best interests of the shareholders.
Tribune will take another charge because of circulation problem
The
Tribune Co
. said yesterday that two of its newspapers, Newsday and the Spanish-language daily Hoy, had overstated their average circulation figures by even more than the company initially disclosed in early June, when it released the results of a preliminary investigation into the papers' circulation practices. In the case of Newsday, the overstatement was as much as 122,000 copies.
The company also said that as a result of the scandal, it intended to take a pretax charge of $45 million to $60 million in the third quarter to compensate advertisers, in addition to the $35 million charge it recorded in the second quarter.
In reporting the revised figures, Jack Fuller, president of Tribune Publishing, said that two continuing investigations -- one internal, the other by the Audit Bureau of Circulations -- had "revealed a range of issues affecting circulation, including poor documentation, records mismanagement and programs that deliberately violated ABC regulations and Tribune policies."
Coast Guard will step up inspections of ships
WASHINGTON >> Ships that have called at specified ports in Africa and the former Soviet Union are more likely than other vessels to be boarded and inspected when they enter U.S. ports, the Coast Guard said yesterday.
The increased attention to those ships results from the failure of 17 countries to confirm that they meet new international port security standards that took effect July 1.
The Coast Guard also will board more vessels that sail under the flags of 13 countries -- including Panama, the Netherlands and Thailand -- because their compliance with the new security standards has been below average.
The standards require every ship to have a security officer, an alarm system, access restrictions to the engine room and bridge and a method of checking IDs of people who come aboard.
Such standards are fairly minimal given the vulnerability of ports to attack and their importance to global trade, counterterror experts say.
The independent commission that investigated the Sept. 11, 2001, attacks said current efforts to protect the nation's 361 ports from terrorists are inadequate.
Fidelity bought $549 million in Google's shares
Fidelity Investments
, the world's largest mutual fund manager, bought $549 million of stock in Internet search service
Google Inc.
, about 23 percent of the shares sold in the company's initial public offering.
Boston-based Fidelity reported in a filing with the Securities and Exchange Commission that it holds 5.21 million Google Class A shares. That's about 16 percent of Class A stock and 1.9 percent of Google's total shares outstanding.
Google, owner of the world's most-used Web search engine, and some of its early investors raised $1.92 billion in an initial public offering last month. Fidelity's bet on Mountain View, California-based Google could persuade other investors to buy the stock, analyst David Garrity said.
Anadarko selling oil, gas fields for $850 million
Anadarko Petroleum
said yesterday that it has agreed to sell 180 onshore oil and gas fields in Texas and six other states to undisclosed buyers for $850 million in cash plus interests in two fields in Wyoming.