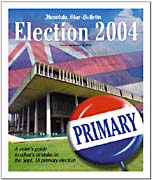 [ COUNTY RACES ]
NEIGHBOR ISLAND FOCUS
» Maui
» Big Island
» Kauai
---
BACK TO TOP
|
[ MAUI ]
Nishiki's aide is going
after his Council seat
---
WAILUKU >> A longtime Valley Isle businessman and a County Council executive assistant are among eight candidates competing in the Sept. 18 primary election for County Councilman Wayne Nishiki's seat in South Maui.
Businessman Ron Vaught and Nishiki's aide Michelle Anderson are hoping to become the top two vote-getters in the primary and advance to the nonpartisan general election on Nov. 2.
Nishiki, unable to run because the County Charter limits Council members to serving no more than five consecutive terms, has endorsed Anderson, who has served as his executive assistant for seven years.
"I know Michelle has the courage and integrity to speak up and hold government accountable. She has my full support," Nishiki said.
Vaught is publisher of visitor magazines and a former general manager of KMVI Radio.
Others running for the South Maui seat include Maui Planning Commission member and entrepreneur Johanna K. (Shin) Amorin, bikeway advocate Joe Bertram III, former boxer Johnny Jackson, construction manager Jason Norman, small-business owner Zandra Souza-Amaral and sod farmer Juan R. Cendejas.
Former Councilman Dennis Y. Nakamura, a retired golf professional at Kapalua, wants to get back his former seat in West Maui from incumbent Jo Anne Johnson, who narrowly defeated him by 125 votes in the 2000 election.
Also running for the West Maui seat is Eve Clute, a University of Phoenix faculty member and a former member of the state health algae task force.
The East Maui seat occupied by Councilman Robert Carroll is being challenged by entrepreneur Aileen Crozier Lee and Mele Carroll, chief legislative liaison and an executive assistant to Maui Mayor Alan Arakawa. Mele Carroll ran unsuccessfully against Councilman Joseph Pontinilla for the Kahului seat in 2002.
Councilman Michael Molina, running for the Makawao-Haiku-Paia seat, faces a challenge from businessman Lance Holter and Christina Hemming. Holter lost to Molina in the 2002 general election, and Hemming, who has pushed for the open-space preservation of land at the Old Lime Kiln in Paia, is running for the first time.
---
BACK TO TOP
|
[ BIG ISLAND ]
Mayor Kim's popularity
will face a test
Former Councilman Yagong is running,
and he favors reducing the size of government
---
HILO >> As Hawaii County's former Civil Defense director, Harry Kim rode a wave of popularity into the Mayor's Office four years ago. This year's election will be a referendum on whether that popularity endures despite property tax increases obtained by Kim.
Former Councilman Dominic Yagong opposes him, advocating reduction in the size of county government.
Also running are marijuana advocate Roger Christie, former resort accountant Joe Fernandez and nurseryman Kelly Greenwell. All county races are nonpartisan.
In the Council's First District (Hamakua, North Hilo coast), incumbent Fred Holschuh faces challenger Kevin Brown.
The Second District (north side of Hilo city) sees incumbent Mike Tulang, appointed last year to fill a vacancy, running against Donald Ikeda.
In the Third District (southern side of Hilo plus part of Puna), Council Chairman Jimmy Arakaki faces Ollie "Olé" Fulks.
The Fourth District (Keaukaha and lower Waiakea), with no incumbent, pits Stacy-Stan Higa, Wendell Kaehuaea and Edgar Ombac against each other.
In the Fifth District (lower Puna) incumbent Gary Safarik faces Aaron Anderson, Roger Evans and William Meyers.
The Sixth District (upper Puna, Kau, southern Kona) sees incumbent Bob Jacobson facing Timothy Bates and Robert Wallwork.
With no incumbent in the Seventh District (middle Kona), former legislator Virginia Isbell faces Joseph Rosner.
In the Eighth District (northern Kona), also without an incumbent, former Councilman Jim Rath faces Joel Gimpel and Angel Pilago.
In the Ninth District (North and South Kohala), incumbent Leningrad Elarionoff faces Peter Hoffman.
---
BACK TO TOP
|
[ KAUAI ]
Incumbents all seek
re-election to Council
---
LIHUE >> Kauai voters have a long tradition of re-electing any incumbent County Council members who want to stay in office. Only one sitting member seeking re-election has been bumped off in the last decade.
This year, all seven incumbents want to keep their jobs. The lack of vacant seats has brought out only 10 challengers. All of Kauai's Council seats are at-large, and all members are elected for two years.
The present Council has taken criticism from a group of activists who attend every meeting and have repeatedly labeled it a "do-nothing Council."
They note that not a single major piece of legislation has been introduced by a Council member in the last two years.
Incumbents seeking re-election include Bill "Kaipo" Asing, a retired utility executive; Jay Furfaro, a retired hotel executive; Daryl Kaneshiro, a rancher; Maurice (Joe) Munechika, a retired military officer; Mel Rapozo, a private investigator; James Kunane Tokioka, a former restaurant owner; and JoAnn Yukimura, a lawyer and former Kauai mayor.
Challengers include Tim Bynum, a facilitator for Kauai County's Ka Leo Program; Bob Cariffe, president of Earthlings Against Communism; Peggy Field, a librarian at a preschool; Shaylene Iseri-Carvalho, an attorney; Kauilani Kahalekai, a musician and luau manager; Rhoda Libre, an entrepreneur; Bruce Miyashiro, a student; Bruce Pleas, a surfboard shaper and veteran activist; Rupert Rowe, a retired firefighter; and Marshall Turner, a semiretired former vitamin salesman.
In the only other county race, Chief Deputy Prosecutor Craig De Costa is unopposed in his bid to replace his boss, Mike Soong, who is stepping down as prosecutor.
---