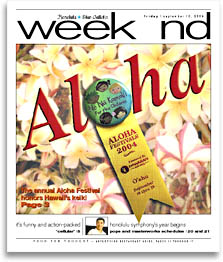 [ WEEKEND ]
---
---
Celebrating
the children
---
This year's theme honors the islands' youth and their importance as guardians of cultural traditions.
2004 Aloha Festivals:
No Na Kamali'i
'For the Children'
Cost: $5 per ribbon

Info: 589-1771 or alohafestivals.com

Ribbon Outlets statewide: All Bank of Hawaii branches, and all 7-Eleven, Crazy Shirts, Hilo Hattie and Safeway stores
"Hawaii has so many great cultural festivals, but within Aloha Festivals, people can experience a true cross-cultural event that embraces other cultures," writes 2004 festival president Leolani Kini in the program guide. "Families gather to see the pa'u riders and floats, and can appreciate Hawaii ... The event helps them to remember the good things about their own culture, and leaves them with a sense of aloha."
The art adorning this year's keiki T-shirts and note cards is by Iolani School fourth-grader Samantha Dacanay. She and the other honorable mention award winners will be riding in tomorrow's floral parade.
Macy's Ala Moana will be celebrating the Aloha Festivals tomorrow from noon to 2 p.m. with demonstrations of the art of lauhala weaving by neighbor island artists Margaret Lovett, Lola Spencer and Deborah Tuzon, and Gladys Brede on feather lei making. It'll be free and open to the public.
Also in keeping with the theme "No Na Kamali'i," there will be the debut of a keiki ho'olaule'a that happens next weekend at Pearlridge Center.
---
---
BACK TO TOP
|
MAIN EVENTS ON OAHU

This Weekend
» 5:30 p.m. today: Opening ceremony at Iolani Palace
» 6:30 to 10 p.m. today: Downtown Ho'olaule'a (see schedule at right)
» 9 a.m. to noon tomorrow: Floral parade down Ala Moana
» 6 p.m. tomorrow and through Sept. 17: 9th Annual Halekulani Steel Guitar Festival (see story)
» 7 p.m. tomorrow: 10th Annual Frank B. Shaner Falsetto Contest at the Sheraton Waikiki (see story)

Next Weekend
» 3 to 6 p.m. Sept. 17: Royal Tea Party at the Moana Surfrider
» 7 to 10 p.m. Sept. 17: Waikiki Ho'olaule'a
» 10 a.m. to 4 p.m. Sept. 18: First Keiki Ho'olaule'a at Pearlridge Center

TODAY'S DOWNTOWN HO'OLAULE'A

Dillingham Transportation Building stage:
» 6:30 p.m.: U.S. Pacific Fleet Navy Band
» 7:15 p.m.: 25th Infantry Lite Band (Army)
» 8:30 p.m.: Hana Hou (PACAF)
» 9:15 p.m.: Marine Forces Pacific

Davies Pacific Center stage:
» 6:30 p.m.: Roy Sakuma ukulele students, featuring The Super Kids
» 7:30 p.m.: Raiatea Helm
» 8:30 p.m.: Na Palapalai

Financial Plaza of the Pacific stage:
» 7 p.m.: Ka'ena
» 7:30 p.m.: Kekai Boyz
» 8:30 p.m.: Nuff Sedd
» 9:30 p.m.: Natural Vibrations

Tamarind Park / Bishop Square stage:
» 6:20 p.m.: Presentation of Aloha Festival Royal Court
» 6:30 p.m.: Mi Nei Oliver (Miss Kauai) and Tahitian Dance Troupe
» 7:15 p.m.: Vaihi
» 8:15 p.m.: Makaha Sons
» 9:15 p.m.: Ekolu

---

Where can you get an Aloha Week ribbon on Oahu?

All Bank of Hawaii, 7-Eleven, Crazy Shirts, Hilo Hattie and Safeway branches; all major hotels and the International Marketplace in Waikiki; the Kahala Mandarin Oriental; customer service counters at Ala Moana Shopping Center, Kahala Mall, Pearlridge Center and Windward Mall; Aloha Festivals headquarters in Ward Warehouse; the Hawaii Theatre box office, Na Lima Mili Hulu No'eau in Kapahulu; Na Mea Hawaii Downtown and Ward Warehouse; and West Oahu Community FCU