ISLE PAGES
New releases by Hawaii authors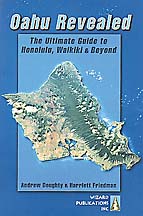 "Oahu Revealed -- The Ultimate Guide to Honolulu, Waikiki and Beyond" by Andrew Doughty and Harriett Friedman (Wizard, $15.95)
The tacky Real Gem logo isn't impressive, but this edition shows Wizard continues to produce information, maps and photographs that are all first-rate, and -- even better! -- well-organized. Despite the title, the accent is on rural Oahu, not townside.
"The Parker Ranch of Hawaii -- The Saga of a Ranch and a Dynasty"" by Joseph Brennan (Mutual, $11.95)
Another historical title rescued from the back shelf by Mutual, this work by the late Joe Brennan was a concise history of the legendary ranch without delving too much into the flamboyance of owner Richard Smart. The "epilogue" update, alas, dates from 1974.
"The Quest for Origins -- Who First Discovered and Settled the Pacific Islands?" by K.R. Howe (University of Hawaii Press, $19)
It's unlikely that ancient Polynesians came from the lost continent of Lemuria or Mu, but who knows? This fascinating essay by New Zealand professor Howe examines both the scientific and archaeological evidence as well as the cultural mythology that continues to cloud the issue.
"O'ahu As Seen From the Skies" by Douglas Peebles (Mutual, $7.95)
Peebles never gets airsick, apparently. Well-printed, with vibrant color and intricately reticulated detail, the large page size and landscape format allows the reader to feel as if they are really hanging out of a helicopter. Some pictures, however, are taken from ground level. It's like a calendar without any dates.


"Big Island," "O'ahu" and "Kaua'i" by Douglas Peebles (Mutual, $6.95 each)

The endless repackaging of Peebles' images finds a home in these gift-size books. Well-printed and inexpensive, they'd make good stocking stuffers. But they're also not particularly inspired.
---
Reviewed by Burl Burlingame
bburlingame@starbulletin.com