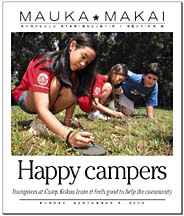 [ MAUKA

MAKAI ]
---
Giving back
Camp Kokua teaches youngsters
how to fight for what they believe in
---
With worries about paying the rent or mortgage, the monthly auto bills and keeping one's job, most adults have little energy left for worrying about what's good for the rest of the world, so it's difficult to plant the seed of caring in their children. The problem is, that lack of caring is accelerating a breakdown of civilization around the globe. With the notion that one good turn deserves another, Camp Kokua has stepped in to help, focusing its effort on teaching students in grades 3 to 12 to give back to the community. Youngsters who attend the camp learn to fight for what they believe in, and it's working.
"I'd do anything for the community," fourth-grader Jason Bayang said. "I want to make the world a better place. People can do good things in this world."
Drive, determination and self-motivation are a few of the qualities needed to be among the ranks at Camp Kokua. By providing students with an opportunity to do meaningful volunteer work, the camp exposes youths to the inspiring people who demonstrate one person can make a difference, said Kim Hines, co-coordinator of the program.
Participants spend a portion of each day working on community service projects for nonprofit organizations. They also learn from each experience through reading, writing, art, music games and reflection.
Jaycie Peterson has also actively engaged in community service for the last two years. The ninth-grader attended Ho'ala School's Camp Kokua for the past two years, and said she enjoys people's reactions to completed projects and feels full of pride when viewing the project from "start to finish." Her most memorable experience was a trip to the Big Island last year, where she and the other campers planted native vegetation. "We not only made a difference in our own community, we went beyond," she said. "We went wherever help was needed."
CAMP KOKUA was created three years ago in a partnership with the Service Learning Program at the University of Hawaii at Manoa. All that is required is self-motivation, an ability to do physical labor and a cooperative attitude.
Recently, 32 youth volunteers assisted 12 organizations over an 11-day span. Additional high school volunteers worked another six days, helping two more agencies.
Four main themes were chosen this year based on the interests of the children: safe driving, environmental stewardship, feral cats and peacekeeping.
Projects chosen must relate to a social concern the children identify, and the work must be completed in one or two days. Each venture starts with a visit by a community speaker, "an expert willing to speak to the kids about the issue," Hines said. "The projects also must be tangible. We learn by doing."
The kids suggest campaigns and community service projects after they've gotten a taste of what it means to organize, Hines explained. "Students have said, 'We should do a cleanup of Lake Wilson,' when there is bad news about the lake pollution on the news, and they have said, 'We should do a honk-to-stop-smoking campaign,' when they see young people smoking at the bus stop."
After going through the program, Hines said, "They are much more willing to identify things that bother them."
The children joined forces with DTRIC Insurance to support their "Drive Aloha" campaign.
"We've been increasingly concerned about the recent tragedies on the highways, lives that were lost that didn't have to be," DTRIC president Ron Toyofuku said. "We wanted to do something to help make our roads safer for everybody."
The Ho'ala campers were happy to help the cause. Signs in hand, they created dozens of slogans marking the crashed-car display on the corner of Kamehameha Highway and Wilikina Avenue in Wahiawa. "Cage the Rage" "55, Stay Alive" and "Honk for Safe Driving" were a few of the messages. They also created a "honk-o-meter" and calculated more than 2,000 honks in just a few hours.
At Waimea Valley Audubon Society, the goal was to remove foreign vegetation and restore the moorhen's habitat, according to Kelly Perry, volunteer coordinator at the park. The project started by Ho'ala campers will be continued by an array of organizations.
The campers pitched tents and stayed in the valley for two nights to dedicate lots of time to the project and gain a camping experience.
The children were well rewarded for their effort. "We got to see the moorhen," third-grader Kristen Kelly said. "It was fun because we could help them not to become extinct."
"Kids need a means to carry out their thoughts. Taking action is one way that they feel they have power in their environment," said the University of Hawaii's Atina Pascua, co-coordinator of the Camp Kokua program. "It challenges young people to identify creative solutions to problems in their community and then take planned, manageable steps to achieve success.
"Kids see things in black and white. It is hard for them to understand why bad things happen and why they can't be fixed," she said.
The community projects make them feel like they can make a difference. "It definitely makes them more socially conscientious and gives them a sense of responsibility. It's not just someone else's problem."
CHILDREN AS YOUNG as 8 can make a valuable contribution to society, Pascua added. "They can collect clothes or give away some of their toys. Giving of yourself doesn't require money, just time or love."
The group also chose war and peace as an issue of concern. They conducted a flag ceremony waving 191 flags of countries from Afghanistan to Zimbabwe. The World Peace Prayer Society presented Ho'ala students with a peace pole, and they started a peace garden that included steppingstones engraved with the word "peace" in 40 languages.
"Peace represents love and happiness in my life, family and friendships," said 10th-grader Lindsay Fox.
Meanwhile, fifth-grader Lindsey Ashton enjoyed working on the feral cat project at the Hawaii Cat Foundation in Kaneohe. "We got to see kittens and played with the older cats. They were friendly because they were used to human contact. We got to groom and feed them," Ashton said.
The campers also learned about the Hawaiian Humane Society's catch, fix and release program. They set cages around the campus and caught several cats overnight to bring them to the humane society for spaying or neutering to reduce the cat overpopulation. With newfound insight gained from speakers and the children's research, Ashton calculates, "If 850,000 people adopted 10 feral cats, there would still be thousands left."
The agencies were touched that children with allergies came along and helped to paint shelves or do other tasks that didn't include interaction with the animals.
Collette Shichida has sent her son to camp for the last couple of years. "It builds character and exposes them to real life," she said. "They work with different kinds of people from all walks of life."
In working with individuals who are less fortunate than themselves, the children grow up without attaching stigmas to homelessness or the underprivileged, becoming more humane in the process, Shichida said.
Sara Cohen, a student intern from College of William and Mary in Virginia, assisted with the projects. Most people begin becoming civic-conscious at the college level.
You don't see much service learning in elementary and middle school grades, but she said: "The (Ho'ala) kids are informed and concerned. They deal with really tough topics, especially the peace and war, and I'm surprised about their deep thoughts."
The children learned that it's OK to disagree but that they need to get along, added Monica Wahlberg, a student intern from Lesley University in Massachusetts. Wahlberg worked with the students to create skits for their safe-driving campaign. The kids created scenes on video that could be fast-forwarded and rewound to create different outcomes. The skits will be shown on 'Olelo sometime this fall.
"They were able to express themselves with dialogue," Wahlberg said.
Results of the program can continue to affect society in years to come. If volunteering begins at an early age, it becomes a part of a child's life, explained Hines, who hopes that the students will continue to be advocates and activists for their communities.
"One thing that I've noticed in working with the kids for three years in Camp Kokua is that they're more willing to do the work, and to see the work as the fun part of camp. The service has become of part of who they understand themselves to be," she said. "It is what makes them feel good. This year, they kept saying, 'We want the speakers to talk less and the work to be longer.' This was music to my ears."
---
For more information on Camp Kokua, call Ho'ala School at 621-1898.