---
[ FAST FACTS HAWAII ]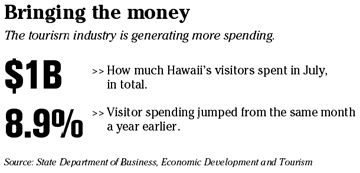 ---
BACK TO TOP
|
Labor board reviewing Turtle Bay complaints
The National Labor Relations Board is investigating complaints made by hotel workers union Unite Here Local 5 about the Turtle Bay Resort.
The union complained to the board that hotel management conducted surveillance of employees and union activities, changed conditions of employment without bargaining, failed to bargain in good faith and has harassed union representatives and threatened to arrest them for trespassing.
Abid Butt, managing director for Turtle Bay Resort, could not be reached for comment.
The complaint is the newest development in a long struggle between union workers and managers at the resort.
The 250 workers represented by the union launched a consumer boycott of their hotel late last year after contract negotiations failed. Talks broke off again in June after the hotel declared its intent to reach an impasse, said Jason Ward, spokesman for Local 5.
Contract issues include medical benefits, wages and subcontracting, he said.
Local 5 represents 11,000 workers in Hawaii and has recently settled contracts with major hotels covering almost 7,000 workers.
The Turtle Bay Resort is owned by Oaktree Capital Management LLC of Los Angeles and managed by Texas-based Benchmark Hospitality.
Hawaiian Airlines is 97% on time
Hawaiian Airlines flights arrived 97 percent on time in July, the ninth straight month that the company has led the nation in arriving on schedule.
SkyWest Airlines was second, with 84.4 percent on-time flights, followed by Alaska Airlines with 78.8 percent. A flight must arrive within 15 minutes of schedule to be on time.
HVCB bestows tourism awards
The Hawaii Visitors & Convention Bureau presented its highest honor, the Maile Award, yesterday to five organizations that have advanced the state's visitor industry.
Earning the award for 2004 were the NFL Pro Bowl, Japan Airlines, Hawaiian Airlines, the Gas Co. and the Waikiki Aquarium.
Recipients are chosen for their contributions to tourism, their service to the community and their longevity in the industry.
The bureau also presented awards to former Gov. George Ariyoshi, who resigned this week after 15 years as president of Prince Resorts Hawaii, and to Fred Duerr, who will retire in November after 38 years as general manager of Kona Village Resort.
---
BACK TO TOP
|
[ HAWAII INC. ]
---
New Jobs
»
Kapalua Land Co.
has hired
Fred Mayo
as the Kapalua Villas general manager. He will be responsible for the villa rental program and be part of the Kapalua Resort finance and administration team. He most recently served as Carmel Valley Ranch food and beverage director.
» Alexander & Baldwin Inc. has appointed Ruthann Yamanaka human resources vice president. She previously worked as Hawaiian Airlines senior vice president-people services group. She replaces John Gasher, who will retire at the end of the year after a 44-year career with A&B.
>> Peter Vincent & Associates LLC has hired Brent Wollenburg as an architect. He previously worked at RDG Schutte Wilscam Birge in Omaha, Neb.
» CB Richard Ellis Hawaii Inc. has hired Michael K. Cox as the company's Asset Services Division senior property manager. He will be responsible for overseeing the Kamehameha Schools Bishop Estate Kalihi Portfolio Properties. He previously worked for GE Capital Hawaii Inc.