Hawaii's
Back yard


Cheryl Chee Tsutsumi
---
Plantation has guavas
in full glory
---
Most kids grow up playing on swings, in sandboxes and on slides. When Nichelle Obar was younger, her favorite playground was Guava Kai Plantation, near Kilauea town in north Kauai.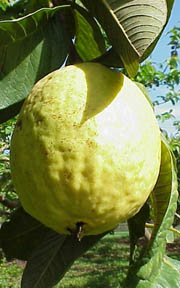 "I grew up there," she recalls. "My father used to work there as a harvester so I used to come with him a lot. I remember running around, carefree, in what seemed like a huge guava forest. I remember my dad picking fruit off the trees and giving me some to eat.
"The road to the plantation back then was very bumpy and full of potholes -- it was great fun driving over them! Jack Gushiken, the field operations manager, used to drive my dad and me through the orchards and town in his truck. It made me feel special knowing that the boss was driving us around."
Today, Obar is the manager of the visitors center at Guava Kai, which, with 480 acres in commercial cultivation, ranks among the largest guava plantations in the world.
"I love being part of such a diverse and unique operation," she says. "We are set in a lush, quiet environment, and not too many people know about guavas so we are here to educate as well."
Guava Kai Plantation
Address: Look for the entrance signs at the intersection of Kuawa Road and Kuhio Highway, just north of Mile Marker 23 in Kilauea.

Hours: 9 a.m. to 5 p.m. daily

Admission: Free

Call: (808) 828-6121

E-mail: info@guavakai.com for general information or mailorder@guavakai.com to order products

Web site: www.guavakai.com
Guava Kai traces its beginnings to 1976, when Kilauea Agronomics, Inc. (KAI) was formed in recognition of the sesquicentennial of C. Brewer and Co., Ltd. The following year, KAI planted guava seedlings on 150 acres of land that had been part of Kilauea Sugar Company, which had closed in 1970. The young trees produced fruit two years later, and a commercial yield of 2,000 pounds of fruit per acre was harvested in January 1980.
Over the years, additional acres were planted and a processing plant was constructed to meet demand as KAI's Guava Kai Plantation expanded the market for guava. Today, with 46,560 trees, it grows and processes more than half of Hawaii's guava crop -- about 10 million pounds per year.
Using technology pioneered by Jack Gushiken, Guava Kai now utilizes rooted tip cuttings, or shoots that are planted in its greenhouse and grown in a temperature-controlled environment. "These 'tip-cutting' trees bear sooner than regular seedlings and provide a more consistent high-quality fruit," notes Obar. "We can harvest 25,000 to 35,000 pounds of guava per acre as early as two years after planting."
Workers hand pick the guavas at an average rate of 200 pounds per hour. During peak season, the plantation's total daily harvest can reach in excess of 150,000 pounds.
"Expert harvesters can tell when the fruit is perfect for picking," says Obar. "You look for things like color (it should be yellow), firmness (it shouldn't be too soft or too hard), and quality (not bruised, rotten, nibbled by birds or stung by fruit flies). Because the fruit ripens at different times during a particular cycle, they may have to go back to the same tree up to 25 times to harvest everything."
---
---
A NATIVE OF South America, guava is a member of the myrtle family whose relatives include the 'ohia lehua, eucalyptus, clove, cinnamon, allspice, nutmeg, Surinam cherry and rose apple. The guava was brought to Hawaii around 1791 by Don Francisco de Paula Marin, a physician with an avid interest in horticulture who became one of King Kamehameha I's most trusted advisers. Hawaii's warm tropical climate proved ideal for guava, and it quickly became the most common wild fruit in Hawaii.
When ripe, guava is soft, round and dimpled, and measures about the size of a tennis ball. Its edible rind covers a center of pulpy meat containing several small, very hard seeds. Although it is often mistaken for a citrus, guava actually is a berry that packs more than three times the vitamin C content of an orange. It's also a good source of Vitamin A, potassium and phosphorus.
A guava hybrid, Beaumont, was developed by the University of Hawaii's College of Tropical Agriculture in 1960. Guava Kai exclusively grows the succulent Beaumont for its large size and unique color. While the flesh of wild guavas can range anywhere from white and yellow to salmon-orange and pink, the Beaumont produces an 8-ounce fruit that's distinguished by its bright pink meat. Guava Kai's puree is thus naturally pink; no artificial coloring is added.
---
---
THE PLANTATION produces guavas year-round, although the biggest season is fall, from August through December. Harvests are transported from the field to the processing plant in bins that can hold up to 900 pounds of fruit. After they are weighed, the bins are placed on a conveyor and their contents are emptied onto a metering belt, which monitors the speed and quantity of fruit passing through the preparation stations.
Three high-pressure water sprays clean the guavas, which are then fed through a chute to an elevator and lifted to the sorting station. Here, the fruit is carefully inspected and culled by hand to ensure only the best are used for puree.
A stainless steel disintegrator unit mashes the entire fruit, and a pulper removes the seeds. "Finishers" press the puree through fine stainless steel screens that remove any fibrous material, resulting in a puree that's smooth and uniform in consistency.
After it is flash-chilled, the puree is packaged and frozen in plastic-lined fiberboard containers, and stored in a Sub-Zero freezer until it's ready to be shipped to factories on Oahu, Maui, the Big Island, the mainland and in Canada and Japan for manufacturing into fruit drinks, nectars, jams, jellies, sherbets and confections. Guava Kai sells about 50 pounds of whole guavas per week to fruit stands on Kauai, including Poipu Fruit Stand, Kauai Producers and Hanalei Taro & Juice Company.
"Guavas cost about $2 per pound and make a wonderful snack," asserts Obar. "When it comes to fruit, people usually buy apples, oranges and bananas, but guavas are a delicious, nutritious and refreshing alternative!"
At a viewing area outside the processing plant, you can observe fruit being washed and sorted. The adjacent visitors center offers an array of guava merchandise, from spreads, syrups and sauces to lotions, soaps and lip balms. A continuous video loop chronicles the history of the plantation and the harvesting and puree manufacturing processes while you sample guava juice and ono preserves.
If you see ripe guavas growing on the trees surrounding the visitors center, you're welcome to pick and eat them; it doesn't get fresher than that!
Wrap up your visit by taking a walk in the plantation's pretty botanical garden, which winds past a lake; stream; fishpond; and dozens of trees and shrubs, including hibiscus, coconut, ilima, plumeria, bird of paradise, ginger, heliconia, kukui, strawberry guava, soursop, starfruit, banana -- and, of course, the glorious guava!
---
See the
Columnists
section for some past articles.
Cheryl Chee Tsutsumi is a Honolulu-based free-lance writer and Society of American Travel Writers award winner.