[ UH FOOTBALL ]
---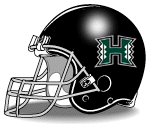 Hawaii to open
without Ilaoa at slotback
The UH junior is still recovering
from a knee injury and won't
play against Florida Atlantic
Spartans without a starter
---
Hawaii junior slotback Nate Ilaoa will not play in the Warriors' season-opening game a week from today against Florida Atlantic at Aloha Stadium, coach June Jones said after yesterday's practice.
Ilaoa, a starter on the depth chart after last spring, still needs time to recover from the knee injury he suffered in the first game of the 2003 season.
His weight has also been a concern. The 5-foot-9 Ilaoa reported to camp at 240 pounds. Running has got him down to 223.
Ilaoa practiced the first few days of fall camp this month, but then a shoulder subluxation knocked him out of drills.
"I've just got to be patient. I want to make sure I'm fully healthy," Ilaoa said. "We'll see how it goes."
Senior Se'e Poumele -- No. 1 on the depth chart since the start of fall camp -- will likely start.
In 2002, Ilaoa showed the form that made him the Washington Post's Metro Player of the Year in 2000. Despite playing much of the season with a shoulder injury, Ilaoa caught 46 passes for 532 yards and three touchdowns.
Senior running back West Keli'ikipi is also out next Saturday because of a combination of a long recovery from knee surgery and too much weight. Senior Michael Brewster will start at running back, Jones said earlier this week.
Senior Gerald Welch could see considerable playing time at slot, too. He and Poumele shared the position last year while Ilaoa was out.
"Nate was running around pretty good today and his shoulder is OK. He's OK jogging and catching balls, but we don't know how much he can burst," receivers coach Ron Lee said. "Fortunately, we're five deep (at two slot positions) without Nate. It would be a plus to have him, but it doesn't make sense to rush him back."
Second-year freshmen Jason Ferguson and Patrick Olchovy "are both getting better every day," and provide the depth at slot.
Senior Chad Owens, one of the top receivers statistically in the nation last year, is the starter at the other slot. Sophomore Jason Rivers and senior Britton Komine are the wideouts, but Komine has been hampered by a hamstring and sophomore Ross Dickerson could reclaim the starting spot he had going into fall camp.
Junior Ian Sample, junior Marcus Weems and senior Rene Melson could also see playing time on the outside, Lee said. True freshman Desmond Thomas will likely redshirt.
Mixed feelings: The Warriors had a controlled scrimmage at Aloha Stadium yesterday, with a major goal trying to figure out the defensive depth chart.
He liked the effort, but noticed too many mental errors.
"There was lots of good hustle," Jones said. "But if we played today, we would've gotten beat. Assignment and alignment is still lacking."
Jones said no personnel decisions -- such as the competition at safety between juniors Leonard Peters and Lono Manners -- will be made until the coaches review tape. Also, injured senior defensive tackle Lui Fuga, junior defensive end and senior outside linebacker Paul Lutu-Carroll are expected back Monday. How much they can do could affect several other players, Jones said.
If the first kickoff coverage team is any clue, the Warriors are not planning to redshirt true freshman linebackers C.J. Allen-Jones and Khevin Peoples, since both of them participated with that group yesterday.
True freshman Keala Watson is making a bid for serious playing time at defensive tackle.
"I like him. He's already a man," defensive line coach Vantz Singletary said. "Smart, athletic, getting stronger with the weights."
Red zone: Most of the offensive starters took it relatively easy yesterday, except for some seven-on-seven red zone drills.
"We need to work on the little things. When we get down there, we don't want to come away empty or settle for three points," senior quarterback Tim Chang said.
The Warriors rarely practice at the stadium, and they relish the opportunity.
"When I was coming in here today it made me realize it's getting toward the end," Chang said. "It really excites us to play here. Every time we step into the stadium it's a special moment. We get pumped up."
Kicking shaky: Sophomore kicker Nolan Miranda made two of four field goals in the 35-yard range yesterday.
"There was some pretty good pressure on those, but, no question, we've got to get better on the field goals," special teams coordinator Mouse Davis said.
Senior Justin Ayat is still trying to come back from a groin injury, and it's not known if he'll be available for next Saturday's game.
"Justin's getting close. He took a few swings through today," Davis said. "Also, Tim (Wright) looked good on kickoffs."
True freshman C.J. Santiago tried a few kickoffs on Thursday.
"He was a little nervous but it looks like he has a good leg," the coach said.
Pro ties: True freshman walk-on running back David Farmer finds himself near the end of a long line of guys trying to get playing time in UH's one-back offense.
Don't count him out yet. He has some football talent in his blood -- Farmer's father, David, Sr., and uncle, George Farmer, are both former NFL players, and his cousin, Danny Farmer, is in his fifth year as a wide receiver for the Buccaneers.
"Dad played at USC in the '70s, fullback for Anthony Davis," Farmer said. "Then he played two years on the Falcons and one with the Bucs. He and coach Jones were teammates on the Falcons."
George Farmer played eight years with the Bears and Lions.
Farmer said he had no other offers coming out high school in Santa Cruz, Calif., last spring, other than to walk-on at San Diego. He had sent a tape to UH, and was invited to fall camp.
"I'm more of a typical fullback," said Farmer, a 6-footer who weighed 248 pounds when he reported nearly a month ago. "But I'm busting my butt and trying to learn this offense, just trying to do what I can do."
Practice moved: Practice today has been moved to 11 a.m. following the June Jones Foundation fun run.
---