---
Coach saw potential
in need of refining
---
When Bryan Clay first tried out for the track team at Castle High School a decade ago, he told his classmates he was shooting for the Olympics.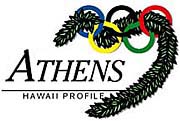 "He liked to joke around, and we thought it was a joke," his freshman math teacher, Pasepa Breckterfield, recalled yesterday. "But we'd tell him you could do anything. He was a small athlete but he was a hard worker."
Behind her a campus sign proclaimed Clay, a 1998 Castle graduate, as an Olympian silver medalist in the decathlon. The 5-foot-10, 24-year-old posted a personal best score of 8,820 points yesterday to win the first Olympic medal for Hawaii in track and field, coming in second to Roman Sebrle of the Czech Republic at 8,893.
Castle Coach Martin Hee, who first steered Clay toward the decathlon, exulted with Clay's wife, mother and extended family as they huddled around a computer with a live audio feed from the Athens Olympics yesterday morning. Then they gathered again with friends and former coaches to watch it on television last night at Hee's house in Kaneohe.
"We are thrilled," said Sarah Clay, a kindergarten teacher who married him in January after a long courtship. "It's been a big year for us."
"He was just happy to make it to the Olympics," she added. "He would have been thrilled with a bronze. He's ecstatic with his performance."
The couple lives in Azusa, Calif., near Los Angeles, where they settled after graduating from Azusa Pacific University. She flew to Hawaii along with her parents to watch the Olympics with Clay's mother and stepfather, Michele and Mike Vandenburg, who live in Mililani. They stayed home from Greece because of the uncertain security situation and because they didn't want to distract him, she said.
"With the decathlon being so mentally demanding on the athletes, I didn't want anything to make Bryan lose his focus," she said.
Despite being halfway around the world, they have been pulling for him through each of the 10 grueling events that make up the sport -- from the pole vault to the 100-meter dash. "We've gotten about six hours of sleep in the last two days total, because he's been competing in the middle of the night for us."
Clay, who was born in Austin, Texas, moved to Hawaii at age 5. His parents later divorced and his mother remarried and settled in Kaneohe. Unlike Clay's math classmates, Coach Hee saw the Olympic potential early on in the youngster, who started off as a runner.
"When I found out that he was enrolling at Castle, I thought, 'Wow, what a prize,'" Hee said. "He had the God-given talent. All he had to do was develop it. His part was dedication, in and out of the classroom."
Clay competed throughout high school, breaking state records. At yesterday's freshman orientation at his alma mater, Principal Meredith Maeda was proud to announce his medal win to the school's newest students.
Freshman Kody Carter, who likes playing basketball, hadn't realized that Clay was from his school. "It's awesome," he said. "It raises my hopes."
"I think this is a shot in the arm for the whole state, not only for Castle High School," said Hee, who has coached for 31 years at the Kaneohe school. "Here's a boy from Castle High School, a country boy, a typical Hawaiian boy with such greatness and dedication."
"We're even more proud because of his character," said Athletic Director Richard Haru. "He's just a fine young man. He's always willing to come back and talk to the kids, to encourage them, to say you can do it."
Clay, who majored in social work, has a passion for children from mixed-race families who have gone through divorce, his mother said, adding that he also has the sensitivity that comes with a multicultural heritage. She is Japanese-American, his biological father is African-American and his stepfather is Caucasian.
"He will use this opportunity to give back to the community and to help other children," she said.
Hee said he hopes that the Olympic medal may also help Clay attract more sponsors to help further his athletic career, a full-time job that is largely supported by his wife's school-teacher income.
"We're looking forward toward 2008 because Bryan will be in his prime there," he said. "Right now I'm selling a piece of carpet that says Bryan slept here," he added with a laugh.
---