There's poetry in Pac-man,
other games
---
Pressing his way through a thicket of bodies at the Electronic Entertainment Exposition in Los Angeles, Seth Barkan, microphone in hand, stumbled onto a true Kodak moment.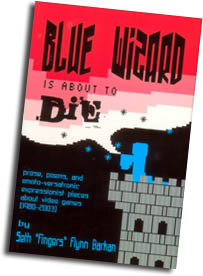 The 24-year-old freelance writer and digital-age renaissance man, who in May agreed to a stint as a correspondent for electronic entertainment network G4 TV, yielded to his producer's frantic gestures on the L.A. Convention Center floor to find a sight he won't soon forget. Former child star and California gubernatorial candidate Gary Coleman, flanked by several showroom hotties, held aloft a copy of Barkan's newly released book of video game poetry, "Blue Wizard is About to Die," and proceeded to deliver a passage from "Bushido Blade" to the crowd on hand.
I fall, staggered; my blade
drives deep into the endless depth
of the starfish colored sand

I look up, waiting for the telling blow.
this is my bushido
"It was the most insane moment in my life," attests Barkan.
Billed as the first book of poetry and prose on the subject of video games, "Blue Wizard is About to Die," published earlier this year by Barkan's own Rusty Immelman Press, is clearly an unconventional literary collection, yet the curious project has already earned back Barkan's initial investment and sold more than 2,000 copies.
Magazines and newspapers have been quick to spread the word: The Los Angeles Times, Detroit Free Press, Philadelphia Inquirer, Edge, Stuff and Entertainment Weekly have all dedicated precious ink to "Blue Wizard" in recent months, deeming its entries "poignant," "hilarious" and "unusual."
"I called my editor and said, 'Man, you should pick up the new Entertainment Weekly and look at the front page of the book section, in the bottom right hand corner, for a mention of 'Blue Wizard,' " Barkan recounts with a cackle. "Yeah, you know, the one with 'Friends' on the cover?"
There have been gracious comparisons to Tom Waits and American Poet Laureate Billy Collins, to his delight, as well as a surprise visit from a U.K. television crew that stopped in Las Vegas while touring the western states in search of technology-related stories.
Yet, Barkan has also endured those grievous first-time blunders that make such ambitious maiden ventures a roller-coaster affair.
"The New York Review of Books called to request a copy and I missed the phone call," he said, barely able to contain his giddiness at the memory. "I had a heart attack. Oh my God, the New York Review of Books? But I accidentally deleted the message before I could get the address, so I went onto their Web site, found it, and sent it out the next day."
His speech then begins to slow to a crawl, as if he'd just stumbled upon a dreadful discovery. "And then four months later, I realized I had made a terrible error and that I'd sent it to the New York Times."
Barkan can only laugh at his folly. "I just want to cry every time I think about it," he says.
A CONTRIBUTING WRITER and bar reviewer for the Las Vegas City Life, Barkan, a Sin City native, credits his vast knowledge of video games to a happily misspent life. Over the years, he ventures, his passion for diversions of the electronic sort has never waned. "I'll usually wake up each day, sober up, bathe, walk around the house naked, do some writing for my column and do some more video game playing," he says unabashedly.
As Barkan tells it, his "Space Invaders"-addicted father spent a good portion of his free time combating enemy jet fighters, aliens and assorted digital beasts, both in arcades and on Atari and Intellivision home consoles, ensuring his children's immersion in video games virtually from birth.
"We had a bunch of games that pretty much predated me, that were confusing and scary," Barkan says with a hint of awe. " 'Thunder Castle' -- wow. And 'Tempest.' Vegas was such a small town at the time and we lived in the middle of nowhere so I had nothing else to do, for the most part."
Barkan takes a deep breath and searches for a proper explanation as to why he felt it necessary to publish a book of video game poetry. "I wanted to piss off academia, I wanted to restore poetry to the people. There are a bunch of reasons I could give you for putting together something like this," he says. "But basically, I knew I wanted to write about video games and my memories of video games."
While determined to write short stories about his experiences with video games, Barkan soon found their structure too limiting. Brimming with ideas, he simply dashed off lines about his favorite video games at the typewriter one afternoon. "And 'Bam!' All of a sudden, I started churning out what I consider to be the core of that book. It was like that instant after the glass tips over and the water starts pouring out. Once I realized what I was doing, I became enamored with the concept," he says of the revelatory moment. "These are poems bout video games!"
The finished product is a whirlwind read that moves at the speed of a Robotron Enforcer. Video game enthusiasts should relish "Blue Wizard's" ability to unlock visions of oft-forgotten classics like "Astrosmash," "Sinistar" and "Bubble Bobble," while the uninitiated will likely crease their brows in frustration, baffled by its endless succession of arcane references. In the end, "Blue Wizard is About to Die" is a book of poetry for gamers, rather than a collection of video-game verse for poetry buffs.
"It was really a quest to bring more legitimacy to video games as a form of art," Barkan remarks. "The whole experience from a publishing perspective has been nothing but stress and strain and worry and woe, but from the creative side of it, it's just been so awesome to see how people really dig it and respond to it."
---


Click for online
calendars and events.