Services for Hiram Fong
set for next week
---
The body of former U.S. Sen. Hiram Fong, one of Hawaii's foremost Republican leaders, will lie in state in the state Capitol atrium from 5 p.m. Thursday to 8 a.m. Friday.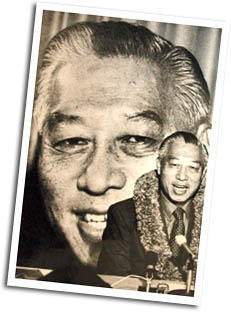 Fong, the first Asian American elected to the U.S. Senate, who died Wednesday at age 97, served as Hawaii's senator for 18 years, retiring in 1977.
Although retired from active politics, Fong served as honorary chairman for the campaigns of many Republicans, including Gov. Linda Lingle.
Fong and Democrat Oren E. Long were elected as Hawaii's first two senators in 1959. Fong remains the only Republican to serve as a U.S. senator from Hawaii.
Gov. Linda Lingle will not attend next week's ceremonies because she will be traveling to the mainland, according to Fong family spokeswoman Maureen Lichter.
On Thursday, Fong's closed casket is expected to arrive at the atrium of the state Capitol at 5 p.m. After a brief service, the body will lie in state until 8 a.m. Friday.
The public will be able to attend the service and pay their respects, Lichter said.
Former U.S. Rep. Pat Saiki, Hawaii's first Republican member of the U.S. House, is expected to be among the service's speakers, Lichter said.
There will also be photos of the former senator and businessman, plus memorabilia. A guest book will be available for mourners to sign, and memorial cards will be handed out.
From 9:30 to 11:30 a.m. Friday, there will be funeral services at Nuuanu Memorial Park and Mortuary. A private burial attended by family members will follow the services.
Fong will be the fifth person to lie in state at the current Capitol building. The others were Gov. John Burns, U.S. Sen. Spark Matsunaga, entertainer Israel Kamakawiwo'ole and U.S. Rep. Patsy Mink.
Lichter said organizers have "absolutely no idea" how many people will come to pay their respects to Fong at the state Capitol.
"We expect quite a few to come out," Lichter said, adding that 5,000 fliers are being printed for the service.
In October 2002 more than 1,500 people came to the state Capitol when U.S. Rep. Patsy Mink lay in state. About 10,000 paid their respects to Kamakawiwo'ole when he lay in state in 1997.